This page requires sanitation.
This page needs more accurate, less vandalistic/biased information or better formatting, it would be much appreciated to help!
←

28 November 1960 and 2017 - Present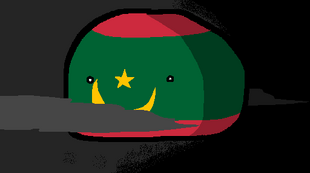 General information
Personality
Always smiling...
Relations and opinions
Friends
Enemies
Countryballs who mock him for his never ending smile/doesn't support or recognize his new flag or his Constitutional Referendum. Including:

SLAVES

Name stealer

ISISball
Flag stealer

Palestine Killer!!!

Qatarball

Venezuelaball (PLEASE TURN YOUR "FROWN" UPSIDE DOWN FOR CRYING OUT LOUD! But still sometimes)

Fake Atlantis
Likes
slaves, smiling, Fat Women, Joker, aid, 2017 Constitution Referendum, his new flag, being creepy, Apple
Dislikes
Other countryballs who do not "learn" to smile...,

8balls
(even though he is an 8ball), infidels, War, homosexually, being poor, terrorism, coup d'état
Is of importants
Can into space?
No, but can into smile
slave slave, smile smile, new flag new flag
Food
Fish, French Fries, Dates, Rice
| | | |
| --- | --- | --- |
| " | Do you want to know how I got these scars...? | " |
Mauritaniaball has a very creepy smile is the land of enslavement a Joker wannabe countryball in Northwest Africa. He is very obscure and not well known. What is well known is his flaming and sadistic smile imprinted onto his face. The red represents the blood of his victims...
Not many people know how he got that very smile. it is said he got the smile from his own colonial mother,

Franceball after she was on a rampage and came across him. In her rage she said:
She then proceeded to carve his signature smile onto his face.
Ever since then he has become a monster. A monster of hatred and ironic sadness. Most countryballs stay well away from him unless they want to be greeted with the exact same fate he experienced.
These days he just waits, despite all the other countryballs foolish enough to mock him, he waits. He waits not because of irrelevance; he waits not because of stupidity; he waits not because of his miserable life; he waits...for the perfect time to strike.
If he is not waiting he will be "playing" with other countryballs making them "learn" his mother's lesson for all of them to bear.
Despite Franceball's "incident", Mauritaniaball still loves his mother to this day...even if that means constantly smiling...
He was also the last country to abolish slavery, doing so in 1981.
He is depicted as a countryball who has a really similar story and fate as Kuchisake-onna
Flag Colors
Color Name
RGB
CMYK
HEX
Maximum Red
208, 28, 31
C0-M87-Y85-K18
#D01C1F
GO Green
0, 169, 92
C100-M0-Y46-K34
#00A95C
Gold (Web) (Golden)
255, 215, 0
C0-M16-Y100-K0
#FFD700
Relations
Friends
Neutral
Israelcube - I was the 3rd member of Arab Leagueball to recognize him as a independent countryball, as we become cordial friends in 1999. However in response to the Gaza War in 2008, our relationships have been frozen since 2009.
USAball - We both have cordial (calm and friendly) relationships until we both severed ties in 1967 in response to the Six-Day War. We restored relations in 1982 and we both have embassies in our capitals, mine in DCball and his in Nouakchottball, he also helps me remove terrorists! But he also supports that guy... I am going the East Now.
Enemies
Gallery

Related templates

Community content is available under
CC-BY-SA
unless otherwise noted.