Mauryaball was a Indostani empire. It had the most clay of any empire in India, and defeated Seleucidball and took some of its clay. Infested Chinaball, Indonesiaball etc with Buddhism and Martial Arts. First to Human and Animal Right in all clay even before any clay think of. Mauryaball was incredibly Stronk and rich, reached at its peak under Ashok's rule and conquered lots of clay. His army was very big and had thousands of war elephants. Ashoka also introduced Buddhism to the sub-continent.
How to draw
Mauryaball is based on 2ball:
Color the basic circle shape of this colour
Draw a littler white circle in the center with the black script ਮੌਰੀਆ
Draw the eyes and you've finished.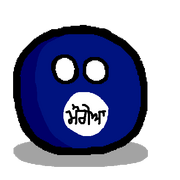 Related templates

Curry and no toilet Republic of India needs Kashmir
Administrative divisions
Andhra Pradeshball • Arunachal Pradeshball • Assamball • Biharball • Chhattisgarhball • Goaball • Gujaratball • Haryanaball • Himachal Pradeshball • Jammu and Kashmirball • Jharkhandball • Karnatakaball • Keralaball • Madhya Pradeshball • Maharashtraball • Manipurball • Meghalayaball • Mizoramball • Nagalandball • Odishaball • Punjabball • Rajasthanball • Sikkimball • Tamil Naduball • Telanganaball • Tripuraball • Uttar Pradeshball • Uttarakhandball • West Bengalball



☸

Union territories
Andaman and Nicobar Islandsball ( Sentineleseball) • Chandigarhball • Dadra and Nagar Haveliball • Daman and Diuball • Lakshadweepball • National Capital Territory of Delhiball • Puducherryball
Historical entities
Migrants from the West (Prehistoric Hindustan) • Indus Valleyball • Vedicball • Kuru Kingdomball • Panchalaball • Magadhaball • Mahajanapadaball • Haryankaball • Shishunagaball • Nandaball • Mauryaball • Guptaball • Delhi Sultanateball • Vijayanagara Empireball • Mughalball • Khandesh Sultanateball • Bengal Sultanateball • OudhRawr • Marathasaur • British Rajball
Sick Japan People's Republic of Bangladesh East Pakistan
Divisions
Barishalball • Chattogramball • Dhakaball • Khulnaball • Rajshahiball • Rangpurball • Sylhetball • Mymensinghball
Separatist entities


●

Chittagong Hill Tractsball • Bangabhumiball
Historical entities
Migrants from the West (Prehistoric Hindustan) • Magadhaball • Mahajanapadaball • Haryankaball • Shishunagaball • Nandaball • Mauryaball • Mughalball • Marathasaur • British Rajball • East Pakistanball • Provisional Government of Bangladeshball
Islamic Republic of Iran, heir of Persia
Provinces


☫

Alborzball • Ardabilball • East Azerbaijanball • West Azerbaijanball • Bushehrball • Chahar Mahaal and Bakhtiariball • Farsball • Gilanball • Golestanball • Hamadanball • Hormozgānball • Ilamball • Isfahanball • Kermanball • Kermanshahball • North Khorasanball • Razavi Khorasanball • South Khorasanball • Khuzestanball • Kohgiluyeh and Boyer-Ahmadball • Kurdistanball • Lorestanball • Markaziball • Mazandaranball • Qazvinball • Qomball • Semnanball • Sistan and Baluchestanball • Tehran Provinceball ( Tehranball) • Yazdball • Zanjanball
Historical entities
Migrants from the West • Medesball • Achaemenidball • Parthiaball • Sassanidball • Rashidunball • Umayyadball • Abbasidball • Saffaridball • Samanidball • Ghaznavidsball • Seljukball • Khwarazmianball • Ilkhanateball • Timuridball • Safavidball • Afsharidball • Zandball • Qajarball • Pahlavi Iranball
RAWR! Federal Democratic Republic of Nepal
Development regions


☾

Eastern Development Regionrawr • Central Development Regionrawr ( Kathmanduball) • Western Development Regionrawr • Mid-Western Development Regionrawr • Far-Western Development Regionrawr
Former entities


✹

Migrants from the West (Indo-Aryans) • Magadhaball • Nandaball • Mauryaball • Guptaball • Kirat Dynastyball • Licchavi Kingdomball • Malla Dynastyball • Gorkha Kingdomball • Kingdom of NepalRawr