Just to let you know that if you are here make sure you abide by rules and you will become my friend!
If you brake a rule then you are no longer a friend of me!
Rules:
1.No Hate
2.No Defend/Remove kebab Drama!


3.No Vandalism

4.No Spam
5.Say What you want and i will do what you said!
6.Nemoj reči da ja nisam iz Bosne ili da nepričam Srb Hrvat jezik.
7.Be nice!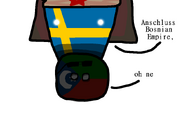 Give Kudos to this message
You've given this message Kudos!
See who gave Kudos to this message
Community content is available under
CC-BY-SA
unless otherwise noted.