The contents of this page are subject to change.
Recent things have happened to Mexicoball, so it is subject to change. You can help edit to add the new information too! Alternatively, if the page is locked, visit the talk page to add recent information that it should have.
←

September 16, 1810 - Present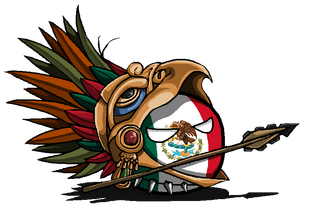 General information
Personality
Tough, when he is mad he can be very aggressive (like his old ancestors), very classy, deeply nerd, vulgar, naive (it's very easy to lie to him), friendly, devout Catholic, individualistic and very funny. Sometimes is also very sentimental and dramatic (like his telenovelas).
Is of importants
Tacö Tacö
Tëquila Tëquila
Ay Ay
Gringo Gringo
Food
Tacos, Burrito, Guacamole, Tortilla, Nachos, Quesadillas, Salbutes, Chapulines, Mole Sauce, Chocolates, Tamales, Pozole Soup, Chili Peppers, Tortas, Corn, Tortilla Chip Sombrero from Despicable Me 2 (yes its fictional but apparently you can make it in real life)
Status
Andrés Manuel López Obrador (AMLO), our president got infected with

COVID-19 and can now into winnings in Miss Universe 2020!
Notes
me love tacos, tacos, more tacos and guacamole
"
But what I am most proud of, of those 6 years, is the year of 1968, because it allowed me to serve and save the country, whether you like it or not...
"
 

— Gustavo Diaz Ordaz
Mexicoball,Pico officially the United Mexican Tacos Statesball is a smiling Character in Friday Night Funkin countryball with identity conflicts; he lives in North America with

USAball and

Canadaball but he does not share their language. The country is divided into 31 states, along with a special territory being his capital

Mexico Cityball, giving him a total area of 761,610 square miles (1,964,375 sq km), making him the 13th largest country in the world. As of 2021, he has a population of about 130.2 million inhabitants, the 10th most populous in the world.
Mexico maintains membership in the

UNball like almost every other country in the world, and used to be also a major NATO ally, but not anymore. Mexicoball is also member of the G20 (or Group of Twenty), a club formed by the countryballs that have the 19 largest economies plus the

EUball.
Mexicoball isn't a poor countryball like

Masonic Burgerball mass media shows. It is true that Mexicoball isn't as developed as the

USAball, but Mexicoball would be considered a solid middle-class countryball. His economy has seen a large amount of growth due to his large trades with

Chinaball and

USAball, and he is trying to reduce poverty in the country to provide more opportunities to its citizens such as jobs, education, and the installation of universal healthcare. Though he does struggle with problems like crime, drug wars, and water pollution, things are beginning looking up though, and he'll be completely developed soon! He is a relatively weak countryball right now but by 2050 it is estimated that he will be a force to be reckon with.
He can into 2026 World Cup with

USAball and

Canadaball. It´s the third time that he hosted the tournament, being the country who most hosted the World Cup. The cities hosting have not yet been determined. He can also into the crater of the dino-killing asteroid (Te callas Ukraine!)
His birthday is on September 16.
History
65 million years ago, Mexico was struck by the asteroid that wiped out the dinosaurs, the Earth was barely alive and caused mass extinctions.
For thousands of years, the clay of that is now Mexico was home to ancients

3ball and

7ball civilizations like

Mayaball and

Aztec Empireball.
In 1521, Mexico was born as

New Spainball, and for the next 300 years, he remained under the custody of

Spainball. But when his mother was defeated by

Franceball in Europe, he and his brothers sought to become independent. To do so, they fought their mother,

Spainball.
After 11 years of fighting, Mexico became independent in 1821, but didn't really have any idea how to govern itself. The

First Mexican Empireball was originally a unitary countryball, but after the fall of the monarchy in 1823, the Provinceballs of the Empire became Federated Stateballs of a Federal Republic. But in 1835 Mexico became a Unitary or Centralist Republic, and because of this political instability set in all over his clay. Mexicoball fought a short war with

Franceball over a pastry restaurant, while the federalism caused several states to begin revolting. One of the states that hated the Centralist Republic was...

Texasball.

Texasball was populated by Anglo Americans who fought for independence and tried to

USAball in 1845. In 1846, Mexicoball returned to be a Federal Republic and tried to take back

Texasball but

USAball resisted, triggering a war that ended in

USAball robbing gaining custody of Mexicoball's northern sons, which are now the American states of

Californiaball,

Nevadaball,

Arizonaball,

Utahball,
Coloradoball and

New Mexicoball.
In 1861,

Franceball tried to get control of Mexicoball, turning him again in

Second Mexican Empireball, but failed miserably, and gave up in 1868 threatened by USAball just after winning over

Confederateball. Mexicoball returned to be a Federal Republic in 1867.
Starting in 1876, Mexico was ruled by Porfirio Diaz, and there was relative peace until 1910 when the Mexican Revolution caused 10 years of major fighting, and then he had some conflicts with

USAball. As a result,

Reichtangle invited him to declare war on

USAball in World War I in return for all of his sons, including

Texasball and

New Mexicoball. Mexicoball sensibly declined. In 1917 a new constitution was implemented and starting in 1929, Mexico was ruled by the P.R.I. party for 70 years.
Mexicoball sided with and supported the Allies (though quite modestly) in World War II and even sent some pilots to the Battle of

Philippinesball. However, it remained mostly neutral during the Cold War while hosting the

8ball power Olympics in 1968.
Nowadays Mexicoball is now known for being a "taco illegal alien" who has drug violence and corruption problems on his clay. But Mexicoball resolves with his new presidential strategy since 2018.
On May 3 2021, a viaduct on line 12 of his subway collapsed leaving 20 dead.
Flag Colors
Main Colors
Color Name
RGB
CMYK
HEX
Bottle Green
0, 104, 71
C100-M34-Y93-K30
#006847
White
255, 255, 255
N/A
#FFFFF
Fire Engine Red
206, 17, 38
C0-M92-Y82-K19
#CE1126
Emblem Colors
Color Name
RGB
CMYK
HEX
Bottle Green
0, 104, 71
C100-M34-Y93-K30
#006847
White
255, 255, 255
N/A
#FFFFF
Fire Engine Red
206, 17, 38
C0-M92-Y82-K19
#CE1126
Maximum Blue
48, 194, 220
C78-M12-Y0-K14
#30C2DC
Saddle Brown
143, 70, 32
C0-M51-Y78-K44
#8F4620
Earth Yellow
219, 173, 108
C0-M21-Y51-K14
#DBAD6C
Relationships
Friends/Amigos
Neutral
Enemies/Enemgios
Regional departments
And 1 extraordinary entity and capital:
Gallery
Community content is available under
CC-BY-SA
unless otherwise noted.