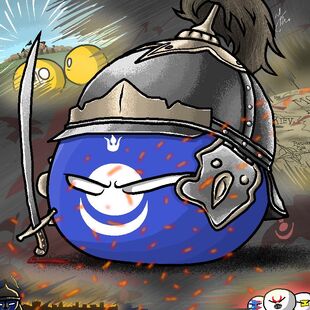 General information
Personality
Lord of Anschluss!
Nomad
Raider
Ruthless
Conqueror
Terrorizing
Imperialist
Religion
Relations and opinions
Friends
Every slave ally of mine.
Enemies
Anyone who resists me.
Likes
War, Anschluss, pillage, rape, genocides, domination, destruction and more war. Other Religious,

Wow, I'm very impressed GIVE ME YOUR AUTOGRAPH
Historical information

Preceded by
Succeeded by

Khamag Mongolball
Khwarazmianball
Qara Khitaiball
Second Jinball
Songball
Western Xiaball
Abbasidball
Nizari Ismaili Stateball
Kyivan Rusball
Volga Bulgariaball
Kingdom of Alaniaball
Kingdom of Daliball
Cumansball
Kimek Khanateball
Sultanate of Rumball
Is of importants
Can into space?
Right after I into World Domination. (no)
pillage pillage conquer conquer khan khan
"
"Conquering the world on horseback is easy! But getting down and running the empire is what's tough"
"
 

— Mongol Empireball
"
We've invaded China! Please respect us, or else we might invade you as well!
"
 

— Mongols
"
"If God wanted you alive he wouldn't have sent me"
"
 

— Genghis Khan
The Mongol Empireball has a smiling face like

Mauritaniaball is a historical countryball that conquered most of East Asia, Central Asia, and a part of East Europe before dying. He was the second-largest empire in history. He was responsible for the murder of

Kyivan Rusball, which is regarded as the sole successful attempt at invading and fully puppeting

Russiaball.
History
Mongol Empireball evolved from

1balls in 1206, after

Khamag Mongolball state was established by Genghis Khan. It conquered so many places that it had way too many successors.
Chinese front
He first attacked

Western Xiaball,

Jinball, and

Songball.
European front
When he succeeded, he turned to Russia and brutally defeated a broken apart

Kyivan Rusball, sacking and destroying many cities. Mongols also spread the Black Death to Europe via its conquests, which wound up killing up to 50% of its population!
After

Kyivan Rusball was defeated, he headed to eastern Europe to prepare for battles with

HREball,

Kingdom of Polandball,

Grand Duchy of Lithuaniaball , 

Roman Empireball ,and

Kingdom of Hungaryball. The Mongols were on the way to full success. However, the Grand Khan Ögedei had died, and a new

Khagan had to be elected by the military leaders in the Kurultai back in Asia. Thus the conquest of Europe came to an end.
Middle East front
When his next emperor rose, he advanced to Khwarizm empire and defeated him. Then he headed to Baghdad and forced

Abbasidball to surrender, but Abbasid wouldn't surrender. So he ravaged Baghdad and killed all of Abbasid's people including the Caliph. When Baghdad was destroyed, he headed to Egypt. He made allies with

Armeniaball and

Georgiaball to try and conquer middle east. The

Mamlukball prepared for battle against him. Then he and the Mamluks met in Ain Jalut and started the battle. His General was killed and he retreat from the Middle East.
Asian front
He first attacked Korea and succeeded, after Korea was killed and fully conquered. He then sailed to and the Mongol leader Kublai Khan threatened Japan to become a vassal state and send a tribute or threaten Japanball with conflict. When Japan refused to subjugate itself, Kublai Khan got angry and prepared for war. The Mongol Empireball started a war with

Kamakura Shogunateball. Then he built a fleet to get past the big seas to reach Japan. In 1274 CE the First Mongol Invasion landed in the south island of Japan called Kyushu with a part of his fleet and units. He killed many people and Samurai. However, his army was overwhelmed by samurai and his fleet was crushed by a typhoon named Kamikaze (divine wind). In 1281 CE he tried the same thing again. The Second Mongol Invasion fleet and unit size were the biggest in history until D-Day. Part of the Mongol Horde that reached Japan was repelled by samurai of

Kamakura Shogunateball and a Kamikaze destroyed the Mongol fleet again. So the Mongols failed to conquer Japan. Kublai Khan didn't bother with Japan anymore and focussed to invade Southeast Asia. His first invasion was in

Dai Vietball, but he didn't succeed. Then he headed to

Tibetan Empireball and

Siamball. He didn't fight them because they agreed to gib taxes, so he left them alone. Then he headed to

Myanmarball. First, he sent a letter to forced Myanmar surrender, but Myanmar killed his messenger and prepared a lot of elite forces and thousands of elephants. But he stayed put and proceeded to defeat Myanmar. After that, he headed to

Majapahitball and sent his messenger to force

Majapahitball surrender. But Majapahitball disgraced his messenger and cut his messenger's ear. Unfortunately for the Mongols, his army was in drunk conditions, so

Majapahitball easily repelled him and made him surrender in Southeast Asia.
Relationships
Friends
Neutral
Vijayanagara Empireball - This guy defeated my great grandson, but he's also friends with my son, so he's okay.
 Goryeorawr - Was so glad when I defeated him. I didn't made him slave but my puppet son-in-law and promised him some individuality and autonomy, with some power as my family member. He was nice to me not like the others and also helped me fought  Sushi (althought it was a complete disaster). BUT HE STILL FUCKIN' BETRAYED  MY SON WHEN THE BOY NEEDED HELP!!!
Enemies
How to draw
Drawing Mongol Empireball is mildly complicated as there are many potential flags:
Draw a basic circle shape.
Draw a blue up-left quarter with a white fire-sun-crescent symbol.
Divide the rest into four stripes using three red lines with triangles facing down.
Draw two slant-eyes and you've finished.
OR
Draw a basic circle shape.
Fill with blue. 
Put a white fire-sun-crescent symbol in the middle.
Draw the slant-eyes.
Gallery

Related templates

Nibiru Rəpublic of Thə Kəbab Followərs Azərbaycan
Rəgions
Abshəronballl (Bakuball) • Ganja-Qazakhball • Shaki-Zaqatalaball • Lankaranball • Quba-Khachmazball • Aranball • Yukhari-Karabakhball • Kalbajar-Lachinball • Daglig-Shirvanball
Mənacəs




☪

Artsakhball • Nakhchivanball
SOON!
Tabrizball • Urmiaball
Formər əntitiəs
Migrants from South (Prəhistoric Əuropəans) • Ibəriaball • Caucasian Albaniaball • SPQRball • Parthiaball • Sassanidball • Persiaball • Transcaucasiaball • Transcaucasian SFSRball • Azərbaycani SSRball ( Soviətball)
Bulba Belarus President who no believe in COVID-19

Oblasts

Brestball • Gomelball • Grodnoball • Mogilevball • Minskball ( Minskball Capital) • Vitebskball

Former entities

Migrants from West (Prehistoric Europeans) • Slavsball • Dregovichsball • Kyivan Rusball • Grand Duchy of Lithuaniaball • Poland-Lithuaniaball • Russian Empireball • Belarusian People's Republicball • Belarusian Central Councilball • Byelorussian SSRball
Genocidal Republic of the Union of Lithuania Myanmar/Burma
States/Regions



★

Kachin Stateball • Kayah Stateball • Kayin Stateball • Chin Stateball • Sagaing Regionball • Tanintharyi Regionball • Bago Regionball • Magway Regionball • Mandalay Regionball • Mon Stateball • Rakhine Stateball • Yangon Regionball • Shan Stateball • Ayeyarwady Regionball
Main cities
Rangoonball • Mandalayball • Naypyidawball (capital) • Mawlamyineball • Taunggyiball • Monywaball • Sittweball
Historical entities
Migrants from the West • PTBball Pyuball • Arakaneseball • Kingdom of Thatonball • Kingdom of Paganball • Hanthawaddy Kingdomball • Myinsaing Kingdomball • Toungooball • Konbaungball • British Burmaball • State of Burmaball • Union of Burmaball • Socialist Burmaball
Murica's State Georgia საქართველო Stalin Born Here!
Regions

Abkhaziaball • Adjaraball • Guriaball • Imeretiball • Kakhetiball • Kvemo Kartliball • Mtskheta-Mtianetiball • Racha-Lechkhumi and Kvemo Svanetiball • Samegrelo-Zemo Svanetiball • Samtskhe-Javakhetiball • Shida Kartliball ( South Ossetiaball) • Tbilisiball
Abkhazian districts
Gagraball • Gudautaball • Sukhumiball ( Sukhumiball) • Gulripshiball • Ochamchiraball • Tkvarcheliball • Galiball
South Ossetian
divisions
Dzauball • Tskhinvalball ( Tskhinvaliball) • Znaurball • Leningorball
Former entities

Migrants from South (Prehistoric Europeans) • Urartuball • Colchisball • SPQRball • Achaemenid Empireball • Kingdom of Iberiaball • Parthiaball • Sassanidsball • Rashidunball • Umayyadball • Abbasid Caliphateball • Kingdom of Georgiaball • Mongol Empireball • Ottoman Empireball • Kingdom of Kartli-Kakhetiball • Safavid Dynastyball • Afsharidball • Qajarball • Georgia Governorateball ( Russian Empireball) • Transcaucasiaball • Democratic Republic of Georgiaball • Georgian SSRball ( Sovietball)
Modi's Hindu Nationalist Curry Republic of Cow Worshippers India and T-Series
Administrative divisions
Andhra Pradeshball • Arunachal Pradeshball • Assamball • Biharball • Chhattisgarhball • Goaball • Gujaratball • Haryanaball • Himachal Pradeshball • Jammu and Kashmirball • Jharkhandball • Karnatakaball • Keralaball • Madhya Pradeshball • Maharashtrarawr • Manipurball • Meghalayaball • Mizoramball • Nagalandball • Odishaball • Punjabball • Rajasthanball • Sikkimball • Tamil Naduball • Telanganaball • Tripuraball • Uttar Pradeshball • Uttarakhandball • West Bengalball
Union territories



☸

Andaman and Nicobar Islandsball ( Sentineleseball) • Chandigarhball • Dadra and Nagar Haveli and Daman and Diuball • Ladakhball • Lakshadweepball • National Capital Territory of Delhiball • Puducherryball
Historical entities
Migrants from the West (Prehistoric Hindustan) • Indo-Iraniansball Indus Valleyball • Vedicball • Kuru Kingdomball • Panchalaball • Magadhaball • Mahajanapadaball • Haryankaball • Shishunagaball • Nandaball • Mauryaball • Guptaball • Delhi Sultanateball • Vijayanagara Empireball • Mughalball • Khandesh Sultanateball • Bengal Sultanateball • OudhRawr • Marathasaur • British Rajball
Khameneireich Islamic Republic of Iran, Anti-American heir of Persia
Provinces


☫

Alborzball • Ardabilball • East Azerbaijanball • West Azerbaijanball • Bushehrball • Chahar Mahaal and Bakhtiariball • Farsball • Gilanball • Golestanball • Hamadanball • Hormozgānball • Ilamball • Isfahanball • Kermanball • Kermanshahball • North Khorasanball • Razavi Khorasanball • South Khorasanball • Khuzestanball • Kohgiluyeh and Boyer-Ahmadball • Kurdistanball • Lorestanball • Markaziball • Mazandaranball • Qazvinball • Qomball • Semnanball • Sistan and Baluchestanball • Tehran Provinceball ( Tehranball) • Yazdball • Zanjanball
Historical entities
Migrants from the West • Medesball • Achaemenidball • Parthiaball • Sassanidball • Rashidunball • Umayyadball • Abbasidball • Saffaridball • Samanidball • Ghaznavidsball • Seljukball • Khwarazmianball • Ilkhanateball • Timuridball • Safavidball • Afsharidball • Zandball • Qajarball • Pahlavi Iranball
Mesopotamian Republic of Anarchy Iraq
ENEMIES!
ISISball • Iraqi Kurdistanball
Governorates


الله أكبر

Al Anbarball • Al Diwaniyahball • Babilball • Baghdadball • Basraball • Dhi Qarball • Diyalaball • Dohukball • Erbilball • Halabjaball • Karbalaball • Kirkukball • Maysanball • Muthannaball • Najafball • Ninevehball • Saladinball • Sulaymaniyahball • Wasitball
Historical entities
Migrants from South • Sumerball • Babylonball • Assyriaball • Macedonball • Seleucidball • Parthiaball • SPQRball • Sassanidball • Rashidunball • Umayyadball • Abbasidball • Ilkhanateball • Jalayiridsball • Qara Qoyunluball • Aq Qoyunluball • Safavidball • Afsharidball • Ottomanball • Mandatory Iraqball • Kingdom of Iraqball • Ba'athist Iraqball
Democratic People's Republic of Korea & Republic of Korea : Divided Korea
Sovereign states
North Koreaball • South Koreaball
Future countries
United Koreaball
高丽?
West Koreaball • East Koreaball
Clay disputes
Dokdoball {{{1245582595655}}} • Ieodoball • Rasonball • Jiandaoball {{{1245582595655}}}

Republic of K-pop Korea, also known as South Korea

Provinces
Chungcheongbuk-doball • Chungcheongnam-doball • Southern Gangwondo-ball • Gyeonggi-doball • Gyeongsangbuk-doball • Gyeongsangnam-doball • Jeollabuk-doball • Jeollanam-doball • Jeju-doball
Metropolitan Cities
Seoulball • Busanball ( Dongnaeball) • Incheonball ( Songdo IBDball) • Daejeonball • Daeguball • Gwangjuball • Sejongball ( Jochiwonball) • Ulsanball
Cities
Suwonball • Cheongjuball • Goyangball• Ansanball • Pajuball • Gwangjuball • Hanamball • Uijeongbuball • Guriball • Bucheonball • Seongnamball • Seosanball • Asanball • Anyangball • Dangjinball • Gongjuball • Ieodoball
Counties
Pyeongchangball • Ullengball (Dokdoball)

"Democratic" People's Republic of Korea, also known as True North Korea

Provinces
Hamgyeongbuk-doball • Hamgyeongnam-doball • Hwanghaebuk-doball • Hwanghaenam-doball • Northern Gangwon-doball • Pyeonganbuk-doball • Pyeongannam-doball • Jagang-doball • Yanggang-doball
Cities
Pyongyangball ( Ryugyong-dongball) • Rasonball • Nampoball • Sinuijuball • Kaesongball • Hamhungball • Chongjinball • Wonsanball Sariwonball

Others

Former entities
Migrants from North • Gojoseonball • Korean Jinball • Buyeoball • Okjeoball • Dongyeball • Mahanball • Jinhanball • Byeonhanball • Goguryeoball • Sillaball • Baekjeball • Gayaball • Balhaeball • Tamnaball • Goryeoball • Joseonball • Korean Empireball • Japanese Koreaball • Provisional Gov. Republic of Koreaball • People's Republic of Koreaball • American Koreaball • Soviet Koreaball • Provisional People's Committee for North Koreaball • Supreme Council for National Reconstructionball
Korean religions
Muism • Cheondoism • Korean Buddhism • Kimilsungism
Korea STRONK! Remove Sushi Remove MERS-CoV! Never forgettings 1945 ~ Both Koreaballs


K-POP FOREVER!!! ~ South Koreaball
NORTH KOREA TRUE AND BEST KOREA! ~ North Koreaball
Lao Predators People's Democratic Republic
Provinces


●

Attapeuball • Bokeoball • Bolikhamsaiball • Champasakball • Houaphanhball • Khammouaneball • Luang Namthaball • Luang Prabangball • Oudomxayeball • Phongsaliball • Sayaboulyball • Salavanball • Savannakhetball • Sekongball • Vientiane Provinceball ( Vientianeball) • Xieng Khouangball
Historical entities
Migrants from North • Kingdom of Funanball • Dvaravatiball • Kingdom of Chenlaball • Khmer Empireball • Longvekball • Kingdom of Lan Xangball • Kingdom of Luang Phrabangball • Kingdom of Vientianeball • Kingdom of Champasakball • Nguyễn dynastyball • Kingdom of Laosball • Rattanakosin Kingdomball • French Protectorate of Laosball • Japanese Laosball • Royal Lao Government in Exileball
ISIS!? FSA!? bomb bomb explosion Syrian Kebab Arab Republic
ENEMIES
ISISball • FSAball • Rojavaball
Governorates


★ ★

Latakiaball • Idlibball • Aleppoball ( Aleppoball) • Al-Raqqahball • Al-Hasakahball • Tartusball • Hamaball • Deir ez-Zorball • Homsball • Damascusball (capital) • Rif Dimashqball • Quneitraball • Daraball • Al-Suwaydaball
Historical entities
Migrants from the East • Assyriaball • Achaemenidball • Seleucidball • Parthiaball • SPQRball • Sassanidball • Byzantineball • Rashidunball • Umayyadball • Abbasidball • Fatimidball • County of Edessaball • Principality of Antiochball • County of Tripoliball • Ayyubidball • Mamlukball • Ottomanball • State of Syriaball (1924-30) • Republic of Syriaball (1930-1958) • United Arab Republicball