Line 72:
Line 72:
 

|bork = Yawn Yawn, zzzzzzzzzz

 

|bork = Yawn Yawn, zzzzzzzzzz

 

|status = Alive

 

|status = Alive

−

|reality = 🇲🇪 Republic of Montenegro 🇲🇪

 
−

|population = 622,781

 
 

}}[[File:Some serbian shit you got yourself intp.png|thumb|231x231px]]

 

}}[[File:Some serbian shit you got yourself intp.png|thumb|231x231px]]

 

[[File:Montenegro new.png|thumb|226x226px]]

 

[[File:Montenegro new.png|thumb|226x226px]]
---
Revision as of 00:06, 23 May 2020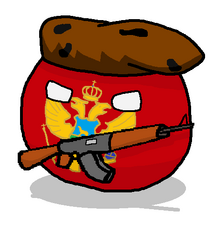 Montenegroball is a countryball living in Southeastern Europe. He is bordered by 

Bosnia and Herzegovinaball to the East and Northeast, along with a small part of

Croatiaball,

Serbiaball to the West and Northwest, along with 

Kosovoball (Although some might argue that

Kosovoball is Serbia),

to the Southeast, and the Mediterranean to the Southwest. The country is divided into 23 municipalities, including the capital
Podgoricaball which acts and a municipality as well, giving him a total area of 13,812 square kilometers, making him the smallest

Slavic countryball. As of 2016, he maintains a population of 622,781 inhabitants.
History
Montenegro was

Illyrian and then a part of

 Roman Empireball and then

Ostrogothic Kingdomball until

Byzantineball took it back in the name of the stronk

Roman Empire. It was once split between

 Kingdom of Croatiaball and

Bulgarian Empireball until

Byzantineball retook it again. (

Veniceball also had some tiny clay around Ragusa).

Ottoman Empireball conquered the clay of

Montenegro, and so was it until 1879 when

 Kingdom of Montenegroball was created. It joined

Yugoslaviaball but split for a while in WW2. It was given independence in 2006. 

Montenegroball was at war with

Japanball from the Russo-Japanese War until 2006!

Montenegroball used to be enemies with

Serbiaball when it gained independence but now they can into likings each other since both hate kebab and now

Montenegroball wants to return glorious and stronk

Yugoslaviaball!. Today, just like

Serbiaball, he's a bit more developed. It is likely that he will join

EUball in 2025, along with

Serbiaball.
Flag Colors
Main Colors
Color Name
RGB
CMYK
HEX
Boston University Red
196, 3, 8
C0-M98-Y96-K23
#C40308
American Gold
211, 174, 59
C0-M18-Y72-K17
#D3AE3B
Emblem Colors
Color Name
RGB
CMYK
HEX
Boston University Red
196, 3, 8
C0-M98-Y96-K23
#C40308
American Gold
211, 174, 59
C0-M18-Y72-K17
#D3AE3B
Lapis Lazuli
29, 94, 145
C80-M35-Y0-K43
#1D5E91
Palm Leaf
109, 140, 62
C22-M0-Y56-K45
#6D8C3E
Relationships
Friends/Пријатељи
Neutral/Frenemies
Russiaball - Was my best friend until I joined to NATO, so Russia got all pissed and threatened to shoot my clay with missiles.
Turkeyball - Yuo are of filthy kebab but yuo help me into NATO.
Enemies
Covid19 (Coronavirus)  - YOU SICK DISEASE! YOU INFECTED EUROPE AND THE WORLD FUCK YOU!! FUCK YOU!!! YOU KILLED SO MANY INCLUDING SERBIANS!! YOU WUHAN SCUM!!! OH NO HE INFECTED ME. WITH ME INFECTED. ALL OF EUROPE IS FUCKED! CHINA WHYYYYYYYYYYY!!!!!!!
Italyball - OH YOU ARE THE WORST MOTHERFUCKER TO INFECT ME! YOU MADE THE REST OF EUROPE INFECTED THANKS TO YOUR TOURIST. I hate you... I HATE YOU!
Kosovoball - Stop complaining about our between us my east clay is not yours, its mine you kebab; And at least that you're lucky that I even recognize you maybe I shouldn't even recognize you in the first place. But, we are still of very good friends (mostly becauseing yuo dad and I are very goodings of friends).
Israelcube - Idiot Zionist! Stop invading Palestine!!! Free Palestine!
Gallery
Artwork
Comics

Related templates

Community content is available under
CC-BY-SA
unless otherwise noted.