The contents of this page are subject to change.
Recent things have happened to Moroccoball, so it is subject to change. You can add the new information too! Alternatively, visit the talk page to add recent information that it should have.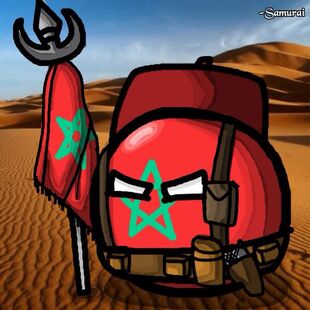 General information
Personality
Couscous, Anschlussy, Islamic, Goes apeshit at the mention of Spain
Relations and opinions
Friends

Thank you for not recongnizing western sahara
Enemies

Algerian Puppet

Algeriaball

Chinaball

GO FUCK YOURSELF TERRORIST!!!

Greeceball

Z WORST

Spainball
Macedoniaball

Swedenball

Finlandball (from 2017)

Venezuelaball

Libyan Arab Jamahiriyaball

İdiot Sultanate








Asian Pacific of Algeria and Western Sahara

Cubaball

This Flag stealer who claims that my star has historical context from 3000bc shit,

Name stealer.
Likes
dates, couscous, baguette, tomato, Tacos, Pokimane, Simps, Murica, hashish, mosaic, architechture, tourism, phosphate, tea, football, running, R3hab, Hashish, muzzies, RedOne, CIA, Mossad, capitalism, Bulls
Is of importants
Can into space?
Apparently
Couscous couscous, Maghreb maghreb,hashish hashish
Food
Dates, Couscous, Tea, Hashish
Status
Building Best Tower in Africa.
Notes
Better than south FAKE Africa STOLEN culture
"
الله الوطن الملك (God, Homeland, King)
"
 

—

Moroccoball
Moroccoball or Maracasball or Kebab

Vietnam is Mexicoball's instrument a simp countryball in North Africa. He has

Western Saharaball and might have some new enemies. But thankful that Morocco is of best friends with

USAball and of

UKball. He is of quite rich. Has best counter-terrorism in the world (FUCK YUO

ISIS.) He and

Algeriaball are also the only North African countries that have 

Berber as an official language. He is also proud of being the most western-friendly and the most visited african country.
In the Ancient Roman era (27 BC - 7th century AD) he was named Mauretania  named by

SPQRball.
Because of him having a pentagram on his flag, he is often depicted as the devil in Polandball comics (usually wearing a horned headband).
History
Moroccoball evolved from a

Berbersball. Beginning in 27 BC, it was called Mauretania. The kings of Mauretania became vassals of

SPQRball from 27 BC until about 44 AD. In 44 AD the area was annexed by 

SPQRball and divided into two provinces: Mauretania Tingitana and Mauretania Caesariensis. Mauretania Tingitana was the northern part of modern-day Moroccoball. It existed until Muslims conquered it in the 7th century. Later he learned the Arabic language and evolved to a

Caliphateball and, later, in a colony of

Franceball and
Spainball in the north. He became independent only in 1956
On 1961,the founding father and monarch of Morocco,Mohammed V died,Hassan II took over as king,and he began making friends with the West,causing an failed communist revolution in several cities,In 1963,the new constitution was involved and opposition parties were allowed to gain seats inside the parliament,but 1965,an communist activist Mehdi Ben Barka disappeard in Paris,opposition parties accused the king of taking part of it,as an result he disbanded the parliament and arrested political opponents and in some cases,disappeard,in 1975,Morocco pressured

Spainball to hand over Siguid el-Hamra and Rio del Oro to Morocco,Spain refuses but USA and France pressured Spain and since Spain did not want war and Morocco asked 350.000 Moroccoballs to go to Sahara Occidental de Espanol (what it was called back then) and annexed them, POLISARIO declared an guerilla war and 1 year later, POLISARIO (Algeria-supported) declared independent but its indipendence is not regonized by the UN,the guerilla war ended in 1991 and Morocco took over the Southern Provinces,although territories occupied by POLISARIO is an occupied territory inside Moroccan soil to this day,In 1979 and 1993,Hassan II (king of Morocco 1961-1999) joined peace negotiations between the Arab World and Isreal,in 1986,Hassan II attempt to normalize ties with Isreal but was met with backlash from the Arab League and the Moroccans,Hassan II decided to withdraw from the agreement but continues to have trade relations with Isreal,in 1999 Hassan II died of pheunomia and heart attack,40 world leaders (UN-general secretary Kofi Annan,US president Bill Clinton,PLO leader,Yasser Arafat,Isreali prime minister Ehud Barak,French president Jacques Chirac etc.) attended the funeral while other leaders payed its condolences at their countries
To this day,Morocco is ruled by King Mohammed VI
Nowadays, Moroccoball claims

Western Saharaball as his rightful clay. Moroccoball also claims Ceuta and Melilla as his.
He entered Eurovision only once (in 1980).
On November 11, 2017, he qualified for the 2018 FIFA World Cup in

Russiaball where get defeated by his bitter enemy

Spainball.
On November 16, 2020, he attacked the Polisario firecease with some help of USAball.
Flag Colors
Main Colors
Color Name
RGB
CMYK
HEX
International Orange (Golden Gate Bridge)
193, 39, 45
C0-M80-Y77-K24
#C1272D
Emblem Colors
Color Name
RGB
CMYK
HEX
Cadmium Green
0, 98, 51
C100-M0-Y48-K62
#006233
Relationship
Friends
Neutral
Algeriaball - My brother we have had hard times, since our Politics fight each other Also, I would likings you to hostings the 2030 World Cup with me and probably  Tunisiaball as well, but still western Sahara is mine, stop interfering with my land. Oh and one last thing, STOP SUPPORTING THIS RETARD OR ELSE I WILL OF ANSCHLUSS YUO AND HIM.
Enemies
 Houthiball - EVILLINE  Yuo shoot down my F-16!!! YOU WILL PAY FOR THAT NEVER FORGET!!
 Iranball - not of very best friend, I cut diplomatic ties with him
 ISISball - FUCKING TRAITOR! YOU KILLED TWO SCANDINAVIAN TOURISTS ON MY CLAY??! THAT'S IT I WILL KILL YOU SOON,GLAD THAT THREE TERRORISTS OF YUO ARE KILLED,but seriously can somebody take him away here, please? he's starting to get on my nerves.
African Unionball - Shitty union in which I regret joining. Now I can never be in the EU!!! And why you are a Ethiopia-puppet and regonize Polisario?!
 Western Saharaball - Always is and will forever be my pants, no questions asked. also, I just broke the ceasefire with you so ITS MY TIME TO ANSCHLUSS YOU!!
Swedenball - I can't wait to Boycott you and your low-quality IKEA and Volvo-crap for supporting socialist Polisario,Die to infindels of your meatballs.
Finlandball - A Moroccan terrorist in Turku is not a good reason for you to hate me as a whole, wallah what's your problem.
Syriaball - You traitor stop supporting Western Saharaball so REMOVE ASSAD FROM PREMISES YOU IDIOT!!!!
Ottoman Empireball - CAPTURED ME ONCE! BUT I WILL NEVER JOIN YOU!! DIE IN HELL!!
Spainball - YUO ARE THE WORST COUNTRY! gib Ceuta, gib Melilla, gib Canary Islands, gib Andalusia, gib Murcia, gib Extremadura, gib Castille, gib Valencia, gib Balearics, gib Madrid, gib Leon, gib Basque, gib Aragon, gib Catalonia, gib Navarre, gib La rioja, gib Asturias, gib Galicia, and gib Cantabria!!!!!!, and most importantly, I conquer yuo and should of stayed Muslim! Yuo of Al-Andalus!! Stupid Reconquista and yuor Inquisition! I ALSO CONQUERED YUO IN 1067 ME AND MY GLORIOUS SULTAN FROM ALMOHAD DYNASTY GIB ALL OF YUOR CLAY SPAIN IS MOROCCAN!!!!
Anschluss - YUO ARE THE WORST OCCUPIER IN MOI HISTORY!!! 1941 NEVER FORGET!!! GLAD THAT THE JEWS WERE PROTECTED FROM MY GLOURIOUS SULTAN MOHAMMED V!!! NO TOUCHY MY CLAY OR MY PEOPLE or else... ((but he is secretly my anschluss teacher))
 Cubaball - Allied with my enemies and enemies of my friends,REMOVE COMMUNISM AND MEHDI BEN BARKA IN DISGUISE
 Venezuelaball - HE ALSO HATES MY ALLY USA ALSO I'M NEVER GIVING WESTERN SAHARA INDEPENDENCE SO SHUT UP!!!
Vietnamball - My adoptive traitor brother. Stop Supporting Western Saharaball, remove Vietcongs and Ho Chi Minh!! Even Ukraineball Hates You. And you also stole mine and my friend's flag.
Mexicoball - My cousin. I don't care if you're friends with Somaliaball. BUT HOW DARE YOU HATE ME AND RECOGNIZE WESTERN SAHARA, REMOVE MEXICAN TACOS!!! MY TACOS ARE BETTER THAN YOURS, YOU POLISARIO PUPPET!!! Even Netherlandsball hates you.
Organisation of African Unityball - i hate yuo and withdraw from you for accepting this  Freak
Boliviaball (Since 2021) - TRAITOR!!! HOW DARE YUO SUPPORT FAKE COUNTRY!?!?!?? ALSO STOP HATING USA!!!! NO SEA FOR YUO!!!!!
 Chinaball - Free ughyur and fake china also ROC is the real china not you, genocidal bitch!! And you also created Virus, NOW NO ONE IS VISITING MY COUNTRY FFS!
How to Draw
Draw Moroccoball is simple:
Color the basic circle shape of this red
Draw a green satan five-pointed star border
Draw the eyes (and a fez) and you've finished.

Related templates

Community content is available under
CC-BY-SA
unless otherwise noted.