The contents of this page are subject to change.
Recent things have happened to Moroccoball, so it is subject to change. You can help edit to add the new information too! Alternatively, if the page is locked, visit the talk page to add recent information that it should have.
1631 - Present
1956 - Present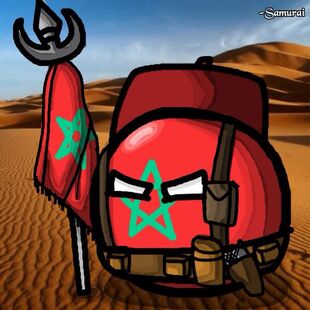 General information
Personality
Tea and Couscous lover, Anschlussy, Islamic, likes to sell hashish, Goes apeshit at the mention of Spain, doesn't like haram, Patriotic
Relations and opinions
Friends

Thank you for not recongnizing western sahara

NATOball

Ancestor

Franceball

Father!

Tunisiaball

Mauritaniaball

RedOne and his first ally

Nigeriaball

Senegalball

UKball

UAEball

Germanyball

Saudi Arabiaball

Egyptball

Israelcube

Portugalball

Croatiaball

Greeceball

REAL Syria

Lebanonball

EUball

Turkeyball (Sometimes)

Indonesiaball

Serbiaball

Georgiaball (Since 2020)

Azerbaijanball

Cataloniaball
Enemies

Algerian Puppet

Algeriaball

Chinaball

GO FUCK YOURSELF TERRORIST!!!

Z WORST

Spainball
Macedoniaball

Swedenball

Finlandball (from 2017)

Venezuelaball

Libyan Arab Jamahiriyaball

İdiot Sultanate








Asian Pacific of Algeria and Western Sahara

Cubaball

This Flag stealer who claims that my star has historical context from 3000bc shit,

Name stealer.

Fake Country that doesn't exist
Likes
dates, couscous, baguette, tomato, Tacos, Pokimane, Simps, Murica, selling hashish for monies, mosaic, architecture, tourism, phosphate, tea, football, running, R3hab, selling more hashish, muzzies, RedOne, CIA, Mossad, capitalism, Bulls, Chawki. Pitbull
Is of importants
Can into space?
Apparently
Couscous couscous, Maghreb maghreb,hashish hashish, Chawki Chawki
Food
Dates, Couscous, Tea, Hashish
Notes
Better than south FAKE Africa STOLEN culture
"
الله الوطن الملك (God, Homeland, King)
"
 

—

Moroccoball
"
Allez allez here we go allez this is the time of my life
"
 

— -Chawki singing time of my life
Moroccoball or Hashishball or Maracasball or Kebab

Vietnam is Mexicoball's instrument a simp countryball in North Africa. He has

Western Saharaball and might have some new enemies. But thankful that Morocco is of best friends with

USAball and of

UKball. He is of quite rich. Has best counter-terrorism in the world (FUCK YUO

ISIS.) He and

Algeriaball are also the only North African countryballs that have

Berber as an official language. He is also proud of being the most western-friendly and the most visited African countryball.
In the Ancient Roman era (27 BC - 7th century AD), he was named Mauretania named by

SPQRball.
Because of him having a pentagram on his flag, he is often depicted as the devil in Polandball comics (usually wearing a horned headband).
History
Moroccoball evolved from a

Berbersball. Beginning in 27 BC, it was called Mauretania. The kings of Mauritania became vassals of

SPQRball from 27 BC until about 44 AD. In 44 AD the area was annexed by

SPQRball and divided into two provinces: Mauretania Tingitana and Mauretania Caesariensis. Mauretania Tingitana was the northern part of modern-day Moroccoball. It existed until Muslims conquered it in the 7th century. Later he learned the Arabic language and evolved to a

Caliphateball and, later, in a protectorate of

Franceball and

Spainball in the north. He became independent in 1956.
On 1961,the founding father and monarch of Morocco, Mohammed V died,Hassan II took over as king,and he began making friends with the West,causing a failed communist revolution in several cities,In 1963,the new constitution was involved and opposition parties were allowed to gain seats inside the parliament,but 1965,an communist activist Mehdi Ben Barka disappeared in Paris,opposition parties accused the king of taking part of it,as an result he disbanded the parliament and arrested political opponents and in some cases,disappeared,in 1975,Morocco pressured

Spainball to hand over Siguid el-Hamra and Rio del Oro to Morocco,Spain refuses but USA and France pressured Spain and since Spain did not want war and Morocco asked 350.000 Moroccoballs to go to Sahara Occidental de Espanol (what it was called back then) and annexed them, POLISARIO declared an guerilla war and 1 year later, POLISARIO (Algeria-supported) declared independent but its independence is not recognized by the UN,the guerilla war ended in 1991 and Morocco took over the Southern Provinces,although territories occupied by POLISARIO is an occupied territory inside Moroccan soil to this day,In 1979 and 1993,Hassan II (king of Morocco 1961-1999) joined peace negotiations between the Arab World and Israel,in 1986,Hassan II attempt to normalize ties with Israel but was met with backlash from the Arab League and the Moroccans,Hassan II decided to withdraw from the agreement but continues to have trade relations with Israel,in 1999 Hassan II died of pneumonia and heart attack,40 world leaders (UN-general secretary Kofi Annan,US president Bill Clinton,PLO leader,Yasser Arafat, Israeli prime minister Ehud Barak,French president Jacques Chirac etc.) attended the funeral while other leaders payed its condolences at their countries
To this day,Morocco is ruled by King Muhammad VI.
Nowadays, Moroccoball claims

Western Saharaball as his rightful clay. Moroccoball also claims Ceuta and Melilla as his.
He entered Eurovision only once (in 1980).
On November 11, 2017, he qualified for the 2018 FIFA World Cup in

Russiaball where get defeated by his bitter enemy

Spainball.
On November 16, 2020, he attacked the Polisario.
Flag Colors
Main Colors
Color Name
RGB
CMYK
HEX
International Orange (Golden Gate Bridge)
193, 39, 45
C0-M80-Y77-K24
#C1272D
Emblem Colors
Color Name
RGB
CMYK
HEX
Cadmium Green
0, 98, 51
C100-M0-Y48-K62
#006233
Relationship
Friends
Neutral
Enemies
How to Draw
Draw Moroccoball is simple:
Color the basic circle shape of this red
Draw a green Satan five-pointed star border
Draw the eyes (and a fez) and you've finished.

Related templates

Community content is available under
CC-BY-SA
unless otherwise noted.