The contents of this page are subject to change.
Recent things have happened to Myanmarball, so it is subject to change. You can add the new information too! Alternatively, visit the talk page to add recent information that it should have.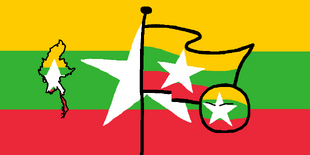 General information
Government
Personality
Overwhelmed, prosperous, debatable, angry, underminded, open-minded, heroic, talented, non-historical
Is of importants
Can into space?
Yes, it's Burma's biggest plan
Longyi longyi
Sweden, the leader and creator of the börk, banned me because i hate his wife
Thailand
:( ;_;
Food
lahpet, tea leaf salad, mohn la jin, mohinga
Notes
REMOVE ROHINGYAS !!! YUO ARE WORST KEBAB, YUO SMELL !! RETURN TO BANGLADESH !!! YOU MAY LIVE IN THE ZOO !!!! YUO CAN GWO BACK NOWW !!! OR ELSE !!!
Myanmarball
(also known as
Burmaball
), officially the
Republic of the Union of Myanmarball
, is a buddhist countryball in Southeast Asia
where men wear dress (longyi)
. His clay is bordered by

Chinaball
to the North,

Indiaball
to the West with a small portion of

Bangladeshball
, and

Thailandball
to the East. The country is divided into 7 states, along with the capital
Naypyidawball
, giving him a total area of 676,578 km², making him the 2nd largest country in Southeast Asia. As of 2020, the population is about 54.52 Million people.
Being geographically in Southeast Asia gives Myanmar to ability to join the

ASEANball, along with the

UN like many other countries...
Myanmar is often seen as a very poor, corrupt and heavily war-torn country in the outside world as he has been involved with a number of coups and rebellions in his life, along with the longest-running civil war. Along with the ongoing Rohingya conflict, he has been given a large number of sanctions and has been acused of violating human rights. Myanmar also have no seatbelt so be careful when visit him.
Myanmar is also heard using Chinaball's "xixixi" laugh.
His national day is January 4th, and his astrological sign is Capricorn.
History
Originally, Myanmarball was inhabited by

 1balls. They soon settled as the

 Pyuballs and growed rice around central Myanmarball. Countryballs who migrated in the south became the

Mons, migrants to the west became the

 Rakhine and the migrants in the east became the

 Shans. Each groups made their own kingdoms. Rakhines were more influenced by Indiaball, Mons were influenced by Thailandball, and Shans were influenced by both Chinaball and Thailandball. The original Pyu became the Kingdom of Paganball. Other cultures of Myanmarball made their own successful kingdoms and the Kingdom of

Toungooball invaded most of the empires that existed. Meanwhile Toungooball and his following kingdoms were having the occassional anschluss with

  Ayutthayaball. In 1752 the dynasty of

Konbaungball was created and they invaded a shitload of places. They invaded the Mon kingdom, Restored Hanthawaddy Kingdomball, from 1752 to 1754. From 1765 to 1767 they fully anschlussed

 Ayutthaya by burning their capital and making residents servants. At the same time, from 1765 to 1769,

Qingball tried to invade but Burmese forces shielded their attack. In 1785 they took Arakan, which is now

Rakhine Stateball. They took

Manipurball after a few raids from 1814 to 1820. In Manipurball, these years are known as the manor din, or the 'days of the Burmese'. They also took

Assamball after some wars from 1817 to 1822. In Assamball, these years are called Chahi-Taret Khuntakpa, or 'seven years of devestation'. 
The British took Rakhine State and

Tanintharyi Regionball, known to the British as Arakan and Tenasserim, and Assamball, Manipurball and 

Tripuraball in India were given to the British East India Company after the First Anglo-Burmese War of 1824 to 1826. In the other war after that, the British East India Company (being given a whole new look and renamed the

British Rajball a couple years later) took Lower Burma, and three decades later in 1885 the British took the rest of Burma and the Konbaung Dynasty had collapsed, and the British added the newly founded colony of

 British Burmaball as part of the British Raj.
It was left undisturbed throughout the new century, until 1942. The

Empire of Japanball wanted some clay. The Empire of Japan took the British's clay away and

Thailandball helped by taking away parts of Shan Stateball as part of Saharat Thai Doem. In 1942, the Japanese made the

State of Burmaball. They, and Thailand, gave back the clay in 1945. Two years later, the British Raj gained independence and a year after that it became free from British rule. 

It became the
Union of Burmaball in 1948. It stayed like that until 1962 when it became

Socialist Burmaball. It remained peaceful until 1988. After that it became the Union of Myanmarball, or the SPDC (State Peace and Development Council), and the name was changed by

Aung San Suu Kyi from Burmaball to Myanmarball, but then

Aung San Suu Kyi was put under house arrest in 1989. It was dissolved after the 2010 elections, and then it became Myanmarball as we know it in 2011. 
Flag Colors
Color Name
RGB
CMYK
HEX
Philippine Yellow
254, 203, 0
C0-M20-Y100-K0
#FECB00
Wageningen Green
52, 178, 51
C71-M0-Y71-K30
#34B233
White
255, 255, 255
N/A
#FFFFFF
Imperial Red
234, 40, 57
C0-M83-Y76-K8
#EA2839
Relationships
Myanmar has tried to get friends around the world. Myanmar is also in

ASEAN with outer Southeast Asian countries
Friends (သူငယ်ချင်းများ/thuungaayhkyinnmyarr)
Neutral (ကြားနေ/ kyarrnay)
Enemies (ရန်သူ/ yaan thuu)
Countries Voting Against Condemning Myanmar
Gallery
Republic of the Union of Lithuania Myanmar (aka Burma)
States/Regions



★

Kachin Stateball • Kayah Stateball • Kayin Stateball • Chin Stateball • Sagaing Regionball • Tanintharyi Regionball • Bago Regionball • Magway Regionball • Mandalay Regionball • Mon Stateball • Rakhine Stateball • Yangon Regionball • Shan Stateball • Ayeyarwady Regionball
Main cities
Rangoonball • Mandalayball • Naypyidawball (capital) • Mawlamyineball • Taunggyiball • Monywaball • Sittweball
Historical entities
Migrants from the West • Pyuball • Arakaneseball • Kingdom of Thatonball • Kingdom of Paganball • Hanthawaddy Kingdomball • Myinsaing Kingdomball • Toungooball • Konbaungball • British Burmaball • State of Burmaball • Union of Burmaball • Socialist Burmaball
Community content is available under
CC-BY-SA
unless otherwise noted.