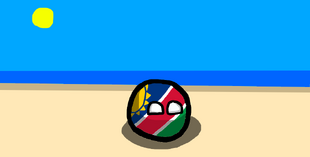 General information
Personality
Shy, cool minded, forgiving
Notes
elected Adolf Hitler as a local politician
"
Nambia's health system is increasingly self-sufficient.
"
 

—

Donald Trump
Nambiaball Namibiaball, officially the Republic of Namibiaball (German: Republik Namibiakugel; Afrikaans: Republiek van Namibiëbal), is a countryball in southern Africa who cannot into water. Namibiaball is the driest countryball in Sub-Saharan Africa.
Initially born in 1884 as German South-West Africaball, Namibiaball is an adoptive son of Germanyball. He was raised by South Africaball until his rebirth as an independent republic in 1991.
Namibiaball has recently made a video on USAball by insulting itself and satirically pointing out its president Donald Trump, who erroneously called him "Nambia".
History
Namibiaball's history is lost in time. He was a

native and a nomadic hunter/gatherer.
Portugalball discovered him in the year 1485. In the 19th century, 

Boerballs arrived from the south and started arguing with

Khoisanballs.

German Empireball and

USAball decided to adopt him. After some wars, Namibiaball was split into a

British part and a

German part. In WWI

UKball asked

Union of South Africaball to "liberate" Namibiaball from

German Empireball.

Union of South Africaball thought the "liberation" was forever.
Namibiaball eventually had enough of apartheid and became independent in 1990 after some wars.
He is now very peaceful and has a strong GDP per capita for the continent. Dropping oil prices have hurt his economy though.
Flag Colors
Color Name
RGB
CMYK
HEX
Tangerine Yellow
255, 206, 0
C0-M19-Y100-K0
#FFCE00
Catalina Blue
0, 53, 128
C100-M59-Y0-K50
#003580
Crimson
210, 16, 52
C0-M92-Y75-K18
#D21034
White
255, 255, 255
N/A
#FFFFFF
Spanish Green
0, 149, 67
C100-M0-Y55-K42
#009543
Relationships
Friends
Enemies
Gallery

Related templates

Second British Empire Commonwealth of Nationsball
Founders
UKball
Africa


Botswanaball • Cameroonball • Eswatiniball • Gambiaball • Ghanaball • Kenyaball • Lesothoball • Malawiball • Mauritiusball • Mozambiqueball • Namibiaball • Nigeriaball • Rwandaball • Seychellesball • Sierra Leoneball • South Africaball • Tanzaniaball • Ugandaball • Zambiaball
Asia
Bangladeshball • Bruneiball • Indiaball • Malaysiaball • Pakistanball • Sri Lankaball • Tringapore
Europe
Cyprusball • Maltaball
North America
Antigua and Barbudaball • Bahamasball • Barbadosball • Belizeball • Canadaball • Dominicaball • Grenadaball •

Jamaica • Saint Kitts and Nevisball • Saint Luciaball • Saint Vincent and the Grenadinesball • Trinidad and Tobagoball

Oceania
Australiaball • Fijiball • Kiribatiball • Nauruball • New Zealandball • Papua New Guineaball • Samoaball • Solomon Islandsball • Tongaball • Tuvaluball • Vanuatuball
Former members
Irelandball (1931-1949) • Maldivesball (1965-2016) • Zimbabweball (1980-2003)
Community content is available under
CC-BY-SA
unless otherwise noted.