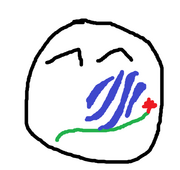 Niagara Fallsball is a cityball in

Ontarioball, not to be confused with his twin brother in New Yorkball across the river. It is said to be known as the "Honeymoon Capital of the World" and the city you see on the starch spray can. as many newly-married couples, thrill-seekers and suicidal folk flock to his clay all the time. He receives millions of tourists every year from

Canadaball and

USAball (due to its proximity to the border) as well as from around the world.
Apparently you can see the spray of Niagara Fallsball on a good day all the way from Torontoball on the observation deck of the CN Tower.
He has one of the coolest New Year's Eve parties in Canadaball. And many people have tried to go over his waterfalls in barrels (or so they say).
Relationships
Community content is available under
CC-BY-SA
unless otherwise noted.