←

1984 - Present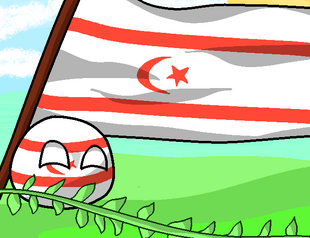 General information
Personality
Kebab defender, little kebab c:
Is of importants
Can into space?
Yes. (with

dad
)
Kebab Kebab, Hellim Hellim remove fake Cyprus remove fake Cyprus
Status
only turkey recognise me... :(( recognition plox ;-;
Northern Cyprusball, or TRNCball also known as KKTCball, is an unrecognized countryball in northern

Cyprusball (As the name suggests). He is supported by kebabs, but only

Turkeyball and

Nakhchivanball recognize him. He also hates

Cyprusball.
The

UNball adopted Resolution 541 in later in 1983, declaring his independence from

Cyprusball legally invalid, preventing any other countryball after

Turkeyball from recognizing him.
His passport can only into

Australiaball,

Pakistanball,

Tanzaniaball, and

Turkeyball, plus 

 Franceball,

USAball, and

UKball.
Relationships
Friends
Frenemies
UKball/ Akrotiri and Dhekeliaball - Filthy tea! But to be fair, he was a good father, and he defends kebab too.
Sealandball - HAHAHA! I was defeat you with 6-1, you piece of tea! But like me he just wants into recognition too!
Cyprusball -Thinks he is the real Cyprus when in fact HE IS WRONG! But sometimes I want into reunification...
Enemies
Administrative divisions of Northern Cyprusball
Lefkoşaball Girneball İskeleball Güzelyurtball Gazimağusaball
Gallery

Related templates

Community content is available under
CC-BY-SA
unless otherwise noted.