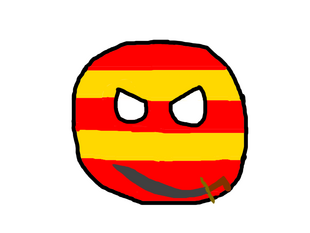 Relations and opinions
Friends

Ottoman Empireball

USAball
(sometimes)

My son, Missed him

Kingdom of Franceball
(1515-1816)
Enemies

Pay Tributes if you want into Mediterranean!
(sometimes)


Failure
Invaders!

Spanish Empireball

Russian Empireball
(Sometimes)

Denmarkball

So, you're invading me without paying debts?
(since 1816)
The Regency of Algiersball was a vassal stateball of

Ottoman Empireball in North Africa lasting from 1515 to 1830, when it got conquered by the French .
History
Ottoman Algeriaball born as a

8ball, adopted by

Berbersball,

SPQRball

Byzantineball,

Rustamid dynastyball,

Ziridball,

Kingdom of Algiersball and then

Ottomanball.
His Son is

Algeriaball.
Relationships
Friends
Neutral
USAball - Since we established relations, he tried to wreck my navy but fails then he signed Peace Treaties with me, then the relations were complicated.
Russian Empireball - Do I know this guy?
Kingdom of Franceball (1515-1816) - We used to ally together along with my My Dad
Enemies
Community content is available under
CC-BY-SA
unless otherwise noted.