→
1299 - November 1, 1922
General information
Government
Personality
Stronk, Cool, Angry, Kebab
Historical information

Preceded by
Succeeded by
Sultanate of Rumball
Adalball
lots of Anatolian beyliks
Byzantineball
Despotate of Epirusball
Kingdom of Bosniaball
Second Bulgarian Empireball
Despotate of Serbiaball
Kingdom of Hungaryball (1000-1526)


Kingdom of Croatiaball
Mamlukball
Hafsid Dynastyball
Hospitaller Orderball
Kingdom of Tlemcenball
Empire of Trebizondball
Samtskhe-Saatabagoball

Government of the Grand National Assemblyball
First Hellenic Republicball
Caucasus Viceroyaltyball (1801-1917)
Bosnia and Herzegovinaball
Principality of Serbiaball
Provisional Government of Albaniaball
Kingdom of Romaniaball
Kingdom of Bulgariaball
British Iraqball
British Palestinecube
French Mandate for Syria and the Lebanonball
Kingdom of Hejazball
French Algeriaball
French Tunisiaball
Italian Libyaball
British Cyprusball
Is of importants
Food
ḥalāl food, kebab, kuru fasulye, pilau, baklava
Notes
Don't Mess With Him Already.
The Ottoman Kebab Empireball, was an answer for colonization and WW1 an empire located in the Eastern Hemisphere. The Ottoman Empireball was officaly established in 1299 and before 1922 it had lots of clay in Arabia, North Africa, the Balkans, Anatolia and everything around the Black Sea. He is known for conquering Serbian Empireball, Byzantine Empireball, Mamlukball, Kingdom of Hungaryball (1000-1526), The Knights of Rhodes, Sultanate of Tunisball and much more. He offically collapsed, and died in 1922 and made a brand new country called 

Turkeyball in the aftermath of World War I. He is why people remove kebab.
History
Ottomanball was created after

Kayı Tribeball's leader Ertuğrul Bey died, and Osman I, his son claimed himself as the leader and formed Ottomanball. Osman I developed the nation and made it famous near and in Anatolia for being tolerant, and also investing a lot on trade. After Osman I died, Orhan Bey came to power. Orhan was good at diplomacy, and managed to annex several Beyliks with royal marriages. Then, Ottomanball began expanding west. He conquered Karesiball and captured its large navy. Orhan I took advantage of Byzantine pretender rebels in Southern

Byzantineball and took control of the rebel occupied areas, including the fort in Gallipoli. However, he refuse to give back the clay to Byzantineball, thus souring the relations with them.
After Ottomanball proclaimed its permanent position in Anatolia, it conquered and inherited throne of all other Beyliks, it also fought with

Serbian Empireball and

Byzantineball because of clay dispute and expanded westwards. Ottomanball took control of Greece, Albania; vassalized Serbia and Bosnia by the end of 14th century. However,

Timuridball didn't like this. He was jealous of Ottomanball and wanted Anatolia for himself. Because of that, he declared war on Ottomanball and defeated him. Yıldırım Bayezid, the sultan of Ottomanball was captured. Due to throne dispute, a 12 years old civil war known as "Fetret Devri" started. After it ended, Ottomanball began reghatering its strength, although many nations have regained their independence from him. For a while, Ottomanball only conquered the tiny independent Beyliks in Anatolia and stopped expanding. However, in 1451, Mehmed II began preparing for taking "the city of World's desire",

Constantinopleball. In 1453, Mehmed II declared war on

Byzantineball to finish him off once and for all. He conquered Constantinople and began expanding towards every direction. First, he reconquered all of Anatolia; Second, he conquered Serbiaball and Bosniaball; Third, he vassalized

Wallachiaball,

Moldaviaball and

Crimean Khanateball.
Ottomanball was a superpower that dominated the rest of civilized world with its strength after Selim I conquered

Mamlukball. Rapid expansion in Africa began and

Kingdom of Hungaryball was almost fully conquered. Ottomanball began stagnating after conquering Hungary and kept dominating the entire Europe until Great Turkish War, in 1683.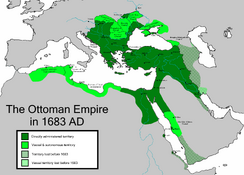 After failing 2nd Siege of Vienna in 1683, Europe saw it as a perfect opportunity to remove Ottomanball from Balkans. Holy League consisting of all of Europe (except

Kingdom of Portugalball and

Old Swiss Confederationball) was formed. They fought until in 1699, Ottomanball finally gave up and decided to give back

Hungaryball's former land to

Austriaball. And began losing every single region of theirs one by one. In 1830, Greece got their independence. In 1876, there was a famine in Bosnia. As a result, they didn't pay their taxes and he was broke. Because of this, the Balkan regions started to break away from his control. This is when the Balkans started to have a grudge against him and wanted to remove him. In 1913, the First Balkan War broke out and it ended with him loosing almost all land in the Balkans. Luckily,

Bulgariaball was unhappy with his gains and declared war on him. Then he got some of the Balkans back.
After years of decline, in 1915, Ottomanball was exhausted by their recent wars in Balkans and a short civil war where the Young Turks took over. It was forced into the Great War after a part of their navy attacked the Russian harbors under the command of a German officer thus leading to Russian Empire declaring a war and thereby their allies as well.

German Empireball was winning World War I. He succesfuly won Gallipoli Campaign against the British and their allies, but he was unsuccesful in Sinai and Basra.

Ottomanball was going to be fine as

German Empireball was supporting him well against the British despite the fact that

Ottomanball lost a lot of men and were lacking the food and ammunitation. It was so severe that even the young boys had to go to the front line. But a disaster happened to the Central Powers in 1917. German Empireball sent

Mexicoball a letter, saying he will help Mexicoball reclaim land he has stolen from USA if they join Central Powers. But the letter was intercepted by British and was directed to Washington D.C.. This made

USAball send 4 million volunteers but by at least 10.000 soldiers per day would be sent to Western Front, putting Germany in a desperate position. However, the divisions

USAball sent were undertrained and underequipped while lacking any combat experience, but they would receive the training and equipment from the British. Taking advantage of that,

UKball invaded

Principality of Albaniaball,
Macedoniaball,

Kingdom of Serbiaball and

Bosnia and Herzegovinaball.

Austria-Hungary ,

Kingdom of Bulgariaball,  

German Empireball decided to surrender and 

Ottomanball had no choice but to conditionally surrender.
But on 13 November 1918,

UKball, 

French Third Republicball and 
Kingdom of Italyball invaded and occupied the city of Constantinople, capital of the empire.
Kingdom of Greeceball took advantage of this while having already sat out the Great War with their unaffected army, they took the Turkish western coast. However,

Ottomanball formed a resistance movement under Mustafa Kemal Atatürk and drove out the occupiers from Anatolia and forced the Allied Powers to draft an agreement in the favor of Turks. The Ottoman parliment was abolished and the empire was replaced by

Government of the Grand National Assemblyball.
Relations
Friends
Neutral
USAball - ...uhhh....who...uh....are you again? I-I can't remember. Well, we were fine until WW1. Then I cut relations. But thanks for not declaring war.
 Spainball - She may be of European imperialist but al least she never did anything to me. I barely knew her anyway.
Switzerlandball - Honestly, I don't even know who this European is, but I put him on neutral because I not of invadings him and he is neutral with everyone, anyway.
Enemies

How to draw
Sultanate:
Draw a basic circle, fill with maroon.
Draw three white crescent moons (Or one big star-and-crescent).
Draw eyes and your done
A fez is optional
( Other versions)
1453-1517)
Draw a circle. 
Draw a yellow crescent pointing right, fill the rest of the ball with red.
Add eyes and you're finished.
Draw a basic circle,fill with green
Draw three white crescent moons
Draw eyes and your done
Gallery

Related templates

Nibiru Rəpublic of Thə Kəbab Followərs Azərbaycan
Rəgions
Abshəronballl (Bakuball) • Ganja-Qazakhball • Shaki-Zaqatalaball • Lankaranball • Quba-Khachmazball • Aranball • Yukhari-Karabakhball • Kalbajar-Lachinball • Daglig-Shirvanball
Mənacəs




☪

Artsakhball • Nakhchivanball
SOON!
Tabrizball • Urmiaball
Formər əntitiəs
Migrants from South (Prəhistoric Əuropəans) • Ibəriaball • Caucasian Albaniaball • SPQRball • Parthiaball • Sassanidball • Persiaball • Transcaucasiaball • Transcaucasian SFSRball • Azərbaycani SSRball ( Soviətball)
Murica's State Georgia საქართველო
Regions

Abkhaziaball • Adjaraball • Guriaball • Imeretiball • Kakhetiball • Kvemo Kartliball • Mtskheta-Mtianetiball • Racha-Lechkhumi and Kvemo Svanetiball • Samegrelo-Zemo Svanetiball • Samtskhe-Javakhetiball • Shida Kartliball ( South Ossetiaball) • Tbilisiball
Abkhazian districts
Gagraball • Gudautaball • Sukhumiball ( Sukhumiball) • Gulripshiball • Ochamchiraball • Tkvarcheliball • Galiball
South Ossetian
divisions
Dzauball • Tskhinvalball ( Tskhinvaliball) • Znaurball • Leningorball
Former entities

Migrants from South (Prehistoric Europeans) • Urartuball • Colchisball • SPQRball • Achaemenid Empireball • Kingdom of Iberiaball • Kingdom of Armeniaball • Parthiaball • Sassanidsball • Rashidunball • Umayyadball • Abbasid Caliphateball • Kingdom of Georgiaball • Mongol Empireball • Ottoman Empireball • Kingdom of Kartli-Kakhetiball • Safavid Dynastyball • Afsharidball • Qajarball • Russian Empireball • Georgia Governorateball • Democratic Republic of Georgiaball • Transcaucasiaball • Georgian SSRball ( • Sovietball )
Islamic Republic of Iran, heir of Persia
Provinces


☫

Alborzball • Ardabilball • East Azerbaijanball • West Azerbaijanball • Bushehrball • Chahar Mahaal and Bakhtiariball • Farsball • Gilanball • Golestanball • Hamadanball • Hormozgānball • Ilamball • Isfahanball • Kermanball • Kermanshahball • North Khorasanball • Razavi Khorasanball • South Khorasanball • Khuzestanball • Kohgiluyeh and Boyer-Ahmadball • Kurdistanball • Lorestanball • Markaziball • Mazandaranball • Qazvinball • Qomball • Semnanball • Sistan and Baluchestanball • Tehran Provinceball ( Tehranball) • Yazdball • Zanjanball
Historical entities
Migrants from the West • Medesball • Achaemenidball • Parthiaball • Sassanidball • Rashidunball • Umayyadball • Abbasidball • Saffaridball • Samanidball • Ghaznavidsball • Seljukball • Khwarazmianball • Ilkhanateball • Timuridball • Safavidball • Afsharidball • Zandball • Qajarball • Pahlavi Iranball
Mesopotamian Republic of Anarchy Iraq
ENEMIES!
ISISball • Iraqi Kurdistanball
Governorates


الله أكبر

Al Anbarball • Al Diwaniyahball • Babilball • Baghdadball • Basraball • Dhi Qarball • Diyalaball • Dohukball • Erbilball • Halabjaball • Karbalaball • Kirkukball • Maysanball • Muthannaball • Najafball • Ninevehball • Saladinball • Sulaymaniyahball • Wasitball
Historical entities
Migrants from South • Sumerball • Babylonball • Assyriaball • Macedonball • Seleucidball • Parthiaball • SPQRball • Sassanidball • Rashidunball • Umayyadball • Abbasidball • Ilkhanateball • Jalayiridsball • Qara Qoyunluball • Aq Qoyunluball • Safavidball • Afsharidball • Ottomanball • Mandatory Iraqball • Kingdom of Iraqball • Ba'athist Iraqball
Oy Vey Israel
Districts
Haifacube • Jerusalemcube • Tel Avivcube • Central Districtcube • Northern Districtcube • Southern Districtcube
District capitals
Arielcube • Beershebacube • Haifacube • Jerusalemcube • Nazarethcube • Ramlacube • Tel Avivcube • West Jerusalemcube
Other cities


✡

Ashdodcube • Ashkeloncube • Bat Yamcube • Eilatcube • Givatayimcube • Holoncube • Modiincube • Netanyacube • Ramat Gancube • Tiberiascube
Former entities
4ball • Kingdom of Israelcube • Kingdom of Samariacube • Kingdom of Judahcube • Yehudcube • Herodiancube • Iudeaball • Byzantineball • Rashidunball • Umayyadball • Abbasidball • Fatimidball • Kingdom of Jerusalemball • Ayyubidball • Mamlukball • Ottoman Empireball ( Damascus Eyaletball • Mutasarrifate of Jerusalemcube) • British Palestinecube