Perthball is the capital of Western Australiaball and is the largest city of his. Perth here has a population of 1.8 million and loves to mine, which is obviously his largest source of revenue. He has allowed many mining companies to set up in his clay, allowing them to venture into other parts of Western Australiaball's clay and stripping it in the quest for valuable materials.
History
Perthball's clay used to be owned by by the Aboriginals (5balls) and the tribe that lived there was the Noongar but then STUFF HAPPENED. UKball first had a small settlement further down the coast than Perthball but then he had suspicions that Franceball wanted to colonise the other parts of the western half of Australiaball's clay. Since the 60's he developed thanks to gold, iron, nickel, alumina, diamonds, mineral sands, coal, oil and natural gas. Then the mining companies took over.
Relevant Issues
He still hasn't forgiven Sydneyball and Melbourneball for indirectly taking mining profits and benefiting from the redistrubution of wealth
He likes the heat, possibly because of a seabreeze which comes in most summer days.
He's not near anything.
He reluctantly hangs out with mining companies because he knows that he would be nothing without them. Yet, despite this Australiaball considers him quite irrelevant.
There's a large range to the east of him which just gets annoying for him.
Friends
Gallery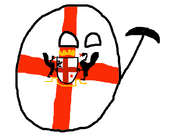 Community content is available under
CC-BY-SA
unless otherwise noted.