"
I cannot say I enjoyed the very little I saw of Peru: in summer, however, it is said that the climate is much pleasanter.
"
 

—

Charles Darwin
"
little by little, one walks far
"
 

—

Peruvian proverb
"
Somos libres, seamoslo siempre, seamoslo siempre! Y ante niege, sus luces, sus luces, sus luces el sol!
"
 

— Peruvians proudly singing their national anthem
Peruball, officially the Republic of Peruball, is a countryball in western South America. Its closest neighbors are

Brazilball to the east,

Colombiaball to the north,

Ecuadorball to the northwest,

Chileball to the south,

Boliviaball to the southeast and the Pacific Ocean to the west. The country is divided into 24 regions (25 with Callaoball), including his capital,

Limaball, giving him a total area of 496,200 square miles, making him the third largest country in South America, and the 19th in the world. With a total population of about 32.49 million as of 2019, he ranks as the 43rd most populous country in the world.
He maintains membership in
OASball,

UNASURball,

Pacific Allianceball, and of course

UNball like most other nations.
As it was said before, Peruball is a countryball that have been almost always betrayed in many conflicts, it has been tried to be invaded by its neighbourhood several times, he thinks it is because has he is one of the richest countries in resources in the world. That has caused some distrust in him, but still being a hospitable, kind and happy countryball. Still, he gets annoyed when people call him Canada and when Chile is around (but they basically still have a feeling of brotherhood among them).
Nowadays he welcomes Venezuelan refugees and immigrants to live in his clay. His national day is July 28th.
Personality
Peruball is kind, hardworking, rich and stronk, he usually makes many friends among the world. He is kind of smart and likes agriculture. He also takes religion far too seriously. since, he loves going to the church.
He hates communists since the 80's even though he is a member of the non-aligned movement since a long time ago, he was also abused by his dad Spain (Even thought he considers him his most trusted son in that time.) but he got away with it after his independence.
He gets triggered when people call him

Canadaball without the maple leaf or when people say that Chileball is better than him.
History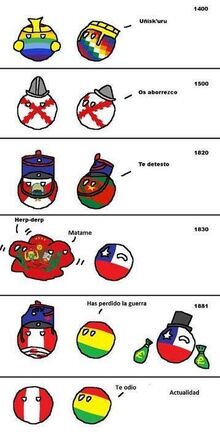 Early history (3ball, Kingdom of Cuzcoball, Kingdom of Huari, Inca Empireball)
The history of this nation is not so known by most people, the history of Peruball is of very large, ranging from an unknown date BC to 2018 and is also not so known since no European had touched the Americas no other than

Christopher Columbus, he tried to go to India using a method that surpassed the Atlantic Ocean and entered the Pacific Ocean (which is the reason the Suez Canal was built), if the Americas did not exist he would have died but in this case

Cubaball's clay saved his life and he explored the island of Cubaball at one point that he colonized most of the Caribbean.
Before that, there are three theories of how

1balls reached Peruball's clay.
One is that the

Chinese and

Malaysians  and Peruball's coast  are so many Chinese Peruvians around there, another one claims that

Antarcticaball almost anschlussed all of used to border

Tasmaniaball so people went through

Antarticaball and reached what is now, the Patagonia,

Tierra del Fuegoball and

Magallanesball. (Owned by Chileball and Argentinaball) and the most famous one, claims that the

Russians passed through the Bering Strait during the ice age and arrived to Peru following the Andes Mountains and started to live there but the ice age ended and some evolution happens so now

1balls (now proud

3balls) have to live in a continent that nobody knows about... until 1492.
Peruball was born as two 3balls, one that controls what is now

Limaball and another on

Cuzcoball, the 3balls eventually created their own kingdoms and later unified as the Inca Empireball, the population were pretty much developed natives.
As the glorious and legendary
Inca Empireball
, he conquered some tribes, extended his empire up to modern-day

Colombiaball
, conquered some tribes but COULDN'T CONQUER A SINGLE PATAGONIAN TRIBE, in case you ask who is he, he was

Mapucheball
, now you may be asking yourself why such a legendary and powerful empire couldn't kill off a single tribe on the Patagonia?
Nobody knows, theres a theory that claim that the mapuche were Britons in disguise, meaning that Britain discovered America,

Trilluminati!!!!
The reason is currently unknown and that question doesn't really matter so yeah.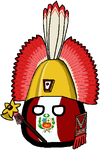 There was a famine on 1525 and later a civil war between Atahualpa and Huascar in order to rule the empire, both sons of the previous emperor that had died.
As the civil war advanced,

Spanish Empireball expanded their colonial empire up to most of modern-day

Colombiaball.
Spanish colonization era (Viceroyalty of Peruball)
The Spanish expanded into a majority of South America, Central America, the Caribbean and most of northern America and later discovered the Incas, they offered Atahualpa help and they later jailed Huascar, after the civil war,

Spanish Empireball tried to introduce

Christianity there (which was actually making the Incas part of Spain) but Atahualpa didn't know Spanish so he threw away the bible, which would lead to the 40 years long conquest of the Incas, it was easily won by Spain and they turned the Incas into slaves.
On November 3, 1536, the

Spanish Empireball confirmed the foundation of "Ciudad de los Reyes" (now

Limaball).
On October 28, 1746, a 9.0 magnitude earthquake struck and destroyed Lima and the port of 

Callaoball, causing a tsunami on the coast of

Limaball, this is one of the most powerful if not powerful earthquakes recorded ever.
Achievement of Independence (Protectorate of Peruball, Republic of Peruball)
During the 1810s there were revolts on

Limaball and other cities wanting independence, the revolts would become part of the Spanish American wars of independence after

Simon Bolivar and

Jose de San Martin proclaimed 

Peruball's independence on July 28, 1821, the independence war was won in 1828 by Peruball, however 

Spainball didn't recognize their independence.
On 1836, Peruball asked 

Boliviaball if he wanted to be part of him (Bolivia used to be named "Alto Perú" or "High Peru"), but he said "Only if we form a confederation" which Peruball agreed, creating the

Peru-Bolivian Confederationball, however 

Chileball, 

Argentinaball and some Peruvian citizens didn't agree with this so they declared war on 

Peru-Boliviaball.

Peru-Boliviaball lost after three years of fighting on 1839, Peru and

Boliviaball will become independent and 

Argentinaball gained Jujuyball.
On 1864, 

Spainball tried to seize control of the Chincha Islands and regain control of their colonies by attacking

Callaoball, however ​

​​ Boliviaball,

Ecuadorball and

Chileball later joined the war, resulting again on a Peruvian victory (and 

Spainball finally recognizing Peruball).
During the 1870s, 

Boliviaball dragged Peruball into a war with 

Chileball since Peruball had signed a defence pact with 

Boliviaball however

Boliviaball left Peruball alone and thus, Peruball lost, some of southern Peru is now a part of

Chileball (RECUPERAREMOS ARICA, CHILENO.)
During 1929, the Wall Street crashed, starting the Great Depression, this affected many countries badly, including Peruball.
 Present and modern days (Peruball)
On the 1930s, Peruball went at war with 

Colombiaball for unknown reasons, but Peruball lost and had to give some small parts of 

Loretoball (which 

Ecuadorball claimed theirs) to 

Colombiaball, also there were anti-Chilean riots of northern Chilean provinces so

gave Tacnaball and some clay to Peruball.
On 1941, 

Ecuadorball and Peruball had so many territorial disputes that they went to war, the war was won by 
Peruball super quickly and 

Ecuadorball had to give (or recognize)

Loretoball to Peruball, he also joined World War II on the Allied side, he mostly fought in some battles on the Pacific Ocean against the Empire of Japanball.
Later on 1968,

Peruball went under a dictatorship but in 1975 he went democratic again.
On 1970, a 7.9 earthquake struck the city of

Ancashball causing a deadly avalanche on Huascaran, killing 20,000 people, this is considered the deadliest avalanche ever recorded on human history.
The 80s weren't such a good decade for Peruball, since a

revolutionary communist party tried to gain control within performing terrorist attacks, also 

Ecuadorball went at war with Peruball again but they had peace.
The 90s were a decade of celebration, since 

Shining Path was almost destroyed by Alberto Fujimori and the terrorism was mostly gone on Peruball,

 Ecuadorball tried to take advantage of this and tried to gain control of the Cenepa River with war, Peruball did not send people to die and instead gave away the Cenepa River without any act of violence.
On 2005, an minor 7.5 earthquake struck the regional department of

Loretoball and killed at least 5 people, shocks were felt on

Ecuadorball and southern

Colombiaball, the only one that helped
Peruball was

Israelcube.
During the night of August 15, 2007 at 18:40:57 UTC, another 7.9 earthquake struck the provinces of

Icaball and 

Limaball, killing more than 500+ people, there were even blue lights on the sky, all of
Latin America supported 
Peruball by sending money and reparations, the ones that shown most support were

Chileball,

Colombiaball (Shakira even donated some money),

Boliviaball and

Argentinaball.
Peruball does not change much after 2010, he is currently part of four alliances, 3 on South America and the

UNball, he is neutral on both Cold War and Second Cold War, but he wants to join

BRICSbrick soon if Brazilball leaves due to a possible wwiii.
Flag Colors
Color Name
RGB
CMYK
HEX
Lava
217, 16, 35
C0-M93-Y84-K15
#D91023
White
255, 255, 255
N/A
#FFFFFF
How to Draw
Peruball is quite easy to draw, in fact most people drawing Peruball don't need a tutorial, but if you don't think it's easy then look this tutorial.
Draw a big circle.
Inside of the circle, add a large red line on the left side.
Add ANOTHER large red line on the right side.
Color all the inside of both lines red.
In case you haven't do this, color the center white.
Add the eyes, and then you are done.
Relationships
Friends (causas)
Peruball has made some friends and enemies throughout the time and is friends with almost every countryball, as mentioned before, he is kind which makes him get lots of friends.
Neutral (Neutrah pe)
Enemies (Huevones)
Regional departments (Los Dhepahtamentos)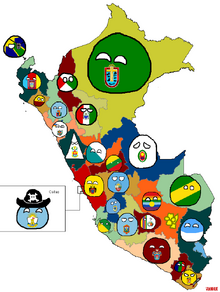 Appendices
Religion
80% of the population of Peruball's main religion is

Catholicism, followed by

Protestantism supported by 14%,

Atheism by 4% and




other religions by 2% (commonly Islam, Judaism, Hinduism and Buddhism)

Christianityball came by Spanish, German and British inmigrants coming to Peruball's clay, christianity was put as the official religion of the

Viceroyalty of Peruball by Spainball, which is made by Catholicismball and Protestantismball.

Islamball came to
Peruball by Arab and Turkish communities on Peruball. (Like Buddhism (by the Chinese), Hinduism (by the Hindus) and Judaism (by the Jewish people))
Peruball is considered the most religious countryball in the world and may remain like that for long enough, peruvians consider religion as a serious theme even since the colonization of the Incas.
Trivia
He hates vegans because they overexert his quinoa production capabilities.
One of the few countryballs to have up to three flags.
It is third for silver and copper production, and sixth for gold.
Identifies with Bolivia on vegan-hating.
Quotes
"Oe' causa!"
"Ponte mohca"
"Chapa tu combi"
"Alguien que habla español?"
"Inca stronk"
"Come to machu picchu!"
"Ehtamos aca dhesde las seis"
"I love canchita"
Gallery
Images
Video
Links

Related templates