"
BATANG PASAWAYY!!!! AT LAHAT SASABAY!!!!!
"
 

—

Philippinesball
"
I can into social media, celebrities, and relevance!
"
 

—

Philippinesball
"
Can I into G20?
"
 

—

Philippinesball
"
West Philippine Sea rules while South China Sea drools! Remove bully!
"
 

—

Philippinesball
"
The Filipino embraces civilization and lives and thrives in every clime, in contact with every people.
"
 

— José Rizal
The Philippinesball, officially known as the Republic of the Philippines is a sovereign archipelagic countryball in Southeast Asia in the western Pacific Ocean. He does not border any countries due to being an island in the Pacific, but is located North of

Indonesiaball, Northeast of 

Malaysiaball, Southeast of
Chinaball, South of 

Taiwanball, East of

Vietnamball, and West of

Palauball. The country is divided into 17 regions, with the capital

Manilaball located in

NCRball, giving him a total area of 120,000 square miles, making him the 72nd largest country in the world. As of 2018, he maintains a population of 107.068 million inhabitants.
Like all countries, the Philippines is a member of

UNball, and due to having close ties with the West, he is able to become a major non-NATO ally. He was the chairman of

ASEANball, but it later passed it on

Tringapore.
His national day is June 12
Geography
To his north across Luzon Strait lies

Taiwanball; West across the (South China Sea) or West Philippine Sea sits

Vietnamball. The Sulu Sea to the southwest lies between the country and the island of Borneo, and to the south the Celebes Sea separates him from other islands of

Indonesiaball. He is bounded by his own sea.
He is categorized broadly into three main geographical divisions: Luzon, Visayas, and Mindanao. With a population of 107.068 million people, Philippinesball is the eighth most populated Asian countryball and the 13th most populated countryball in the world. An additional 10.2 million Filipinos live overseas. (They op best weapon for world power, and heroes, obviously).
History
 The Community As A Boat (Precolonial Epoch)
The Philippinesball was first inhabited by Negritos, then they were supplanted by

Malay-Polynesians who established city-states known as Barangays. When Chinese, Indians and Arabs arrived in the Philippines, the barangays developed into several competing prehispanic states which were: the huangdoms of Ma-i and Pangasinan, the kingdoms of Tondo, Maynila and Namayan, the Kedatuan of Madja-as, the rajahnates of Butuan and Cebu and the sultanates of Lanao, Maguindanao and Sulu.
These states were under the domination of

Majapahitball and then, Manila, Tondo and Sulu soon came to be invaded by Bruneiball, with the rest of the Philippine prehispanic states going to war against Bruneiball.
Their strategic location in Asia made them an especially important hub for trade, earning them the title of "Pearl of the Orient".
The State as a Convent (Spanish Era )
In 1521,

Spanish Empireball, sailing from Latin-America, gasped and invaded these prehispanic states, naming the territory "Las Islas Filipinas" (King Philip the Second's Penthouse of Death.) Later on,

Spainball landed in Limasawa Island in 3/15/1521 and held the first Catholic Mass in the Philippines. He then found Cebu Islandball where he met the first few natives. After converting some of the natives, Spainball recieved a compliant from one of the rajahs about another Rajah who doesn't want to recognize Spain's influence, Rajah Lapu-Lapu. Determined to teach this "infidel" a lesson, Spain launched an attack on the island of Mactan. But since it's low tide season the galleons cant get in the small harbor, so Spainball and his men went on waist-deep water, Only to be ambushed and "Injured" by Rajah Lapulapu. Spainball then left the Philippines, only to return in 1565, starting the long 333 years of

Spanish Empireball rule over Philippines. Spainball quickly organized his new colony according to his model. The first task was the reduction, or relocation of native Philippinesballs into settlements. The earliest political system used during the conquista period was the encomienda system, which was relevant in

Europeball. Spainball's friars, governors and generals governed the Philippinesball in exchange for their services to the King. Spainball also made a law to collect tributes to Phil. In return, Phil would get justice and governance and aid during an invasion. In 1646, Dutch Republicball attacked Philippinesball to avenge what Spainball did to him in 1581. Spainball outsmarted Dutchball and thus, it was a Spanish Victory.
He was then ruled by his brother,

New Spainball and together, Phil's economy rised during their galleon trade of the 1800s. But when New Spainball became

Mexicoball, his brother closed the Manila-Acapulo route and thus, they did not see each other again until Phil's Independece. Due to this, Spainball governed Phil directly from Madrid, causing many problems from corrupt friars.
Philippinesball was attacked by

UKball in 1762 to 1764 as part of the 'Seven Years War' because

Spainball allied with

Franceball  Philippinesball could be an

British territory, but they can into signings treaty that ended the war. Many revolts happened during the late 18th-19th century, but

Spainball crushed the rebellion. Most of these revolts was not due to the Filipino nationalism, but because of the monopoly and welfare.

Spainball didn't took care of Philippinesball in the 1850s due to problems on his own clay, corrupt Governor-Generals was assigned, and corrupt friars got a seat in Philippine politics. Filipino nationalism had risen during this time, Phil read about the Renaissance, and what happened to

Franceball. Philippinesball wrote many books that exposed

Spainball's officials that Spainball assigned, but Spain had many problems so he could not handle the problem that is in the other side of the world. Spainball went too far when he killed

José Rizal. That even sparkled a

revolution that gave birth to

KKKball. Philippinesball started to revolt for his independence, Starting in

Manilaball, but failed to liberate it, but successfully liberated, Zamboangaball, Caviteball, Ilocosball, Cebuball, Negrosball, Leyteball and other regions. Philippines cornered

Spainball in

Manilaball.

USAball and

Spainball was wrapping their own war and Signed the 'Treaty of Paris'.

USAball went to Philippinesball clay to 'help' him, but it turns out, it was a stage battle to turnover Philippinesball to

USAball. Then, Philippinesball declared independece on June 12, 1898 creating the

First Philippine Republicball, the first democracy in Asia and he was into happy but his new ally had other plans.
The Trials of 'Benevolent Assimilation' (American Era )
In, February 1899,

USAball betrayed

Philippinesball and attacked him in his own clay. USAball Attacked Philippinesball in all sides of his clay.

Philippinesball almost lost

Manilaball and Caviteball and was forced to run away to the mountains. In some other parts, USAball massacred many Philippinesballs from north to south, estimating 1.5 soldiers killed and 35,000 civilians killed, that was a sad time for

Philippinesball.

Philippinesball was then anschlussed by

USAball by 1901 and the

First Philippine Republicball was defeated.. The bottom part of Philippinesball, Sultanate of Suluball rebelled against

USAball.

USAball did not fully anschlused

Suluball until 1913. Thus the Sultanate was defeated.
Philippinesball was oppressed by

USAball in early eras. But

USAball knew how to make propaganda thus brainwashing the younger generation that the

Spanish were into bad and

Philippinesball was into 'idiot native man' and cannot into civilization and have to be "benevonently assimilated".

Philippinesball rebelled against

USAball but cannot into winnings since

USAball was of powerful.
Empire of Japanball suddenly attacked Philippinesball after the Bombing of Pearl Harbor with landings on Luzon. Fighting ended in a Empire of Japanball win on the 8th of May, 1942 thus Philippinesball was '

liberated from the Americanballs'.

The Second Republic of the Philippinesball and other Philippinesball citizens got angry at the goverment and turned to Communismball.

USAball left Philippinesball for 3 years and when USAball was counter-attacking the table into their side after the the Battle of Midway. After 2 years they pushed through the territory of
Empire of Japanball to finally reach Philippinesball, Landing on the 28th of October, 1945. USAball then 'liberated' Philippinesball but actually

USA just retook Philippinesball and later gave him independence to avoid war reparations because

USAball carelessly bombed Philippinesball.
Showplace of Democracy in Asia? (Postcolonial Era)
In  1935, The 

USA guarenteed Philippine independence by passing the Tydings–McDuffie Act to gib philippine independence in 10 years. After the war, it was delayed for a year (Because of the Japanese) until on the 4th of july in 1946, The Philippine islands were given independence from the Americans. The first of these presidents was Ramon Magsaysay. He let the Americans pass the Bell trade act, which gave parity rights to the Americans which angered the Democratic alliance who state that it will harm the Philippines in  the long run. Then in 1950, the Philippines fought alongside the UN in the Korean war and led to the famed battle of Yultong which was a Filipino victory. After the 1953 election, Ramon Magsaysay was elected. He was a car mechanic before he was a guerilla leader in WW2. He was considered by Filipinos as the best president they had. He ended the Huk rebellion and opened the Malanan palace to the 'Tao' or the common man. But in 1957, he died tragically in an airplane crash which made Carlos Garcia the new president. Then under his administration, created the Filipino first policy which ended the American parity rights. The Macapagal adiministration was as interesting as Magsaysay's. It was on Macapagal's term that moved Philippine independence day to June 12, giving more reforms to the 'Tao' and the Sabah claim. He lost to Marcos in 1969 because of his marriage to Emilda Romualdez, his documentary and many more.
The 'New Society' and its Aftermath (Marcos Era)
in 1969, the Philippines was under the leadership of

Ferdinand Marcos.

 On Marcos' first term, Philippinesball became prosperous at the time and had one of the highest GDP in Asia. It was on his second term where things go dowhill. Philippinesball was set under a martial law from 1972 and 1981 under the leadership of

Ferdinand Marcos. Marcos also started operation Merdeka, which created the islamic terrorist groups in the Philippines and almost caused a war with [1] Malaysiaball. Under his administration, The Philippines joined the Vietnam war (which is ironic since he opposed joining when Marcos was a senate president). Then after years of suppression of communists, a revolution (known as EDSA) began in 1986. It was caused when the people did not like the snap election results of 1986 and was set under an undemocratic corrupt rule leading to the drain of its prosperity.leading thousands to become poor.
New Forms for old Challenges (The 5th republic of the Philippines)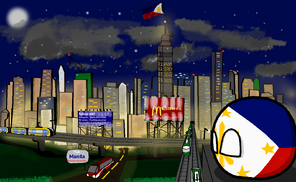 After the EDSA uprising, a new constitution, more presidents and another EDSA uprising. 

Philippinesball has a new president (incidentally the most famous president) with a much different approach that most Visayas and Mindanao citizens like but most liberals dislike. The President

Duterte now made drastic changes in Philippinesball such as strengthening relations with
Chinaball and

Russiaball, also weakening relations with USAball for a while. After

Trump's victory, he decides to strengthen ties with USAball since he just really don't like Obama. He also took care of the terrorists in Marawi. Right now, he is promoting Federalism to the Philippines and trying to take care of the



Communist Rebels with peace talks, but most of these peace talks never happened. He also declared the Communist Rebels as Terrorists.
As time progressed, Philippinesball can into trade with

Japanball,
Chinaball and

UKball. He can into economy and

Spainball brought some immigrants to make Philippines inhabitable. Philippinesball was considered as the "Pearl of the Orient" by that time since he can into civilization and class. Also he can into trash-to-energy
Personality
Philippinesball is known for being loyal, very polite, hospitable, friendly, hard-working, patriotic, protective and industrious to those people with a boss-like mentality or a true ally. He likes traditions and he would like to preserve them. He is known to have Pinoy Pride - a Filipino mentality where in they get proud at the littlest or biggest international recognition because they love their country and want their country to be most famous in the world.
He is a Third World Country and acts like one. He usually likes drinking beer (Though he is now avoiding it), having fiestas, and love of street games. He is also really fond of using the internet and is known to be the Selfie Capital of the World. Philippinesball is always updated about everything about socal media especially when it is about men and women who are pretty.
Those mentioned are general, but still his people can be a little against with the others due to "oppression" and "discrimination", these mentioned are claims of Visayas to the Tagalogs. It's common for Tagalogs, Bisayas, Kapampangans, Ilocanos and other groups of people in the Philippines to attack each other through words but those are mostly just for the sake of sarcastic reasons, and the people of the Philippines are very united. But nowadays they actually mean it.
Right now, Philippinesball is going through tough times that's why he is experiencing mood swings, as if he is in the puberty stage.                                                                           
Regions
Flag Color
Main Colors
Color Name
RGB
CMYK
HEX
International Klein Blue
0,56,168
C100-M60-Y0-K5
#0038A8
Crimson
206,17,38
C0-M90-Y65-K10
#CE1126
White
255,255,255
N/A
#FFFFFF
Candlelight
252,209,22
C0-M18-Y85-K0
#FCD116
Emblem Colors
Color Name
RGB
CMYK
HEX
Candlelight
252,209,22
C0-M18-Y85-K0
#FCD116
Relationships
Friends/Mga Kaibigan
Frenemies
Enemies/Mga Kalaban
Filipino Ingles
Pilipins can into English. But in most komiks, he op seen speaking Engrish. Here is how use Pilipino Inglis. Accents:
Certain sounds are collapsed: Example, P and F (like P), CH and TS (like TS), TH and D (like D), SH and S (like S), U and A (like A) and finally B and V (like B).
Example: Dat (that) preak (freak) is son ob (of) a bits (bitch)! He is stoling my pis (fish)! He is ander (under) arrest!
Note that Filipinos now rarely talk like this. They now know proper English. Filipinos use this just for the sake of sounding Filipino. This is actually Bisaya accent.
The spoiled accent: Accent when Filipinos try to speak in proper English. The long o sound as in bowl is pronounced as /owa/, e.g. bowal, owuval (oval). The short o sound as in orb sounds like /aw/.
They tend to pronounce every syllable in a word: Example: For example, an American might say "chok'lit" while a Filipino might say "chokoleyt" for the word chocolate. (Note: the actual Filipino of chocalate is "tsokalate") or they might say biscuit like bis-ku-wit. 
Colloquialisms:
Open the light: Turn on the light.
McDo: McDonalds
C.R.: Comfort room
Na: Placed at the end of a sentence. Literally means already. Example: Are you happy na.
Puta: Curse word which is pretty much used like Poland's Kurwa
Gago: Asshole
Pakshet: Fuck or shit or combined
Tangina/Tangina mo/Putang Ina Mo: Filipino insult which literally translates to Son of a Bitch or Your Mom's a Prostitute
Bobo: Stupid/Idiot
Tanga: Fool, also means Bobo
Po: is affixed to the end of sentences/phrases when one is addressing someone older than him/her or showing respect. Example: I am very sorry po.
Slipper: Flip-flops                                                                                       
Gallery
Artwork
Comics
Gifs
Links