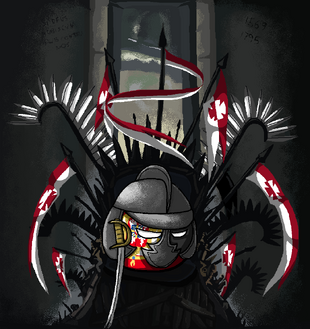 General information
Government
Personality
Hussarist. His voice is a dual voice that contains both Poland's and Lithuania's voices. He is also a Sabaton song.
Historical information

Preceded by
Succeeded by
Kingdom of Polandball, Grand Duchy of Lithuaniaball
File:Polish–Lithuanian–Muscovite Commonwealth-icon.png Polish–Lithuanian–Muscovite Commonwealthball


Republic of Three Nationsball

Russian Empireball,

Kingdom of Prussiaball,

Habsburg Austriaball
Is of importants
Can into space?
No but discovered truth about Solar System
Jesus Maria!!! (battle cry)
Food
Pierogi, Bigos,Soup the Czernina,St. Martin's Croissant, Kindziuk,more soup
Alcohol: Slivovitz łącka, Mead, Beer from Lwówek,
Status
Dead, but not for much longer
Notes
Remove Kebab Kurwa Mać!!!!!!!!!!!!
The Republic of Both Nationsball
, formally known as:
Polish-Lithuanian Commonwealthball,
Crown of the Kingdom of Poland and the Grand Duchy of Lithuaniaball,
known after 1791 as just the Commonwealth of Polandball,                    Poland-Lithuaniaball,
was a countryball in central Europe. His parents were 

Grand Duchy of Lithuaniaball and the

Kingdom of Polandball. During the 16th and 17th centuries, it claimed the clay of several Eastern European countries, including

Russian Empireball's clay.
He only managed to hold control of

Moscowball for two years and got soon driven out by a siege. They managed to remove kebab and fight off the

Ottoman Empireball in 1683 by playing the Winged Hussars song, which created the largest calvary

Kebab removing in history. Poland-Lithuaniaball died in 1795 because

Russian Empireball,

Kingdom of Prussiaball, and

Austrian Empireball partitioned him.
In the Polandball universe, Poland-Lithuania represents Polandball's and Lithuaniaball's early teenage to young adult years.  He is considered as either the father or grandfather of

Polandball, whom he is not very proud of. Poland often dreams of abandoning his miserable job as a plumber and reunite the Commonwealth.
Relationships
Friends
Neutral
Franceball - Meddled with those pesky Kebabs, but Napoleon helped gib independence!
Electorate of Saxonyball - We were in a personal union but you gave me worst dynasty ever, it was really horrible.
Enemies
Gallery

Related templates

Bulba Belarus President who no believe in covid-19

Oblasts

Brestball • Gomelball • Grodnoball • Mogilevball • Minskball ( Minskball Capital) • Vitebskball

Former entities

Migrants from West (Prehistoric Europeans) • Slavsball • Dregovichsball • Kyivan Rusball • Grand Duchy of Lithuaniaball • Poland-Lithuaniaball • Russian Empireball • Belarusian People's Republicball • Belarusian Central Councilball • Byelorussian SSRball
Community content is available under
CC-BY-SA
unless otherwise noted.