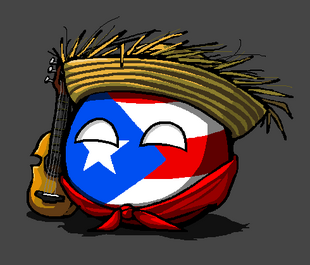 General information
Government
Unincorporated Territory of

USAball
Personality
Hospitable, Hispanic, Supportive, Brave, Industrious, Friendly, Fearful, Prideful, Forgetful, Clumsy, Smart and Wise, Ladysman, Joyful, homophobic, and Likes to Party
Is of importants
Can into space?
Yes, with astronaut Joseph Acabá but with
USAball
's help
Ja Ja, Despacito Despacito, 51st 51st,Echale Echale
Food
Bananas, Parcha, Cocina Criolla, Bubble Tea (now)
Status
Commonwealth of USAball (I hate being a territory though. And I'm still trying to join with Gringo as a US State.)
Protesting all around the world for the worst Governor Ricky Rosello to resign.
"
I am of next US state!
"
 

—

Puerto Rico
"
Despacito, Quiero desnudarte a besos despacito
"
 

—

Puerto Rico singing Despacito
Despacitoball Puerto Ricoball , officially the Commonwealth of Puerto Ricoball, which means "Rich Port" in

Spanish, is an independent country unincorporated territory of

USAball living in the Caribbean. While he doesn't have any neighbours due to being an island, he is very close to his two siblings

Cubaball and

Dominican Republicball. The territory is divided into 78 municipalities (counties), including his capital
San Juanball located in the Northeast, giving her a total area of 3,515 square miles. As of 2018, he has a population of about 3.195 million inhabitants and decreasing due to the large amounts of Puerto Ricans moving to mainland USA due to recent hurricanes like Hurricane Maria and Irma.
Due to being a territory of

USAball, he is not able to join any international organizations. However, he does host a few of

USA's bases, which help give

NATOball influence in the Caribbean.
His national day is June 10th.
Puerto Rico is usually very nice to anyone, but he gets very mad if he gets confused with

Cubaball. He can also get very cocky. He is also thinking more every day about returning to live with

Spainball due to

USAball not letting him into America. Sometimes. He's getting flirty. Sometimes he forgets he's not an independent nation...
History
Between 3000 and 2000 BCE the

Ortoiroid people were the first people to inhabit Puerto Rico. In between 430 BCE and 1000 AD the

Arawak and

Saladoid tribes. In 1493 the File:Genova-icon.png genovese captain

Christopher Columbus landed on the island. By 1550 many of the

3ball natives had died. The

Spanish Empireball finnally annexed Puerto Rico. Puerto Rico was a key part of

the spanish empire. The island was a important military base.

Puerto Rico remained a part of

Spainball long after the

napoleonic invasion of Spain, which caused almost the entire

Spanish Empire to collapse. Then

USAball went on a quick tour to

La Havana and the ship exploted.

USAball blamed

Spainball because tensions were really high when it exploted and

USAball invaded

Cubaball,

Philippinesball and Puerto Ricoball. For 2 years Puerto Rico was controlled by the

Ministry of War and

USAball generals, so

USAball gave them a civilian goverment. In 1917 they became

US citizens and since them a lot of the popultation is pushing for Statehood and in November the 3rd of 2020 Puerto Rico voted if to change it's status for the fifth time.
Fun facts
Puerto Rico has the most clay of all US territories and even has more land than two US states. In other words, he is the largest territory.
Puerto Ricoball copied his look from Cubaball to show support to the Cuban and Puerto Rican wars for independence.
Puerto Rico isn't just an island, but rather an archipelago.
70% of USAball's rum comes from Puerto Ricoball.
San Juan is the oldest European-founded city in all of the US (and territories).
He has a bioluminescent bay.
If you include Spanish Empireball, Puerto Ricoball is actually older than USAball.
His name wasn't always Puerto Rico. Before the Spanish came, it was called "Boriké" and then it was called San Juan Bautista and the capital was called Puerto Rico. Jealous of the name the capital had, he decided to switch it. However, it doesn't make sense for an archipelago to be called Puerto Rico as it means Rich Port.
He has another referendum to decide whether he can into state or independence. He has chosen to become a state.
He didn't get into America. So now he wants to be anschlussed by his mother again.
He got hit by Hurricane Irma and Hurricane Maria. After those hurricanes, he almost died but because he was ignored he has secretly becomed a despacito zombie
Relationships
Friends
Neutral
 USAball - Adoptive papa. He doesn't want me to be a state. Why? *cries*
 Texasball - Rebellious nephew y hijo de  USAball and  Mexicoball. Please secede so I can join statehood.
South Koreaball - They bring over Samsung and play LOL. I fought her evil brother. However, DESPACITO ES MAS VIEWED THAN GANGNAM STYLE AND BOY WITH LUV NOW! JAJAJAJAJAJA! She is my music rival. SHE WENT FARTHER THAN ME IN TERMS OF MUSIC RANKING THANKS TO BTS. And also, what the hell is Baby Shark and why does it get more views than Despacito? and what is Dynamite?
Enemies
Gallery

Related templates

The 51st State of 'Murica Commonwealth of Despacito Puerto Rico

★


Municipalities
Adjuntasball • Aguadaball • Aguadillaball • Aguas Buenasball • Aibonitoball • Añascoball • Areciboball • Arroyoball • Barcelonetaball • Barranquitasball • Bayamónball • Cabo Rojoball (Puerto Rico) • Caguasball (Puerto Rico) • Camuyball • Canóvanasball • Carolinaball (city/Puerto Rico) • Catañoball • Cayeyball • Ceibaball • Cialesball • Cidraball • Coamoball • Comeríoball • Corozalball (city/Puerto Rico) • Culebraball • Doradoball • Fajardoball • Floridaball (city/Puerto Rico) • Guánicaball • Guayamaball (city/Puerto Rico) • Guayanillaball • Guaynaboball • Guraboball (city/Puerto Rico) • Hatilloball • Hormiguerosball • Humacaoball • Isabelaball (city/Puerto Rico) • Jayuyaball • Juana Díazball • Juncosball • Lajasball • Laresball (Puerto Rico) • Las Maríasball • Las Piedrasball • Loízaball • Luquilloball • Manatíball • Maricaoball • Maunaboball • Mayagüezball • Mocaball (Puerto Rico) • Morovisball • Naguaboball • Naranjitoball • Orocovisball • Patillasball • Peñuelasball • Ponceball • Quebradillasball • Rincónball • Río Grandeball (Puerto Rico) • Sabana Grandeball • Salinasball • San Germánball • San Juanball (Puerto Rico) • San Lorenzoball (Puerto Rico) • San Sebastiánball (Puerto Rico) • Santa Isabelball • Toa Altaball • Toa Bajaball • Trujillo Altoball • Utuadoball • Vega Altaball • Vega Bajaball • Viequesball • Villalbaball • Yabucoaball • Yaucoball
Former entities
Ciboneyball • Tainoball • New Spainball • Spanish Puerto Ricoball
Caribbeans Nations and Dependencies
Sovereign countries
Antigua and Barbudaball (template) • Bahamasball (template) • Barbadosball (template) • Cubaball (template) • Dominicaball (template) • Dominican Republicball (template) • Grenadaball (template) • Haitiball (template) • Jamaicaball (template) • Saint Kitts and Nevisball (template) • Saint Luciaball (template)• Saint Vincent and the Grenadinesball (template) • Trinidad and Tobagoball (template)
Dependencies
Franceball: Guadeloupeball • Martiniqueball • Saint-Barthélemyball • Saint-Martinball

Netherlandsball: Arubaball • Bonaireball • Curaçaoball • Sababall • Sint Maartenball • Sint Eustatiusball

UKball: Anguillaball • Cayman Islandball • British Virgin Islandsball • Montserratball • Turks and Caicosball

USAball: United States Virgin Islandsball • Puerto Ricoball
Colonies of all countries of the World
Polish Caffaball • New Courlandball • Couronian Gambiaball
Hospitaller Empireball
Hospitaller Antillesball
Austrian Empireball

---

Austria-Hungaryball

Austrian Nicobarsball • Austrian Banquibazarball • Austrian Cabelonball • Austrian North Borneoball • Tientsinball
Italian Empireball
Italian Islands of Aegeanball • Italian Albaniaball • Italian Abyssiniaball • Italian Eritreaball • Italian Somalilandball • Italian East Africaball • Italian Libyaball •

Italian Cyrenaicaball • Italian Fezzanball • Italian Tripolitaniaball • Tientsinball

Belgian Empireball
Belgian Congoball • Ruanda-Urundiball • Tientsinball
Portuguese Empireball
Portuguese Brazilball • Portuguese Guineaball • Portuguese Angolaball • Portuguese East Africaball • Portuguese Macauball • Portuguese Indiaball • Portuguese São Tomé e Príncipeball • Portuguese Cape Verdeball • Portuguese Timorball
Norwegian Empireball
Vinlandball • Norwegian Icelandball • Norwegian Greenlandball
Swedish Empireball
Swedish Delawareball • Swedish Gold Coastball • Swedish Saint-Barthélemyball
Danish Empireball
Greenlandball • Faroe Islandsball • Danish Gold Coastball • Danish West Indiesball • Danish Indiaball • Danish Icelandball
Dutch Empireball
Dutch Bengalball • Dutch Coromandelball • Dutch Malaccaball • Dutch Suratteball • Dejimaball • Dutch Gold Coastball • Dutch East Indiesball • Curaçaoball • Dutch Surinameball • Netherlands New Guineaball • New Netherlandball • Dutch East India Companyball • Dutch Brazilball
Russian Empireball
Russian Americaball • Russian Fort Elizabethball • Russian Tianjinball • Russian Dalianball • Sagalloball • Port-Arthurball
German Empireball
Witulandball • German East Africaball • Kionga Triangleball • German South-West Africaball • German West Africaball • German Cameroonball • German Togolandball • German New Guineaball • German Samoaball • German Kiao-Ciaoball • Tientsinball • Klein-Venedigball
British Empireball
(started as English Empireball)
Gibraltarball • British Maltaball • British Heligolandball • United States of the Ionian Islandsball • British Cyprusball ( Akrotiri and Dhekeliaball) • Irish Free Stateball • British Americaball • British Newfoundlandball • British Saint Luciaball • Bermudatriangle • Saint Christopher-Nevis-Anguillaball • Thirteen Coloniesball ( Jamestownball • Massachusetts Bay Colonyball • Province of New Yorkball • Colony of Rhode Island and Providence Plantationsball • Province of New Hampshireball • Connecticut Colonyball • Colony of Virginiaball • Delaware Colonyball • Province of Georgiaball • Province of New Jerseyball • Province of Pennsylvaniaball • Province of Carolinaball • Province of North Carolinaball • Province of South Carolinaball) • British Barbadosball • British Saint Vincent and the Grenadinesball • Montserratball • British Antiguaball • British Bay Islandsball • Anguillaball • British Mosquito Coastball • British Jamaicaball • British Virgin Islandsball • Cayman Islandsball • British Bahamasball • British Canadaball • New Englandball • British Grenadaball • British Dominicaball • Turks and Caicosball • British Hondurasball • British Trinidad and Tobagoball • West Indies Federationball • British San Andrés, Providencia and Santa Catalinaball • British Guyanaball • Falklandsball • South Georgia and the South Sandwich Islandsball • Saint Helenaball, Ascensionball and Tristan da Cunhaball • British Sierra Leoneball • Cape Colonyball • British Mauritiusball • British Gambiaball • Colony of Natalball • Basutolandball • British Gold Coastball • Sultanate of Egyptball • Bechuanalandball • British Somalilandball • Zulu Kingdomball • British Ugandaball • British Zanzibarball • Nyasalandball • British Central Africaball • British Swazilandball • British East Africaball ( British Kenyaball) • Anglo-Egyptian Sudanball • British Nigeriaball • British Northern Nigeriaball • British Southern Nigeriaball • British Orangeball • British Transvaalball • Union of South Africaball • British South West Africaball • British Cameroonball • British Tanganyikaball • British Rhodesiaball • Northern Rhodesiaball • Southern Rhodesiaball • British Sumatraball • British Bengalball • Ceylonball • British Maldivesball • British Malayaball • Straits Settlementball • British Adenball • British Afghanistanball • British Hong Kongball • Kingdom of Sarawakball • British Rajball • British Borneoball • Sultanate of Bruneiball • British Muscat and Omanball • Trucial Statesball • British Weihaiweiball • British Bhutanball • British Kuwaitball • British Iraqball • British Transjordanball • British Palestinecube • British Tringapore• Malayan Unionball • British Indian Ocean Territoryball • British Burmaball • British Australiaball • British New Zealandball • Pitcairn Islandsball • British Fijiball • British Papua New Guineaball • Tokelauball • British Gilbert and Ellice Islandsball • British Solomon Islandsball • British Tongaball • British Nauruball • New Hebridesball • British Antarcticaball • Roanoke Colonyball • Ross Dependencyball • Tientsinball • East India Companyball • Tokelauball • Niueball • Cook Islandsball • Colony of British Columbiaball • Colony of Vancouver Islandball • Province of Quebecball


Kingdom of Scotlandball

Spanish Empireball
New Spainball • New Granadaball • Viceroyalty of Peruball • Viceroyalty of Rio de la Plataball • Spanish Buenos Airesball • Spanish Venezuelaball • Spanish Charcasball • Spanish Concepciónball • Spanish Cuzcoball • Spanish Guadalajaraball • Spanish Guatemalaball • Spanish Limaball • Spanish Manilaball • Spanish Mexicoball • Spanish Panamaball • Spanish Quitoball • Spanish Santiagoball • Spanish Santo Domingoball • Spanish Chileball • Spanish Cubaball • Spanish Puerto Ricoball • Spanish Yucatánball • Spanish Formosaball • Spanish Floridaball • Spanish Gibraltarball • Spanish Moroccoball • Spanish Saharaball • Spanish West Africaball • Spanish West Indiesball • Spanish East Indiesball
French Empireball
French North Africaball • French Moroccoball • French Algeriaball • French Tunisiaball • French West Africaball • French Togolandball • French Dahomeyball • James Islandball • Albredaball • French Equatorial Africaball • French Comorosball • French Somalilandball • French Madagascarball • French Guineaball • French Cameroonsball • Isle de Franceball • New Franceball • Acadiaball • French Louisianaball • French Canadaball • Terre Neuveball • French West Indiesball • French Dominicaball • French Grenadaball • French Grenadinesball • French Saint-Domingueball • French Saint Kitts and Nevisball • French Saint Luciaball • French Saint Vincentball • French Tobagoball • French Virgin Islandsball • France Antarctiqueball • Ininiball • French Indiaball • French Indochinaball • French Cambodiaball • French Laosball • Port Louis-Philippeball • French Polynesiaball • Saint-Barthélemyball • Saint-Martinball • Saint Pierre and Miquelonball • Wallis and Futunaball • New Caledoniaball • Clipperton Islandball • French Southern and Antarctic Landsball • Greater Lebanonball • Republic of Syriaball (1930-1958) • State of Syriaball (1924-30) • Tientsinball
Japanese Empireball
Karafutoball • Japanese Koreaball • Kwantung Leased Territoryball • East Hebeiball • Japanese Cambodiaball • Provisional Government of Republic of Chinaball • Reformed Government of the Republic of Chinaball • Great Wayball • Second Philippine Republicball • Japanese Laosball • Manchukuoball • Nanyoball • Empire of Vietnamball • Azad Hindball • Republic of Nanjingball • Japanese Taiwanball • Tientsinball • Mengjiangball • State of Burmaball
American 'Empire'ball
United States Cubaball • Panama Canal Zoneball • United States Philippinesball • Commonwealth of the Philippinesball • Liberiaball • Trust Territory of the Pacific Islandsball • American Tientsinball • Puerto Ricoball • Guamball • Northern Mariana Islandsball • United States Virgin Islandsball • American Samoaball • Baker Islandball • Howland Islandball • American Koreaball • Jarvis Islandball • Johnston Atollball • Kingman Reefball • Midway Atollball • Navassa Islandball • Palmyra Atollball • Wake Islandball • South Vietnamball (not really)
Community content is available under
CC-BY-SA
unless otherwise noted.