→
632 - 661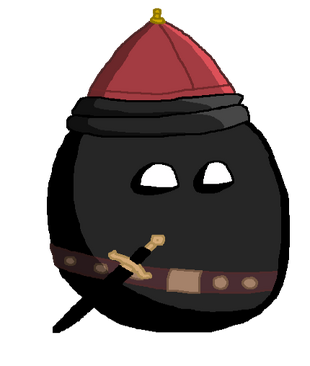 General information
Personality
Cute, but fierce in battle.
Language
Arabic,
Persian,
Greek, Coptic, Armenian.
Is of importants
Can into space?
No but can into heaven via Jihad
Rashidunball was the first ever

Caliphateball.
It was a very powerful empire that rapidly expanded, stretching from the Caucasus mountains to the north, up to Yemen and Oman from the south, to Northern Libya to the west, up to Persia to the east. They're unstoppable until the Umayyad rebels beated their rivals in the First Fitna.
Because of its pitch black flag, it is usually featured in comics taking place in the dark, and he appears.
History
Rashidun Caliphateball was established when Muhammad was died.
Relationships
Friends
Kingdom of Aksumball - Shukron for gib refugees for Rasulullah and kebabs from the Paganist Qurayish. Also yuor citizen, Bilal bin Rabbah RA was a good man. He was the first man who peal adzan. Shukron once again.
Anshar - Shukron for gib refugees and headquarter before into conquering mecca. Anshar and Muhajireen were the Best tribes I ever met. And Shukron for being second kebab clan. May Allah bless yuo.
Mughalball - thx of spreading Islam with tolerance!
Enemies
How to Draw
Rashidunball is the second simplest countryball to draw
Draw a circle
Draw two circles for eyes
Color body black
You are done.
Gallery

Related templates

ISIS!? FSA!? bomb bomb explosion Syrian Kebab Arab Republic
ENEMIES
ISISball • FSAball • Rojavaball
Governorates


★ ★

Latakiaball • Idlibball • Aleppoball ( Aleppoball) • Al-Raqqahball • Al-Hasakahball • Tartusball • Hamaball • Deir ez-Zorball • Homsball • Damascusball (capital) • Rif Dimashqball • Quneitraball • Daraball • Al-Suwaydaball
Historical entities
Migrants from the East • Assyriaball • Achaemenidball • Seleucidball • Parthiaball • SPQRball • Sassanidball • Byzantineball • Rashidunball • Umayyadball • Abbasidball • Fatimidball • County of Edessaball • Principality of Antiochball • County of Tripoliball • Ayyubidball • Mamlukball • Ottomanball • State of Syriaball (1924-30) • Republic of Syriaball (1930-1958) • United Arab Republicball
Mesopotamian Republic of Anarchy Iraq
ENEMIES!
ISISball • Iraqi Kurdistanball
Governorates


الله أكبر

Al Anbarball • Al Diwaniyahball • Babilball • Baghdadball • Basraball • Dhi Qarball • Diyalaball • Dohukball • Erbilball • Halabjaball • Karbalaball • Kirkukball • Maysanball • Muthannaball • Najafball • Ninevehball • Saladinball • Sulaymaniyahball • Wasitball
Historical entities
Migrants from South • Sumerball • Babylonball • Assyriaball • Macedonball • Seleucidball • Parthiaball • SPQRball • Sassanidball • Rashidunball • Umayyadball • Abbasidball • Ilkhanateball • Jalayiridsball • Qara Qoyunluball • Aq Qoyunluball • Safavidball • Afsharidball • Ottomanball • Mandatory Iraqball • Kingdom of Iraqball • Ba'athist Iraqball
Community content is available under
CC-BY-SA
unless otherwise noted.