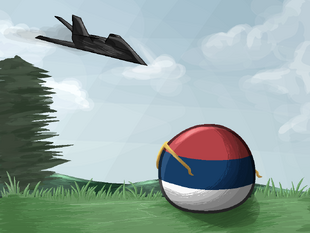 General information
Personality
Eccentric, separatist, remover, angry
Notes
REMOVE KEBAB FROM THE PREMISES!!! THAT'S ALL
"
REMOVE ĆEVAP!!
"
 

—

Republika Srpska

Republika Srpskaball is upside down

Russiaball an entityball of

Bosnia and Herzegovinaball. It is mostly inhabited by Serbs, but

UNball doesn't let him leave Bosniaball and join

Serbiaball. Plus it got infected by COVID-19.
History
In the Yugoslav Wars, he almost took over all of

Bosniaball, but after he mortared

Sarajevoball a third time,

NATOball began bombing his most important pieces of clay. Eventually he was integrated into his worst enemy, but given lots of power in the government. He is planning to leave Bosniaball and either join Serbiaball or become his own countryball. He also makes lots of good war songs, for example.
Relationships
Friends
Enemies
Gallery
Community content is available under
CC-BY-SA
unless otherwise noted.