July 19th, 2012 - Present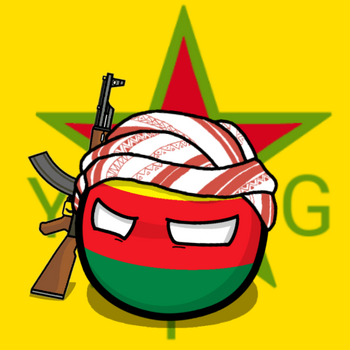 General information
Government
Autonomous region of

Syria
(de facto)


Libertarian Socialist Federated semi-direct Democracy (de jure)
Personality
Split, hates ISIS and turkey, very cute and is stronk
Language
Kurdish, Arabic, Syriac-Aramaic
Capital
Ayn Issaball
(
previously Qamishliball
)
Affiliation
Status
I killed ISIS! You're next, Turk, if yuo don't give Afrin!
Rojavaball
, officially the
Autonomous Administration of North and East Syriaball
(formerly the
Democratic Federation of Northern Syriaball
), sometimes called
Western Kurdistanball
, is an autonomous,

Kurdish
,

Arab
,

Assyrian
,

Armenian
,

Turkmen
,

Circassian
and

Chechen
region in

Syriaball
, he actually fight in Syrian Civil War. He gained autonomy during
Syrian Civil War
.
Relationships
Friends
Neutral
Enemies
Turkeyball - YOU ARE EVIL! STOP OPPRESSING KURDS! STOP AIDING JIHADISTS! YOU PREVENT THE MIDDLE EAST PEACE! I HOPE USA KICKS YOUR BUTT OUT OF NATO! YOU ARE THE GREAT TYRANT!!!
 Turkish backed FSA - YOU ARE JUST A PUPPET OF TURKEY, ME AND SYRIA WILL DEFEAT YOU!!!! STOP BURNING MY FARMS AND MURDERING MY PEOPLE!
ISISball - I never thought that I would say that, but YOU ARE WORSE THAN TURKEY! 2019 WORST YEAR OF YOUR LIFE, BEST YEAR FOR ME! HAHAHA YUO ARE DEAD!
Gallery
ISIS!? FSA!? bomb bomb explosion Syrian Kebab Arab Republic
ENEMIES
ISISball •

FSAball

• Rojavaball
Governorates


★ ★

Latakiaball •

Idlibball

• Aleppoball ( Aleppoball) •

Al-Raqqahball

•

Al-Hasakahball

• Tartusball • Hamaball • Deir ez-Zorball • Homsball • Damascusball (capital) •

Rif Dimashqball

• Quneitraball • Daraball • Al-Suwaydaball
Historical entities
Migrants from the East • Assyriaball • Achaemenidball • Seleucidball • Parthiaball • SPQRball • Sassanidball • Byzantineball • Rashidunball • Umayyadball • Abbasidball • Fatimidball • County of Edessaball • Principality of Antiochball • County of Tripoliball • Ayyubidball • Mamlukball • Ottomanball • State of Syriaball (1924-30) •

Republic of Syriaball (1930-1958)

• United Arab Republicball
Non-Independent Kurdistan, Land of Kurds
Entities

Rojavaball

•

Turkish Kurdistanball

•

Iraqi Kurdistan

•

Iranian Kurdistan

Historical entities
Kingdom of Kurdistanball • Red Kurdistanball • Republic of Araratball • Republic of Mahabadball •

Lachin Kurdish Republicball