Saar Protectorateball was a puppet country of

Franceball.
History
Saar Protectorateball was created by

Franceball in 1947 after

Nazi Germanyball was defeated. In 1954, Franceball planned to establish an independent Saarland, but in a 1955 referendum, Saarland rejected it and opted to join

West Germanyball instead, which finally happened in 1957, when he became the modern-day

Saarlandball. As part of the agreement, in today's Saarland, French is also still taught as the first foreign language.
Relationships

West Germanyball - Mon best friend aside from

Frankreich. Is also Germanic Brother who maybe nous into union one day?
How to draw
Drawing Saar Protectorateball is fairly easy:
Draw a circle
color one half of the ball Dark blue and the other Red
Draw a white white cross (like Denmarkball) then add eyes and you're done!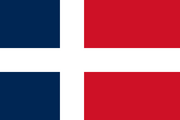 Gallery
Anschluss Federal Republic of Germoney Germany: Deutschland, Deutschland über alles

remove all memes

States
Baden-Württembergball • Bavariaball • Berlinball • Brandenburgball • Bremenball ( Bremerhavenball) • Hamburgball • Hesseball • Lower Saxonyball • Mecklenburg-Vorpommernball • North Rhine-Westphaliaball • Rhineland-Palatinateball • Saarlandball • Saxonyball • Saxony-Anhaltball • Schleswig-Holsteinball • Thuringiaball
Former entities
Migrants from South (Prehistoric Europeans) • Germaniaball • Saxonsball • Franksball • East Franciaball • Holy Roman Empireball • Kingdom of Prussiaball • North German Confederationball • German Empireball • Weimar Republicball • Nazi Germanyball • ReichRawr • Saar Protectorateball • Reichtangle • West Germanyball/ East Germanyball
Über alles in der welt! PAY DEBTS NAO!!!Or else...
Community content is available under
CC-BY-SA
unless otherwise noted.