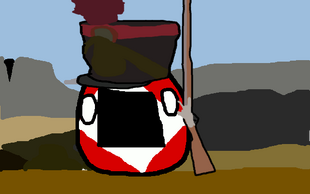 General information
Personality
Angry, "Kill Mode", Uncontrollable, Anti-Spanish and anti-Slavery.
Capital

Caracasball
Historical information

Preceded by
Succeeded by
Spanish Venezuelaball

First Republic of Venezuelaball

Spanish Venezuelaball

Third Republic of Venezuelaball
Status
Dead, But usually appears in Venezuelan Daily protests nowadays.
Notes
GUERRA A MUERTE, REMOVE SPANISH!
The
Second Republic of Venezuelaball
was a short-lived and an unrecognized South American country.
It was the stage of

Venezuelaball where it declared the pronunciation of the "War to the death" (Guerra a Muerte) agreement, where any balls born in

Spanish main clay would be legally assasinated by Venezuelaballs. It is also currently appearing nowadays in protests to remove actual

Venezuelaball government.
History
It all started after his

former entity got removed by the

Spanish Empireball.
But a year later after it's removal, Something happened, and it was alongside

His Brother, that he came back as the
Second Republic of Venezuelaball, and got


some territories to celebrate that.
Gallery
Community content is available under
CC-BY-SA
unless otherwise noted.