Warning!
This article includes controversial themes within it! If this kind of thing offends you, it is reccommended you click off this page. When editing, be careful and wary of this.
This page requires sanitation.
This page needs more accurate, less vandalistic/biased information or better formatting, it would be much appreciated to help!
The contents of this page are subject to change.
Recent things have happened to Serbiaball, so it is subject to change. You can add the new information too! Alternatively, visit the talk page to add recent information that it should have.
←

April 23, 1815 - Present
April 27, 1992 - Present
June 5, 2006 - present
General information
Personality
Dead honest, honest to the point, honorable, proud, immune, not afraid of anything,
kebab remover, aggressive when it comes to (most) kebabs, chaotic good (REMOVE KEBAB!)
Type

Slavic
Capital

Belgradeball
Affiliation
Is of importants
Can into space?
Yes, but removing kebab is more fun!
Бре Бре (Bre bre) / Remove Kebab, Remove Kebab
Food
Rakija, Pljeskavica, Ćevapi, Sarma, Burek, Punjena paprika, Pasulj, Kulen, Gulas
Status
Taking a break from removing kebab and instead removing COVID-19.
Notes
Remove kebab | Kosovo is SERBIA | Округла монархија | Ubi, zakolji, da Šiptar ne postoji | Ubi Hrvata da Šiptar nema brata | Granate na Hrvate | Nema vrba koliko ima Srba, ali ima grana koliko Muslimana | Nema vrba koliko ima Srba, ali ima granata koliko i Hrvata | Remove Corona
"
REMOVE KEBAB FROM THE PREMISES!
"
 

—

Serbiaball's catchphrase
"
Samo Sloga Srbina Spašava
"
 

—

Serbia
"
КОСОВО ЈЕ СРБИЈА
"
 

—

Serbia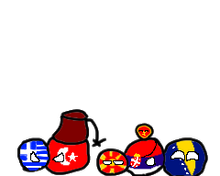 Serbiaball, officially

Yugoslavia 2.0 the Republic of Serbiaball, is a kebab remover countryball living in Southeastern Europe, specifically on Balkan Peninsula. His clay is bordered by

Bosnia and Herzegovinaball,

Croatiaball, and

Montenegroball to the West,

Bulgariaball and

Romaniaball to the East,

Hungaryball to the North, Albaniaball, and
Macedoniaball to the South. The countryball is divided into 29 districtballs, two autonomous provinceballs being

Vojvodinaball and Kosovoball, as well as the capital

Belgradeball, giving him a total area of 29,913 sq mi (34,116 square miles if you include Kosovoball). As of 2011, he maintains a population of about 7.261 million inhabitants (If you don't include Kosovoball).
Due to having close ties with his cousin, 

Russiaball, Serbiaball has become an observer of

CSTO. He's basically a member of

Danube Commissionball. Also he is a member of

OSCEball and

CEFTAball.
He has refused to join

NATO however after they bombed him, and can't join

EU until he recognizes Kosovoball.
Serbiaball is often seen as a very violent and aggressive countryball. He hates any sorts of muslims or kebab, especially his own (Talking to you Kosovoball), and tries to deny any sort of war crimes he commited during the Yugoslav Wars. Though he may act aggressive, he is really just a sad, poor countryball who has lost almost everything and everyone from the days of Yugoslaviaball, which is why he doesn't want to lose Kosovoball.
History (историја)
Early History
Serbia was born a

2ball like all European countryballs and was in Southeastern Europe with other countryballs.
In the 7th century,

Slavsball ancestors of Serbiaball arrived in what is now Serbiaball's clay. In 768, Serbiaball was born for the first time.
Middle Ages
Serbiaball was split into four small countryballs: Dukljaball, Zachlumiaball, Travunijaball and Raškaball (administrative). Later, Serbiaball was a small kingdomball in the Balkans at the time.
In 9th century, he converted to Christianity. In 13th century he became vassal of

Byzantineball. The 13th and 14th centuries were a golden age for Serbiaball. He was sort of an innocent countryball back then. He was under Nemanjić dynasty. In 1331, Stefan Dušan Silni ruled Serbiaballs and their clay and he was great emperor. He made Serbiaball great until Uroš Nejaki came. He was the worst emperor, so the empireball broke up when he ruled.
But this would soon end when in the late 14th century when

kebab invaded the Balkans. Serbiaball lost 70k remover against

kebab in the Marica River in 1371, then at Kosovoball in 1389 it was inconclusive, but then defeated at the city of Smederevoball in 1459 and finally at Belgradeball in 1521. Serbiaball swore to take revenge. This is when Serbiaball first starts hating

kebab.
During the invasion

Wallachiaball was of helping me defend, even if we failed, thanks bro, never forget!
While being under

kebab domination, he rebelled in 1594 but was defeated, then again in 1683 but was also defeated, then in 1804 but it only lasted for some time and in 1812 they were finally defeated, then in 1815 and this time,

kebab gave Serbiaball some autonomy.
Modern Times
In 1878 Serbiaball became indepedent REMOVE KEBAB!!! and in 1882 Serbiaball became a kingdomball.
In 1913 he removed

kebab for good from Balkans with the help of Kingdom of Montenegroball,

Greeceball and

Bulgariaball.
But then they couldn't agree on the new borders, so he with

Greeceball and

Romaniaball fought and defeated

Bulgariaball. A sad moment for the nations of Balkans indeed (sorry bro).

Serbiaball's history in a nutshell: REMOVE KEBAB!
How WW1 Started
This Franz (an  

Austria-Hungaryball) was of visitings of Sarajevo in 1914. A Serbiaball called Gavrilo Princip was ready to do crap on Austriaballs and he killed Franz.

Austria-Hungaryballs was however planning to take over Serbian clay anyways, he of sendings an ultimatum that was impossible for Serbiaball to agree upons as it would make them into slave. He didn't agree so Franz got so mad, that he used this as an approval and of invaded Serbiaball.

Russiaball was a friend of Serbiaball, so helped Serbiaball, but

Germanyball was friend of

Austria-Hungaryball,

Franceball was a friend of

Russiaball,

Montenegroball was a friend of Serbiaball,

German Empireball attacked Belgiumball's clay, but UKball was friend of Belgiumball, Bulgariaballs and Ottomans were friends of Germanyball, USAball, Japanball and Portugalball were friends of UKball and Italyball was rival of Austriaball and Romaniaball and Greeceball were friends of Serbiaball. That's how WW1 was!
After this he anschlused

State of Serbs, Croats and Slovenesball and also anschlused Kingdom of Montenegroball and that created

Kingdom of Yugoslaviaball. 1918 best year of life for Serbiaball's citizens.
Yugoslaviaball
Serbiaball was a part of

The Kingdom of Yugoslaviaball, with his brothers

Sloveniaball,

Croatiaball,

Bosnia and Herzegovinaball,
Macedoniaball ,

Montenegroball and two autonomous provinces:

Kosovoball and

Vojvodinaball.
At first it was a kingdomball but then

Nazi Germanyball invaded it.
After World War 2,

Yugoslaviaball became communist. It was all of goods and nice until of death of Tito.
Serbiaball wanted to turn

SFR Yugoslaviaball into a Greater Serbiaball because Slobodan Milosevic, the current leader of

SR Serbiaball at the time, was a nationalist and so were the leaders of

SR Croatiaball and

SR Bosniaball since Croatiaball wanted to be free again and Bosniaball was of willingly to join if also became free. So of wars between

Croatiaball, Serbiaball,

Bosnia and Herzegovinaball broke out. They let Sloveniaball leave because they of realizings that its better to havings of independent ally than violent separatist.

NATOball even invaded the body of Yugoslaviaball and helped to free the absorbed siblings of Serbiaball. And oh yeah, and somehow Macedoniaball got its independence without any blood spilled. This caused Yugoslaviaball gradually to regress back to ... Kid Buu Serbia and Montenegroball.
However, with the Badinter Commission accepted in 1991 and the succession is of signed in 2001 in Viennaball,

Serbia and Montenegroball is actually of a new nation rather than a direct successor of the old

SFR Yugoslaviaball.
As said before, after the Yugoslav Wars, Serbiaball and

Montenegroball became

Serbia and Montenegroball, then

Montenegroball left me in 2006.
But today Serbiaball is a peaceful countryball and might join EUball in 2026. And he his trying to forget the past but he still removes kebab. (And enjoys it.)
Flag Colors
Main Colors
Color Name
RGB
CMYK
HEX
Madder Lake
198, 54, 60
C0-M90-Y70-K10
#C6363C
Dark Cerulean
12, 64, 118
C100-M72-Y0-K19
#0C4076
White
255 ,255, 255
N/A
#FFFFFF
Emblem Colors
Color Name
RGB
CMYK
HEX
Saffron
237, 185, 46
C4-M24-Y95-K0
#EDB92E
Madder Lake
198, 54, 60
C100-M72-Y0-K19
#C6363C
White
255 ,255, 255
N/A
#FFFFFF
Relationships
Friends (пријатељи)
Neutral (неутрално)
Enemies (непријатељи)
Quotes
Oj Slobo pošalji salate, biće mesa, biće mesa, klaćemo Hrvate!
Samo sloga srbina spašava!
REMOVE KEBAB!
Kosovo is Serbia!
Kosovo je srce Srbije!
Ubi, zakolji, da Šiptar ne postoji!
Ubi Hrvata da Šiptar nema brata!
Granate na Hrvate!
Nema vrba koliko ima Srba, ali ima grana koliko Muslimana!
Nema vrba koliko ima Srba, ali ima granata koliko i Hrvata!
Vreme za Rakiju!
Živeli!
Bre Bre
VUČIČU PEDERU, IZDAO SI SRBIJU
Bog je Srbin i on će nas čuvati!
How to Draw Serbiaball
To draw Serbiaball start with a normal ball. Add a red block to the top, a blue block in the center and leave the bottom white. Then find Serbia's Coat of Arms. Draw this as the left eye (Looking Straight On) then add the straps to form an eyepatch. Now add his other eye and you are finished!
If you wish you can also add a Beret and accordian if you wish for him to remake the REMOVE KEBAB video
Gallery
Artwork
Comics
Gifs
Videos
Links

Related templates

Community content is available under
CC-BY-SA
unless otherwise noted.