"
Am Siam, only Siam!!!
"
 

—

Siam
Siamball, or Rattanakosin Kingdomball, is or was a 

 Thai  kingdom. He's the only country to have remained indepent in Southeast Asia during the colonial period.
History
He was born in 1351, and his capital was Ayutthayaball. He was very small clay but in 1540 he expanded his clay by conquering

 Cambodiaball,

Laosball ,
Lannaball, some southern part of

Chinaball and some northern part of

Malaysiaball. He had a lot of conflicts with his neighbour 

Vietnamball and some Laotian villages.
In 1767 Burmaball (now

 Myanmarball) who has multiple personality disorder attacked and he lost because he wasn't well-prepared. Burmaball killed Ayutthayaball. Siamball lost just about all of his clay but some of his people survived and moved to Thonburiball, Thonburi became the new capitalball of Siamball. Burmaball who was still in disorder quickly attacked again but that time he won.
Siamball later moved his capitalball to Bangkokball or Rattanakosinball, now the current capitalball of

Thailandball. Siamball always tried to be modern during colonial age. He did not become colony but he lost

Laosball and

Cambodiaball to

Franceball. In 1932 he changed his name to Thailandball, who exists to this day.
Relations
Friend
Neutral
Enemies

Gallery
Lao Predators People's Democratic Republic
Provinces


●

Attapeuball • Bokeoball • Bolikhamsaiball • Champasakball • Houaphanhball • Khammouaneball • Luang Namthaball • Luang Prabangball • Oudomxayeball • Phongsaliball • Sayaboulyball • Salavanball • Savannakhetball • Sekongball • Vientiane Provinceball ( Vientianeball) • Xieng Khouangball
Historical entities
Migrants from North • Kingdom of Funanball • Dvaravatiball • Kingdom of Chenlaball • Khmer Empireball • Longvekball • Kingdom of Lan Xangball • Kingdom of Luang Phrabangball • Kingdom of Vientianeball • Kingdom of Champasakball • Nguyễn dynastyball • Kingdom of Laosball • Rattanakosin Kingdomball • French Protectorate of Laosball • Japanese Laosball • Royal Lao Government in Exileball
 The Land of Flashbacks and Rice Farmers Socialist Republic of Việt Nam GENERAL, THEY ARE IN THE TREES! 
Municipalities
Cần Thơball • Da Nangball • Haiphongball • Hanoiball • Ho Chi Minh Cityball
Former entities


★

Migrants from North (Indochinese natives) • Hồng Bàngball • Kingdom of Funanball • Nanyueball • Champaball • Dai Vietball • Thục dynastyball • Triệu dynastyball • Ngôball • Đinh dynastyball • Lý dynastyball • Trần dynastyball • Hồ dynastyball • Lê dynastyball • Mạc dynastyball • Trịnh dynastyball • Tây Sơn Dynastyball • French Indochinaball • Nguyễn dynastyball • Empire of Vietnamball • Provisional Government of Vietnamball • • State of Vietnamball • North Vietnamball • South Vietnamball • Provisional Revolutionary Government of the Republic of South Vietnamball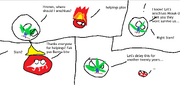 Community content is available under
CC-BY-SA
unless otherwise noted.