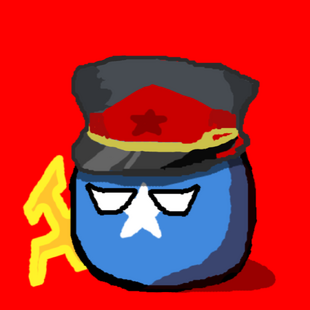 General information
Personality
dignified, militaristic, pious, socialist, evil, bossy, rude but rich (until 1991)
Is of importants
Siad siad, Kill kill issaq
Food
Somali food, fish rice, spicy shitney
Status
collasped becuase of bill clinton and is now the poorest country in the world
Notes
I WILL GET YOU EVIL BURGER AND RAW MEAT EATING RAT!!
Somali Democratic Republicball 
is a dictatorship countryball in Africa.
History
Somaliaball was born as an 8ball, adopted by Kingdom of Italyball as Italian Somalilandball, then Italian East Africaball. After UKball occupation from 1941 to 1950 and Italyball trusteeship from 1950 to 1960, he became independent. In 1969 he passed through a socialist phase which lasted twenty-two years. In those twenty-two years he fixated on the idea of a Greater Somalia, which meant the occupation of the Ogadenball, Djiboutiball, and Northeastern Province of Kenyaball, which led to the Ogaden War with Dergball in which he got support from the Chinaball, SR Romaniaball and USAball. After he was defeated and humiliated, he began to become into a paranoid and arrested officials, which then led to an end in the Somali Civil War.
Relationships
Friends
Libyan Arab Jamahiriyaball - My best friend. We are both socalist countries, pan africanist, pan arabist and overall a great friend who never betrayed me. Thanks for the aid for the Ogadean war!
Chinaball - Commie country who also helped me in war and a great trading partner. Thanks for the support!
SR Romaniaball - Also Aided me in war. Thanks!! We trade and have simular ideologies and goals. Remove GYPSIES ISSAQS and Bantus
Enemies
WORST MOTHERFUCKERS
Dergball - Disgusting starving nasty and disgracefull "brother". YOU SUCK SOVIET PO POP AND YOU CANNOT INTO FOOD! YOU CAN INTO STARVATION YOU LITTLE MURDEROUS HOSRE BITCH!! HOW FUCKING DARE YOU TRY ME!! YOU WANT TO FIGHT ME!! YOU WANT TO TAKE MORE LAND FUCKIN IMPERIALIST COMMIE PIG!! STOP CALLING ME A FAKE COMMIE YOU CHRISTIAN SHITHEAD!! YOUR HEAD IS FILLED WITH POO AND YOU KEEP ON GETTING POORER AND POORER Karma Strikes BACK
- USAball - OH YOU!!! YOU EVIL SATANIC BURGER!! YOU SIDED ME IN THE OGEDENIA WAR, BUT THEN YOU LITERALLY KILLED ME! YOU HAD LITTERALLY KILLED MY EMPIRE AND TURNED MY COUNTRY INTO A NO GOVERMENT SHITHOLE! HOW DARE YOU SATANIC DEMON!! GO TO HELL WITH YOUR SATANIC FRIENDS!! I HOPE YOU GET ANNUCELES AND DIE ONE DAY SHATAN
Somalilandball - Stop whining!!! The Isaaq genocide never happened. What are you talkingabout! It was not a genocide. Nothing happen, go back to the history textbooks again. I never killed you, Those Imperalistic Colonizer shits did. In the the Somaliland Campaign You know right?
Gallery
Anarchy Piratedom of Somalia and Somaliland
Somaliland regions
Adalball • Tug Dairball • Sanagball • Solball • Woqooyi Galbeedball ( Hargeisaball)
Somali regions


★

Puntlandball ( Bariball • Mudugball • Nugalball ( Garoweball)) • Bakoolball • Banaadirball ( Mogadishuball) • Bayball • Galguduudball • Gedoball • Hiranball • Middle Jubaball • Lower Jubaball • Middle Shebelleball • Lower Shebelleball
Historical entities
Migrants from West • Sultanate of Mogadishuball • Ifat Sultanateball • Warsangali Sultanateball • Adal Sultanateball • Ajuranball • Geledi Sultanateball • Majeerteen Sultanateball • Harar Sultanateball • Dervish Stateball • Italian Somalilandball • British Somalilandball • Somali Democratic Republicball
Community content is available under
CC-BY-SA
unless otherwise noted.