May 31, 1961
April 27, 1994 - Present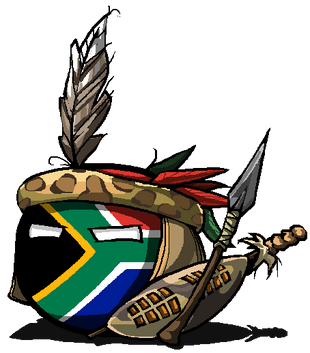 General information
Personality
Xenophobic, Multiple Personality Disorder
Is of importants
Can into space?
Can into space!
Well, sort of.
Elon Musk, the founder of SpaceX (a aerospace manufacturer and space transport services company) is from South Africa!
Click click, Mandela Mandela
Food
Braai, boerewors, bobotie, bunny chow and wine
Status
WE DID IT AGAIN!!! First Demi-Leigh, now Zozibini! Second Miss Universe win in 3 years!
And oh yeah, Springboks Rule (2019 Rugby World Cup champions)!
Still under lockdown and over 1 million cases...
Smoking weed
Notes
Removes land from white farmersreverse apartheid ?
"
SOUTH AFRIKA FOREVEAR! NKOSI SIKELEL' IAFRICA!!!!
"
 

—

South Africaball
"
Tsamina mina zangalewa, This time for Africa
"
 

— Shakira
South Africaball, officially the Republic of Tweebuffelsmeteenskootmorsdoodgeskietfontein and Elon Musk South Africa, is a countryball in southern Africa. South Africaball's favourite pastime is digging deep holes in its clay as it is full of valuable minerals like gold, platinum, manganese, chrome, iron, vanadium, and diamonds. He can into farm with long name.
South Africaball is a member of the G20 (or Group of Twenty) group formed by the countryballs that have the 19 largest economies plus the

EU.
South Africaball is also a part of

BRICSbrick along with

Brazilball,

Russiaball,

Indiaball and

Chinaball. South Africaball also plays cricket sports.
He is located in the same latitude as

Uruguayball and

Australiaball.
South Africaball is also one of the newly industrialized countryballs, with the others being

Brazilball,

Chinaball,

Indiaball,

Indonesiaball,

Malaysiaball,

Mexicoball,

The Philippinesball,

Thailandball and

Turkeyball.
History
South Africaball has a long history but didn't write much down until recently although there is a lot of

Khoisanball rock-art graffiti everywhere.
During the iron age, the civilization of Mapungubweball also existed and they traded with the east coast and built huge stone structures because they were bored and it would confuse future generations.
In the 15th Century,

Portugalball started looking for a shortcut to the far east and "found" the Cape, although it wasn't lost.
In the 16th Century, the

Dutchball needed a lay-over to India and started a veggie garden in the Cape. Some Huguenotballs arrived as well, escaping persecution in Europe. They were very good at making wine so were allowed in, irrelevant of their beliefs!
In the 17th Century,

Dutchball decided to make it a colony and make of moneys a lot with trade.
In the 18th century when

Dutchball clay was taken by

Franceball,

UKball arrived uninvited and take over but not give of back to Dutchball when Franceball was defeated. This annoyed Dutchballs, who took their Huegnotball friends with and moved inland to become the Boerballs.
In the 19th Century, the Boerballs met the

Zuluball and other

8balls and had a few hectic arguments.

Boerball would close their wagons into a circle, pray and then shoot all the

Zuluballs attacking. It seemed to work well. One of

Zuluball sons,

Ndebeleball, however, was causing his own havoc, chasing everyone around. Eventually

 Lesothoball hid in the mountains to escape all this nonsense. This is why

Lesothoball now lies in the middle of South Africa, and why South Africaball looks like a donut.
In the late 19th Century, the Boerballs found gold and diamonds, and

UKball decided they needed to join the empire.

UKball brought

Indiaball and

Australia to help. This war is called the Anglo-Boer War.

UKball thought it was taking too long to defeat some uncouth farmers, so started burning down farms and put

Boerballs and

8balls in concentration camps. The

Boerballs were finally made to agree that joining the empire was maybe a good idea.
Eventually, all the pieces became

Union of South Africaball in 1909.

UKball then asked South Africaball to take

Namibiaball from

Germanyball in WW1. No one said anything about giving it back!
In 1931

UKball decided to give independence to

Canadaball,

Australiaball,

New Zealandball,

Irelandball and, of course,

South Africaball. All they needed was just to sign a document called Statute of Westminster.

Canadaball and

South Africa signed the document (Australia only signed in 1942, New Zealand signed in 1947, and Ireland never signed the document and said to UK that he was already independent since 1922)
UKball asked South Africaball to again help in WW2 in saving

Egyptball from

Nazi Germanyball. South Africaball also kicked

Italyball's ass free of charge in

Ethiopiaball!

South Africaball finally become tired of the monarchy (his government was like the government of Australia, Canada and New Zealand) and declared itself a republic in 1961.
South Africaball is one of the few African countryballs that have never experienced a coup d'etat or entered a civil war after the decolonization process, in addition to regular elections being held for nearly a century.
South Africaball learnt some silly superiority ideas from

UKball, got it wrong and ruled by Apartheid (Racial segregation).

Boerballs started acting like

UKballs and

8balls were given their own

countryballs to make living off of and were moved out of the cityballs in South Africaball which caused all the

8balls to stop talking with each other and be excluded from the South African society.
This is the main reason that South Africaball suffers from multiple personality disorder today. South Africaball is in therapy for this problem.
South Africaball also used to enjoy crossing its neighbors' borders without permission, especially those of

Angolaball, apparently to stop communism from spreading.

USAball financed this exercise through the

CIAball "freedom outreach program".
South Africaball also interfered in

Lesothoball when it became uppity and asked for more money for the water it dams and is used in

Gautengball's heavy industry.
South Africaball was the first country in Africa to build nuclear weapons which were of the taken by Americaball for 'safekeeping'. The

2ball's were of the very smart in South Africaball. It clandestinely tested two of them in the desert and then got caught by

USAball, who was wondering where the huge earthquakes came from, oops!, After all that fuss South Africaball voluntarily gave them up as they had become obsolete. South Africaballs nuclear weapons were replaced by the deadly Vuvuzela.
With the end of apartheid, everyone in South Africa has gained equal rights (although many still complain about it), but the country has also been plagued by corruption in recent years because of a certain person who became the country's president. There have been also multiple attacks on the country's white farmers.
Soutih Africaball also has become one of the richest African countries. Interestingly this attracts immigrant 

8balls, who are not very well received by the South Africans

8balls.
In 2017, South Africaball can now into winnings in Miss Universe for the first time in 39 years thanks to Demi-Leigh Nel-Peters. In 2019, South Africaball claimed its second crown in 3 years thanks to Zozibini Tunzi.
South Africaball also won the 2019 Rugby World Cup in Japanball, beating Englandball in the final.
Flag Colors
Color Name
RGB
CMYK
HEX
Black
0, 0, 0
C0-M0-Y0-K100
#000000
Spanish Yellow
255, 182, 18
C0-M29-Y93-K0
#FFB612
Philippine Green
0, 122, 77
C100-M0-Y37-K52
#007A4D
White
255, 255, 255
N/A
#FFFFFF
CG Red
222, 56, 49
C0-M75-Y78-K13
#DE3831
Imperial Blue
0, 35, 149
C100-M77-Y0-K42
#002395
Relationships
South Africaball loves to braai (its like barbecue, but way better!) South Africaball belongs to the BRICS, the SADC, (basically all the neighbors, who crash the braai) and the African Union. South Africaball is also part of Commonwealthball.
Friends/Vriende
Neutral
UKball - South Africaball has a love/hate relationship with his Step-father, UKball. UKball hasn't apologized for the concentration camps from the Anglo-Boer war yet or for stealing the Cullinan diamond.
Philippinesball (Only in Miss Universe Pagent) - YUO THOUGHT YOUR ACE WILL WIN IN MISS UNIVERSE 2019?, THINK AGAIN! WE WON THIS YEAR ! AND NEXT YEAR YOU WON'T AND I WIN AGAIN! 2019 BEST YEAR OF MY LIFE (ZOZIBINI TUNZI NO. 1) YOUR SONG FOR CATRIONA SO CRINGE! AND STOP REMOVING DRUGS, TRAITOR! But we can both intro G20.
Enemies
Union of South Africaball - Ah You fuckin evil father who hates me because I'm black and I endorse pan Africanism. Fun fact, I am now have been prompted co-founder in THE AU and it is because I get rid of you evil caucasian dumbass. Fuck you Nelson Mandela Stronk!
Organisation of African Unityball - Pierce of crap. He never helped me in aprahead times. At least in the new union, I am in charge and enforce pan Africanism!
Other Clay
South Africaball owns and leases some other clay:
Robben Islandball: used be a colony for sick balls suffering from leprosy and then a prison for Mandela and his uppity 8balls, now touristic attraction with museums.
Marion Islandball: 2700km south east off the coast, where South Africaball conducts weather research and may have rented it out to Israelcube to test a nuclear weapon, oops.

Prince Edward Islandsball (no, not the Canadian Province): birthday present from Stepdad. very cold with penguins pooping everywhere.

SANAE 4: Research station in Antarcticaball.
Sports
South Africaball enjoys playing football (or Soccer for

USAball), rugby and cricket. South Africaball hates to lose against

Australiaball and

New Zealandball and will sulk for days on end. Sport is considered the main religion with Christianity. The Vuvuzela is used as a psychological weapon to annoy the opposing team into making mistakes. South Africaball hosted the 2009 FIFA Confederations Cup as well as the 2010 FIFA World Cup. South Africaball also won the 1995, 2007 and 2019 Rugby World Cup.
Cycling has also become a favorite sport of South Africaball. Multi-time Tour de France champion Chris Froome (though born in

Kenyaball) spent his high school years in

Johannesburgball, and in 2013 Daryl Impey became the first African rider to wear the coveted yellow jersey. South Africaball also proud to be the home of the first African-registered professional road cycling team, NTT Pro Team (formerly Team Dimension Data).
South Africaballisms
"Now-Now" and "Just-Now" are totally valid concepts of time, if South Africaballs coming over for a beer "now-now", it could perhaps be arriving at Botswanaballs in five minutes. But if South Africaball is coming "just-now", Botswanaball could expect to wait 20 minutes or 30 or even 45. Just-now, darn it isn't it obvious?!
"Babbelaas", You know that feeling after a heavy night out on the town? South Africaball offers a term that is far more descriptive of one's feeling of complete and utter uselessness!
"Eish!"  in everyday lingo, "eish!" is a term that could best be described as an exclamation of light shock.
"Howzit!"  Howzit sort of shortens that to "How is it?"
"My Chinaball!" No, not the country. Your best friend is your Chinaball. Don't ask where it came from; just accept it and next time you see your best buddy Botswanaball, say, "Howzit, my Chinaball!"
"Gatvol!" Translated literally, this word means "the hole is full." Used as a term of absolute frustration, one is gatvol when one has had enough.
"Ja Nee" Translated, this means "Yes No" in Afrikaans. Yes, this is a paradox. No, it's not seen as a contradiction in terms. South Africaball knows exactly what it means: So-so, Maybe.
"Ja-Well-No-Fine" Rolling off the tongue as one word, this phrase has taken on a sarcastic twist to mean that someone telling you something might be pretending to tell the truth, but actually the reality of the situation is the opposite.
"Ag Nee!" Translated from Afrikaans, it literally means "Oh No!" but is much more expressive. It is used when something goes horribly wrong, and even when one wants to display a little sympathy.
"Jassis" Pronounced "yussis", it is usually used to express shock, surprise and the occasional tinge of annoyance.
"Click click" A reference to the fact that many of its languages, such as Zulu and Xhosa, contain click consonants.
Gallery

Related templates

Second British Empire Commonwealth of Nationsball
Founders
UKball
Africa


Botswanaball • Cameroonball • Eswatiniball • Gambiaball • Ghanaball • Kenyaball • Lesothoball • Malawiball • Mauritiusball • Mozambiqueball • Namibiaball • Nigeriaball • Rwandaball • Seychellesball • Sierra Leoneball • South Africaball • Tanzaniaball • Ugandaball • Zambiaball
Asia
Bangladeshball • Bruneiball • Indiaball • Malaysiaball • Pakistanball • Sri Lankaball • Tringapore
Europe
Cyprusball • Maltaball
North America
Antigua and Barbudaball • Bahamasball • Barbadosball • Belizeball • Canadaball • Dominicaball • Grenadaball •

Jamaica • Saint Kitts and Nevisball • Saint Luciaball • Saint Vincent and the Grenadinesball • Trinidad and Tobagoball

Oceania
Australiaball • Fijiball • Kiribatiball • Nauruball • New Zealandball • Papua New Guineaball • Samoaball • Solomon Islandsball • Tongaball • Tuvaluball • Vanuatuball
Former members
Irelandball (1931-1949) • Maldivesball (1965-2016) • Zimbabweball (1980-2003)
Community content is available under
CC-BY-SA
unless otherwise noted.