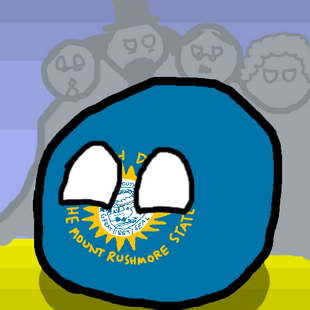 General information
Personality
Resilient, Friendly, Wonderlust
Language
English (mainly)
Siouan
Relations and opinions
Friends
Likes
Mount Rushmore, Heavy Metal
Is of importants
Mount Rushmore Mount Rushmore!
Status
Legalized Weed including recreational
South Dakotaball
is a
true Dakota
stateball of

USAball
. He likes his brother

North Dakotaball
and in his clay is located the famous Mount Rushmore. He can into death penalty but can
not
into weed legalization and relevance but he is well known for Mount Rushmore.
History
South Dakotaball was a

Siouxball adopted by

USAball. He officially became a state in 1889.
REMOVE PAGE remove page you are WORST vandalism
This page is scheduled to be deleted. It is currently in the midst of a 24 hour grace period. You can find out more/potentially prevent its deletion at the talk page.
Community content is available under
CC-BY-SA
unless otherwise noted.