South Yemenball, sometimes called Democratic Yemenball, or Adenball, officially known first as People's Republic of South Yemenball starting in 1967, then as the People's Democratic Republic of Yemenball starting in 1969, was a socialist republic in South Arabia. He is now a separatist countryball wanting to become independent again from

 Yemenball
History
Influenced by the 26 September revolution of

 North Yemenball, in 1963 some young Marxist and nationalist


Arabballs attacked

 British Empireball's protectorate

 Federation of South Arabiaball. After four years of fighting they earned independence and proclaimed a sovereign people's republic in 1967, made a socialist state under the Yemeni Socialist Party in 1969. South Yemenball clashed with North Yemenball at the border in 1972, but the two agreed to unify in the future. Around the time the Soviet Unionball was falling they were merged back into Yemenball. Those opposed to unification attempted to recreate South Yemenball as Democratic Republic of Yemenball in the Yemeni Civil War (1994). Nowadays, its a separatist region of Yemenball seeking independence again in the Yemeni Civil War (2015-present).
Relations
Friends
Neutral
Enemies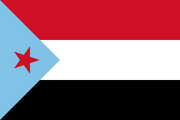 How to draw
WIP
Gallery
Community content is available under
CC-BY-SA
unless otherwise noted.