25 November, 1975 - Present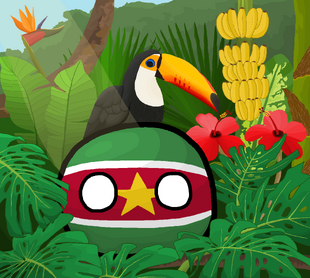 General information
Personality
Awesome, relevant (in the reality, he is irrelevant)
Relations and opinions
Friends

Guyanaball
(also half enemy)

Brazilball


French Guyanaball (also half enemy)


Father


Kebab brother


Chinaball


USAball

Red flag with golden star gang
Enemies

Guyanaball
(half enemy)

French Guianaball

GET OUT
Likes
Being a sheriff, Solving crime.
Dislikes
Too much jungle, crabs
Is of importants
Can into space?
No, not even relevance
Food
Roti, bara, broodje pom, Fernandes
Sheriff Surinameball has a surname is a countryball in South America. He is the only country in South America to have

dutch as an official language. He also has developed a

weird mix of lenguages creolelenguage called

Sranan Tongo.
History
It was colonized by the

Netherlandsball until 1975. In 1948

Surinameball was able to vote for the Prime Minister of the

Netherlandsball for the first time and he gained

self governance in 1962[1]. The origins of these reforms can be traced to the days in which the

Dutch goverment was exiled in

Londonball and

UKball (probably) whispered to

him: "Hey, you should turn your colonies into dominions or constituent countries just like

I did.
In 1982 the

Netherlandsball liked him until he killed 15 people in the [Murders] and

USAball also strated to hate him slightly. In 1985 some

3balls revolted and

Surinameball thought: "Hey, I can crush them like bug." And he did not "crush them like bug", causing 10,000

3balls to flee into neighbouring

French Guianaball. Now he is of

dutch and

irrelevant. Just like

Guyanaball, he has a large

Indian (South Asian) population. He cannot into space.
Flag Colors
Color Name
RGB
CMYK
HEX
Japanese Laurel
55, 126, 63
C56-M0-Y50-K51
#377E3F
White
255, 255, 255
N/A
#FFFFFF
Cadmium Purple
180, 10, 45
C0-M94-Y75-K29
#B40A2D
Deep Lemon
236, 200, 29
C0-M15-Y88-K7
#ECC81D
Relations
Friends
Neutral
Franceball - Bonjour!
French Guyanaball - He's my cousing and a FRENCH SON OF A B**** THAT DOESN'T RECOGNIZE MY F****** CLAIMS JUST LIKE Guyanaball.
Guyanaball - My cousin, he doesn't recognize my claims but IT'S OKAY I CAN SIMPLY LEAVE YOU OUT OF MY SUPER-ULTRA-MEGA-AMAZING SHERIF BIRTHDAY PARTY I DON'T NEED YOU
Enemies
Sheriff Suriname
Sheriff Suriname is a Polandball comic series, created by /u/FVBLT in 2014 on the subreddit /r/Polandball. It has a devout follower base in several different Polandball communities.
Sheriff Suriname follows Surinameball as a sheriff, solving cases in the style of a 80s cop movie. His frequent contractor is Chinaball.
Comics (in order)
Gallery

Related templates

Community content is available under
CC-BY-SA
unless otherwise noted.