25 November, 1975 - Present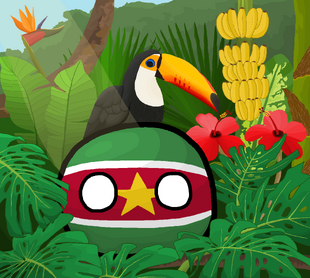 General information
Personality
Awesome, relevant (in the reality, he is irrelevant)
Relations and opinions
Friends
Enemies
Too irrelevent to has enemies
Likes
Being a sheriff, Solving crime
Dislikes
too much jungle, crabs
Is of importants
Can into space?
No, not even relevance
Food
Roti, bara, broodje pom, Fernandes
Surinameball
has a surname
is a countryball in northern South America. He is the only country in South America to have Dutch as an official language.
History
It was colonized by the

Netherlandsball until 1975. Now he is of dutch and irrelevant. Just like

Guyanaball, he has a large Indian (South Asian) population. He cannot into space.
Flag Colors
Color Name
RGB
CMYK
HEX
Japanese Laurel
55, 126, 63
C56-M0-Y50-K51
#377E3F
White
255, 255, 255
N/A
#FFFFFF
Cadmium Purple
180, 10, 45
C0-M94-Y75-K29
#B40A2D
Deep Lemon
236, 200, 29
C0-M15-Y88-K7
#ECC81D
Relations
Sheriff Suriname
Sheriff Suriname is a Polandball comic series, created by /u/FVBLT in 2014 on the subreddit /r/Polandball. It has a devout follower base in several different Polandball communities.
Sheriff Suriname follows Surinameball as a sheriff, solving cases in the style of a 80s cop movie. His frequent contractor is Chinaball.
Comics (in order)
Gallery
Links

Related templates

Community content is available under
CC-BY-SA
unless otherwise noted.