←

August 1, 1291 - Present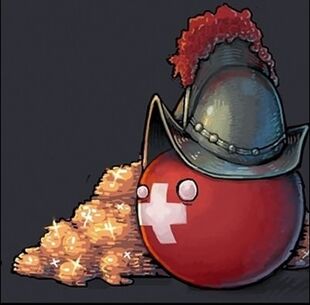 General information
Personality
ALWAYS neutral, peaceful, hardworking, usually an introvert. Very clean, and also very rich. Ponctual, chocoholic
Relations and opinions
Friends

Everyone, especially:
Enemies
None, due to direct neutrality. except for the countries that hate him.
Likes
French language, Neutrality, gold, mountains, Eluveitie, Celtic Frost, Yello, Popcorn, peace, military stuff, chocolate, cheese, alphorns, Pingu (stop-motion kids show),
My first ever Eurovision winner!!
, yodelling, Electronic Dance Music,
Vampires
, producing luxury watches, being one of the richest country in the world, H. R. Giger, Mercy (Overwatch),Roger Federer, Martina Hingis, Stan Wawrinka, Cesaro, Tissot, Rolex, Toblerone, Nestlé, Being alone, Nickelodeon France, Disney Channel France and Cartoon Network France (all also distributed in Switzerland), Being part of the Greater France, Bienvenue chez les Loud, Bienvenue chez les Casagrandes, Souvenirs de Gravity Falls, Star Butterfly (French), Amphibia (French), Luz à Osville and Ricola!!!
Dislikes
Anyone who attacks Switzerland; ISIS, When EU starts whining about Switzerland not joining him, When someone try to destroy his neutrality, 1847, Shädman, War, CoronaVirus(You cant beat me!), Nickelodeon Switzerland (Nick Schweiz), Nickelodeon Germany, Disney Channel Germany, Cartoon Network Germany, Willkommen bei den Louds, Die Casagrandes, Willkommen in Gravity Falls, Star gegen die Mächte des Bösen, Amphibia (German), Willkommen im Haus der Eulen
Is of importants
French French or Chocolate Chocolate or Neutral Neutral or Cheese Cheese or Schweizerdeutsch Schweizerdeutsch or Money Money
Food
CHOCOLATE!!! Croissant (i maked this food not franceball)
And cheese, meringue, fondue
Status
Third overall and jury winner in Eurovision, with the help of moving Tetris blocks and funky dance moves. Highest result since 1993! *happily eats kaasstengel*
Notes
I am French and Neutral... FUCKING REMEMBER ZAT FOR ALL ETERNITY!!! except when it comes to Catalonia... AND HAS MANY MONIES AND CHOCOLATE!!!!!!!!
"
Why weren't yuo of neutral?
"
 

—

Switzerlandball
"
One of the unhated nations due to its neutrality. ( actually some people hate him, shoot )
"
 

—

UKball
Switzerlandball, also known as Sweeterlandball, officially known as the Chocolate Republic of Switzerland or Ricola/Maggi Republic of Switzerland Neutralball Swiss Confederationball, is Yodel Ricola shouting a neutral countryball (despite the fact his flag is a plus and not an equal sign) located in Europe. It has a Calm anthem is bordered by

Germanyball to the North,
Italyball to the South,

Austriaball and

Liechtensteinball to the East, and

Franceball to the West, Northwest, and Southwest. The countryball is divided into 26 cantonballs, including the federal cityball (there is no capital that is legally recognized)

Bernball which also acts as the capital of the

Bern Cantonball located in the Midwest, giving it a total area of 41 285 square kilometers, making it the 132nd largest countryball in the world. As of 2018, it maintains a population of about 8.526 million inhabitants. He can also into shelter of world war.
Due to its neutral status, Switzerlandball hardly takes international organizations into consideration. Though while not in

EUball, it still has large ties with them and is a member of the

EFTAball and the

Schengen Area, as well as the

UNball like almost every other countryball.
For the last 171 500 years, Switzerlandball has been able to stay surprisingly neutral. While all the other countryballs fought in WW1 and WW2, as well as the Cold War, Switzerlandball was able to sit out of everything that has happened and enjoy her life, which has made him a very popular countryball. Switzerlandball is best known for its neutrality, cheese, chocolate, lakes, mountains, gold, banks, clocks, mathematicians, and physicians. It is very rich and thus cares greatly about its money. It also is very good at tennis, as Roger Federer comes from its clay.
Its national day is August 1. and he has delicious chocolates
History
In the earliest times, the territory now occupied by Switzerlandball was inhabited by Celtic Helvetii and was dominated by the Romans from the first century BC to the fourth century. The period marked the moment when the population reached a higher level of civilization and began to enjoy more and more of the commerce.
When the

Roman Empire fell into decline,

Germanic tribes from the north and west invaded Switzerlandball. In 800, the country became part of the empire of Charlemagne and then the Holy Roman Empire. Only in 1499 did the Swiss confederates achieve their formal independence from the Holy Roman Empire.
The Swiss nation, then, renounced expansionism and also the war, which crossed its frontiers only in the period when

Napoleon Bonaparte invaded the country there in the 19th century. Later, the Congress of Vienna of 1815 restored the confederation and its neutrality.
Switzerland also had a short-lasting civil war with a rebellion called Sonderbund in November of 1847. This supposedly ended the periods of Restoration and Regeneration. No one talks about it though on account of only wanting Switzerland to be remembered as neutral.
Switzerlandball industrialized very quickly and became the second nation after

Britain. While the First (1914-1918) and Second (1938-1945) World War took place, the Swiss distanced themselves from these hostilities because they are neutral to it.The Cold War (1947-1991) reinforced the role of neutral Switzerland and gave the nation a way out of its diplomatic isolation. This, however, did not join the

United Nations for a few decades - even with Geneva being the European headquarters of the

UNball and the Swiss actively playing in specialized agencies of the international body. After the end of the Cold War, Switzerlandball joined the Bretton Woods institutions in 1992, and only in 2002 became a member of the

United Nations. In 1960, Switzerland joined other countries that do not strive to a European centralized administration, participating in EFTA (European Free Trade Association) with

Norway,

Iceland and

Liechtenstein. Switzerlandball does not share the view of many other countries with a single European Currency.
Flag Colors
Main Colors
Color Name
RGB
CMYK
HEX
Maximum Red
213, 43, 30
C0-M80-Y86-K16
#D52B1E
White
255, 255, 255
N/A
#FFFFFF
Relations (relaziuns)
Friends (Ami)
(

Austriaball and

Liechtensteinball only good friend). Everyone else sorry!
Austriaball - He is brother of mine and Germany. Don't know why he wears glasses though, his eyes are perfectly fine. We do a lot of activities together, especially skiing.
Liechtensteinball - Brother and friend who is best microstate! Of beings so cute! Anschluss! But my only clay thief. ONLY!!
Neutral
Switzerland is always neutral with almost everyone, but especially:
Icelandball - Almost the same as Swedenball with his neutrality. But how are you number 1 on most peaceful countries
Franceball - Love my chocolates. Also I of speakings the same language as her. Nickelodeon, Disney Channel and Cartoon Network (all French TV channels) are all also distributed in my clay! I am part of the Greater France. 1798 never forget.
Belgiumball - We make better chocolate together! (We make better chocolate at this point though)
Other:
Germanyball - Bruder. He wants me to join his Empire Union to make him great again. NON Je will not follow you! JE SUIS SUISSE!
Enemies
None, due to direct neutrality except for countries that hate or tried to invade him.
Map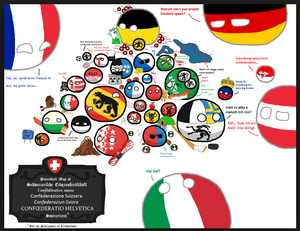 Switzerland has 26 federal state or Cantons(Kantone in german). At first he started out with 3 cantons,, which were reffered to as Waldstätte. This was a term used to refer to Uri, Schwyz and Unterwalden. Cureently, the term now used is Urschweiz.
Gallery

Related templates

Community content is available under
CC-BY-SA
unless otherwise noted.