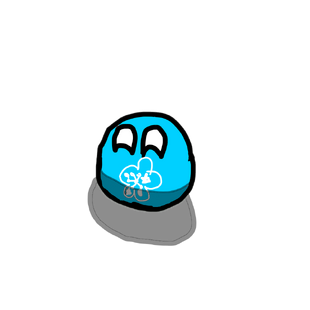 General information
Government
Special Administrative Region of the People's Republic of China (non-existent)
Capital
Religion
Buddhism, Taoism, Atheism
Relations and opinions
Friends
Enemies
Likes
Food takeouts, bubble tea, leadership, meeting presidents, anime, organizations
Dislikes
Protests, Traditional Chinese
"
We will liberate them! DOWN WITH CHIANG KAI-SHEK!!!
"
 
Taiwan SARball is a hypothetical Taiwanball controlled by Chinaball as a special administrative region after Taiwan became under its Labor Party rule. Taiwan SARball is bordered by the ROC (Taiwan) to the south, meaning that he only occupies the northern part of it.
In a different alternate universe, Taiwanball managed to join UNball and became the Republic of Taiwanball.
Relations
Friends
Chinaball - My father. He is very strong and rich. I hope I can into anschluss his brother.
Macauball - Best brother ever.
Netherlandsball - I'm part of China now, but you're kinda better than him, but you called me Formosa
Neutral
Hong Kongball - My other brother, but keeps protesting. Nevermind, his protests are none of my bedrijf.
Enemies
Taiwanball - FAKE TAIWAN!!! YOU ARE NOT THE REAL CHINA!!! 私たちはあなたを併合することを願っています!!! XIXIXIXIXIXIXIXI
Republic of Taiwanball - Same as your hypothetical counterpart.
Gallery
Community content is available under
CC-BY-SA
unless otherwise noted.