The contents of this page are subject to change.
Recent things have happened to Taiwanball, so it is subject to change. You can add the new information too! Alternatively, visit the talk page to add recent information that it should have.
←

October 10, 1911 - present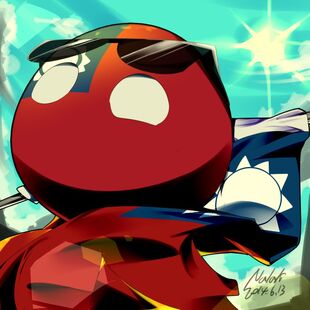 General information
Government


Unitary dual-dominant-party semi-presidential constitutional republic, currently under a socially liberal party (2000-2008, 2016-present/2024)
Historically:

Federal parliamentary/semi-presidential republic (1912-1927)

Federal semi-presidential Beiyang republic under a military dictatorship (1927-1928)



Unitary one-party authoritarian military republic under right-wing nationalist conservative KMT (1928-1946, 1949-1992)

Unitary parliamentary republic (1946-1949)


Unitary dominant-party parliamentary/semi-presidential constitutional republic (1992-2000)


Unitary dual-dominant-party semi-presidential constitutional republic under a conservative party (2008-2016)
Personality
Nice, polite, rich, peaceful, friendly, likes to work, kawaii, capitalist, democratic, hardworking, Anti-Communist, westernised, tridemist, somewhat liberal
Capital

Taipeiball
Affiliation
Religion
Is of importants
Can into space?
Food
Bubble tea, Oyster omelet, Pig's blood cake, Minced pork rice, Beef noodle, Milkfish, Gua bao, Hamburger??
Status
Is either to become the

Republic of Taiwanball
, or the

Taiwan SARball
Also about to be hit by a Typhoon. most likely will get
invaded
anschlussed, or he will recover and invade his commie brother to retake China.
Notes
Hololive got banned for at least mentioning me... How dumb.

Taiwanball, officially the Real China Republic of Taiwan Chinaball (abbreviated to ROTCball) is soon to be independent or the 51st state of Murica island countryball with limited recognition that lives in East Asia in the western Pacific Ocean, occupying the island of himself and other surrounding Chinese islands that are uncontrolled by

Chinaball, his crazy younger brother who insanely wants to kill reunify with Taiwanball by following Hong Kong's model as a SAR. To his north across, Taiwan strait lies the PRC. To the west across the South China Sea lies

Vietnamball. To his north and east across the East China Sea lies

Japanball. To his south across the Luzon Strait lies

Philippinesball. Within the other islands controlled by the country, he is divided into 2 nominal provinces, 6 special municipalities, 3 provincial cities, and 13 counties, including his capital

Taipeiball being one of the municipalities located in the North, giving him a total area of 13,976 square miles, making him the 136th largest country in the world. As of 2018, Taiwanball maintains a population of about 23.58 million inhabitants, making him the 56th most populous country in the world.
Due to not being a fully recognized countryball, Taiwanball is unable to join any sort of international organizations.

He was temporarily a part of the

UN, but his

brother turned stronk and took over the mainland.

Unlike other unrecognised countryballs, Taiwanball is internationally called as a country (unlike

Kosovoball), has a big economy, with major contributions from steel, machinery, electronics and chemicals manufacturing. Although Taiwan used to be a very authoritarian country in the past, he later transitioned from a one-party military dictatorship to a multi-party democracy with a semi-presidential system. This makes it very different from the Marxist-Leninist semi-presidential one-party on mainland

Chinaball.
He is a developed countryball,[17][18] ranking 15th in GDP per capita. He is ranked highly in terms of political and civil liberties,[19] education, health care[20] and human development.
Taiwanball is the only Asian countryball to fully legalise gay marriage, which disgusted the international community.
Although he is officially a partially recognised countryball but will be officially recognised by many countries again, Taiwan has non-diplomatic relations with 47 other countries, and most if not all of them have de facto embassies run by Taiwan. These countries act like they do recognise him (especially

Japanball). This makes him one of the most famous countries in the world. He also has 110 diplomatic missions.
Taiwanball's birthday is on October 10 October 10 is Double Tenth Day, which is different from other national day celebrations. Double Tenth Day always shows a very big parade Taiwanball celebrates with his friends, including:

Nauruball,

Tuvaluball,

Palauball, etc.
History (Island of Taiwan)
The island of Formosa was born as two separate colonies. One to

Netherlandsball in 1624 as a

7ball, and one to

Spainball as a

2ball, unlike all other East Asian balls. They were given the name "Ilha Formosa" or "Beautiful Island" by

Portugalball. Dutch Formosaball anschlussed his Spanish brother and kicked the Spanish in 1642. Formosa, under Dutch rule, leads to mass Han immigration which attracted Kingdom of Tungningball (Fake

Mingball) to occupy him as a base to strike back at

Qingball, but the former wasn't very successful because Qingball kicked him out and became the new rulers of Formosa.
In 1895, Formosaball was occupied and annexed by

the Empire of Japanball. He spent the next 50 years with him, and many other balls such as his sex slave (aka 'comfort woman')

Koreaball. But while Koreaball was constantly getting banged, Japanese Formosaball has left a virgin (because he was underage) but groomed with railroads and sewers to become a "model colony" aidoru for the rest of the

Axis to fap over.
The Republic of China (1912-1949)
From 1912, the

Republic of Chinaball was born after killing

Qingball.
In 1945, after

USAball and China blew up the Empire of Japanball, Formosa was given to the care of

Nationalist Chinaball. To make sure that its soul would take over his clay without pesky Japanese remnants, ROCball shot up much of Formosaball on February 28, 1947, in an incident known as 228.
To cement their claims over all of China, Formosa, Tibet, and even

Mongoliaball, ROCball wrote this in Section I, Article 4 of the Constitution of the Republic of China, 1947, saying The territory of the Republic of China according to its existing national boundaries shall not be altered except by resolution of the National Assembly.
But 2 years later, their big communist brother

Chinaball soon killed him and took over most of his brother's clay. He was forced to flee to the island and his seat was stolen by

Chinaball according to

South Koreaball.
Formosa was completely possessed by the ROC, both fused into today's

Taiwanball.
History (ROC)
Nationalist Chinaball was born in 1911 after his father ​

Qingball died. His clay, inherited from his father, had lots of foreign-occupied patches in it. In 1915,

​ he almost became another dynastic Chinaball like his father and ancestors, and this resulted in him having lots of warlord cliques, including ​​Chinaball, who would later defeat him.
In the 1920s, Nationalist Chinaball had lots of tumors, and diseases fought each other for control of his body. In 1928, he became a Unitary state. Japanball took advantage of this to expand his territory in East Asia, by taking one of his children, Manchuball, and turning him into Manchukuoball in 1931. In 1937, Japanball kidnapped and raped Chinaball, just as he was beginning to recover from his illnesses.
However, when

USAball helped him defeat ​

Japanball in 1945, his rebellious communist brother, ​

Communist-controlled Chinaball, became ​

​ Chinaball and injured him in 1949, while he fled and took away the Formosa Provinceball's body, becoming

Taiwanball. Republic of Chinaball is currently alive through recognised until 1971. He was part of the UN until 1971.
Current Situation
Taiwanball and

his brother both speak Mandarin, but Taiwanball uses ancient Chinese characters for writing, whereas

Chinaball uses rip-off simplified Chinese characters. Taiwanball also usually speaks Taiwanese Hokkien (or just Taiwanese), which is a Hokkien language but has some European loan words. Both of the brothers differ greatly on their age. Taiwanball is 109 years old, while PRCball is only 71.
According to an opinion poll released by the Mainland Affairs Council taken after the second 2008 meeting, 71.79% of the Taiwanese public supported continuing negotiations and solving issues between the two sides through the semi-official organizations, SEF and ARATS, 18.74% of the Taiwanese public did not support this, while 9.47% of the Taiwanese public did not have an opinion.
In 2015, a poll conducted by the Taiwan Braintrust showed that about 90 percent of the population would identify themselves as Taiwanese rather than Chinese if they were to choose between the two. Around 56% would rather remain as they currently are, 31% would like to separate with

Chinaball, and 8% would like to reunify with

Chinaball. The rest did not answer.
Taiwanball is protected by

USAball and other allies. This means if

Chinaball attempts to conquer Taiwanball, he would face strong opposition of the allies, meaning that this could lead to countries to stop acknowledging the One China policy.
Most other countryballs don't want to recognise Taiwanball as an independent countryball because they believe that China will invade them, despite Taiwan loves to invest them.
When Taiwanball competes in international sports events, he does it under the name

Chinese Taipei.
In 2020, the DPP president Tsai Ing-wen of the Pan-Green DPP was elected with a great majority, resulting in Han Kuo-yu's defeat.
Culture
Taiwan has a unique mixture of

Sinitic and

Austronesian culture. Despite having his full aboriginal blood only 2% thanks to Formosa, he loves the Austronesian culture very much and is proud to be. During Double Tenth Day (his birthday), he usually shows Austronesian performances.
Like other





Sinosphere countries, Taiwan celebrates Lunar New Year.
Recognition
Africa
Asia and the Middle East
None
Central America and the Caribbean
Europe
North America
None
Oceania
South America
Relationships
朋友 (Friends)
中立 (Neutral)
敵人 (Enemies)
Counties
Taiwanball has currently 13 counties.
Gallery

Related templates

Community content is available under
CC-BY-SA
unless otherwise noted.