Terengganuball is a sultanate andconstitutive state of federal 

 Malaysiaball. The state is also known by its Arabic honorific, Darul Iman ("Abode of Faith"). The coastal city of Kuala Terengganu which stands at the mouth of the broad Terengganu River is both the state and royal capital as well as the largest city in Terengganu. Other cities includes Marang, Kuala Dungun, Kemaman, Jerteh, Kuala Berang and Permaisuri.
History
During World War II, Japan occupied Terengganu and transferred sovereignty over the state back to Siam, which had been renamed Thailand in 1939, along with Kelantan, Kedah, and Perlis. After the defeat of Japan, British control over these Malay states was reestablished. Terengganu became a member of the Federation of Malaya in 1948, and a state of independent Malaya in 1957.
Following decades of rule by the Barisan Nasional (National Front) coalition, the Islamic Party of Malaysia (PAS) came to power in the 1999 General Elections, making Terengganu the second state in Malaysia to be ruled by the Islamist party (the first being neighbouring Kelantan). However, in the 2004 General Elections, Terengganu was recaptured by the Barisan National. But shortly after that, it was reclaimed by PAS, who is, by now, still holds Terengganu.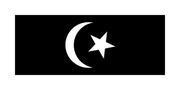 Districts
The following districts are part of Terengganuball:
Gallery
External links
Community content is available under
CC-BY-SA
unless otherwise noted.