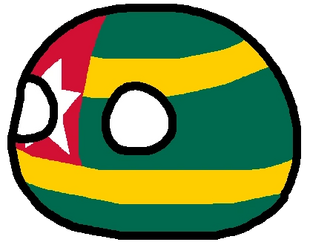 General information
Personality
Poor, small, shy
Relations and opinions
Enemies
Likes
Francophonie, food to go
Dislikes
EBOLA, English-speakers, Tonga time
Is of importants
Food
Everything you find there
| | | |
| --- | --- | --- |
| " | Well...Gues its time To-Go home! | " |
Togoball is a worm countryball in Western Africa. His clay borders that of

Beninball,

Ghanaball and

Burkina Fasoball. Like his neighbours, he cannot into much relevance.
He is a member of the Atlantic-Congo family (AKA West Africans).
He has a movie dedicated to him.
He participated in the 2018 Pyeongchang Winter Olympics
Also Ghana gave birth to Western Togoland
History
Togoball is descended from West African

8balls, as are all his brothers. He became known as Togolandball in 1884, after

German Empireball (Or Reichtangle if on Facebook Polandball) captured him during the Scramble for Africa. After

German Empireball was defeated and killed during the Great War,

Britainball took some of Togoball's clay, while Togolandball was forcefully adopted by

Franceball in 1921. He was finally given independence in 1960, whereupon he became even less relevant than before. It is said that Togoball lost his eye in a fight over some clay with

Beninball. No one knows who won the fight, except for

Nigeriaball who charges to tell the story.
Relationships
Notice: the reason he is speaking french is that he doesn't like the english language
Friends
Neutral
Allemagneballe - Papa. Pas vraiment un bon parent, mais il me va toujours. (Translation: Papa. Not really a good parent, but he's still okay to me.)
indonesiaballe - il veut apprendre le francais comme moi, parce qu'il ittergum par le francais en 1808-1811 mais je deteste toujours ma mère pour une raison quelconque des il musulmans mais il parle anglais par professeur d'anglais mais il a été adopté par les néerlandais (Translation: he wants to learn french like me, because he ittergum by french in 1808-1811 but i still hate my mother for some reason he is Muslim but he speaks english by english Teacher, but he was adopted by dutch)
Enemies
Gallery
Community content is available under
CC-BY-SA
unless otherwise noted.