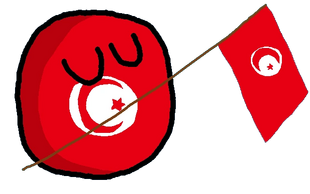 General information
Personality
Nice, Kind,Turan/Kebab Remover, controversial sometimes, Turanphobic, Almost Muslim Serbia,
Relations and opinions
Friends

Franceball
(sometimes)
Enemies

ديك رومي
(Arch-Nemesis)

ISISball

Cameroonball

Equatorial Guineaball

Invasor

Israelcube
Fake nation

Fake Cyprus

Al-Qaedaball

COUNTRY THAT DOES NOT EXIST

The guy who can't stop whinning about his nukes

For calling me fake muslim

Asshole who hates my women (sometimes)

Gaddafiball aka worst leader
Formerly:

Fascist Italy
Likes
Beer, Beach, Holidays, Work, Italian Food, Cross To Italy, The band Myrath, France, Money, Tourists, Zaher Zorgati, Couscous, Democracy, Women rights, Carthage, doubling as Tattooine (can into Star Wars!), Killing
Turkeyball
Dislikes
Terrorism, Libyans immigrants, corruption, Zionists, ISIS, unsecurity, Saudi Arabia, mass protests, mass lose of tourists, Frogs, Mafia, Being mistaken for Turkey, Trouble, Problems, Debts, Gaddafi, Kebab
Is of importants
Can into space?
No, but can into desert planet, Jedi and couscous, morocco can also.
Tunis Tunis, Barcha Barcha, Star Wars Star Wars, Brik Brik.
Food
Couscous, Harrisa, Kafteji, casse-croûte, Celtia, Magon, Boukha, Brik and Boga.
| | | |
| --- | --- | --- |
| " | الحرية والعدالة والنظام. (Liberty, Justice, Order.) | " |
Tunisiaball, Arab Turkeyball or Fake Turkeyball or Skywalkerlandball is a countryball in Africa. He is a son of

Carthageball. Tunisiaball is also a fan of Star Wars.
History
Tunisiaball was born as a 4ball, growing up with

Berbersball to

Carthageball. In 146BC

Carthageball fell to

SPQRball, but in 600s it was adopted by

Caliphateball who informed it of the Arabic Language and

Islam religion. So it started to build a good country, but in the first 1600s

Ottomanball invaded it. It defends good But

Kebab was stronger than it.
In 1881, it finally removed kebab and become independent for 2 years then

Franceball invaded it, so it ought combats with

Italyball and

Nazi Germanyball and finally it becomes real liberation in 1956. It means also the first Muslim country in North Africa to allow Muslim women to marry amidst non-Muslim people who have angered countries like

Saudi Arabia and

Egypt.
Flag Colors
Main Colors
Color Name
RGB
CMYK
HEX
KU Crimson
231, 0, 19
C0-M100-Y92-K9
#E70013
White
255, 255, 255
N/A
#FFFFFF
Emblem Colors
Color Name
RGB
CMYK
HEX
KU Crimson
231, 0, 19
C0-M100-Y92-K9
#E70013
Relationships
Friends
Neutral
Enemies
How to draw
Color the basic circle shape of this red
Draw a littler white circle in the center with a red star and crescent
Draw the eyes and you've finished.
Gallery

Related templates

Community content is available under
CC-BY-SA
unless otherwise noted.