This page requires sanitation.
This page needs more accurate, less vandalistic/biased information or better formatting, it would be much appreciated to help!
The contents of this page are subject to change.
Recent things have happened to Turkeyball, so it is subject to change. You can add the new information too! Alternatively, visit the talk page to add recent information that it should have.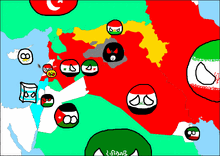 Turkeyball, officially the Republic of Turkeyball, is a countryball located between Anatolia, Asia, East Thrace and Middle East, bordered by
Syriaball and

Iraqball to the South,
Greeceball to the West,

Bulgariaball to the Northwest,

Georgiaball to the Northeast and

Iranball to the East. The country is divided into 81 kebabs provinces, along with his capital

Ankaraball, giving him a total area of 302,535 square miles, making him the 36th largest country in the world. With a population of about 83 million as of 2019, he's the world's 18th most populous country.
Being a Turkic country, as well as having strong ties with the western world, makes Turkey a member of the

Turkic Council and

NATO. However, even after his attempts, he has failed to become a member of the

EUball due to the many problems he's dealing with Also cannot into Europe. Turkey is also a member of the G20 (or Group of Twenty), a group formed by the countryballs that have the 19 largest economies plus the

EUball.
Turkeyball is often referred as "aggressive, nationalist" because of his actions towards many countryballs. He tends to act very aggressive when it comes to things like the Armenian Genocide or Cyprus, tries to stop any sort of

Kurdish nationalism, and now he is beginning to make ties with countries that 

USAball and the EU hate the most, like

Iranball. Apart from his actions, Turkey still hopes that he can get away from the Middle East and become a peaceful country, however that is very unlikely.
He's a member of NATO for now, but if he continues being shady with his kebab ways, well...
His national day is October 29.
History
Main article: Ottoman Empireball 
The real name for Turkey is Anatolia. Turkeyball has had much history, mostly because of the

neanderthals who lived in the area. However, the neanderthals died out years after meeting the homo sapiens. The homo sapiens came from the Caucasus and migrated into Anatolia. They took over the area and for a while lived in a state of anarchy. The first civilisation in Anatolia was the

 Hittitesball. While the hittites were strong (they were daring enough to face egypt -which they won against-), their empire fell and out came some small Syro-Hittite stateballs. An example of one Syro-Hittite stateball was Tabalball. There were many Syro-Hittite stateballs but after the collapse of the hittites, the empires that took some lands were Phrygiaball,

Urartuball, and

Assyriaball.
Flag Color
Color Name
RGB
CMYK
HEX
Cadmium Red
227,10,23
C1-M92-Y99-K0
#E30A17
White
255,255,255
N/A
#FFFFFF
Relationships
Friends/Arkadaşlar
Azerbaycantopu - Best friends and brothers. We call each other "kardeşim" (qardaşım in Azerbaijani) which means "my brother". (Also I am not going to use that weird e)
Kanadatopu - Best Western friend since 1944. Multilateral cooperation has grown through links in NATO, the United Nations and its agencies, the OSCE, the OECD, and the Council of Europe. Through these shared ties, Canada and I are working together toward a common goal of promoting peace and stability throughout Europe, the Middle East and Central Asia. He has 63,955 Canadians of Turkish ancestry. I am proud of him. Also gibs me Massey Ferguson tractors.
KKTCtopu - The only Cyprus and glorious son! I'm his mentor and proud father. (Also true Kebab) The gyro Cyprus sucks. WE CAN INTO 'REMOVING MUSTAFA AKINCI AND 5-MIN CRAFTS!'
Somalili Korsantopu-A really cool and epic pirate in which my father once colinized. He is cool and I do feel bad for him for not having a goverment. I hope my other Horn African friend Habisha Etiyopyatopu gets along with him. We also have Common enemy
Kazakistantuğlası, Kırgızistantopu, Türkmenistantopu, Özbekistantopu: We are from the same family so they are kebab too. BUT TURKMEN NAME STEELAR!!!
  Japonyatopu - He is a good friend because of since the Ertuğrul incident, he was cared my martyrs. I like your Animes and Electronics! But you stole my kebab but nevermind anyways. He also denies war crimes like me, I love it hohoho. ​​​​​
Moğolistantopu - Is of non-kebab Buddhist relative Yuo dirty religion idiot Buddhism is corrupted, Islam is best hohoho.
Finlandiyatopu - My Scandinavian distant relative, very alcoholic. pl0x teach me how to quality education.
Estonyatopu - I don't even know who you are. Another distant relative who is Baltic, doesn't knows about me much.
Macaristantopu - My closer relative, both we claim to be the true successors of Atilla Hun, both we have problems with that Vlad. Also sorry for Ottoman rule in yuor clay.
Baba Osman Gazi - I miss you... Don't worry, you'll come back real soon...
Cezayirtopu -  we have good relations, we are supporting the same side in Libyan Civil War, hope we can enjoy more
Bosna-Hersektopu - Best friend. I turned him kebab long ago. They had (and having) some similar problems and both had serious mining accidents in the same year. This makes both countryballs sympathise each other and thus, forming a friendship.
Brezilyatopu - Wow, this guy is very good at soccer and... me too! I had several immigrants who went to this land of the HUE! and I want to get in the BRICSbrick, but he recognizes the fake genocide, which I never did, fucking hell!
Katartopu - He is my only true Arabian Friend, because he hates Saudi Arabia. But I help him and give Weapons against evil Saudi Arabiaball. And Thank you for let my soldiers into your clay.
Pakistantopu - Does not recognise Armenia as a country, unlike me. Also helped me in my worst times. And the Scary Teacher 3D is made in Lahore. What an amazing game people plays on Phones and Tablets!
Gazzetopu - I will always support you, Palestine!
Ukraynatopu - We are doing military cooperation, Kırım belongs to you. I like him
Gürcistantopu - Georgians occupy north-east of Turkey, but we're still in normal circumstances. Please tell Armenia to shut up.
Eski Kürdistan - We used to be friends...Wut Happened? Why did You suddenly bombings of us? Damnit!
Kosovatopu - You of independent hohoho!
Polonyatopu - Respectable friend, because he defeated me in 17th century at Viyana, and from that moment Poland is respectable friend. After the partitions of Poland I still draw maps with his old territories, so Poland very likes me for this reason. Also, have a great 100th Independence Day! (Sorry for mocking you in some kugeln.io match .)
Makedonyatopu -We both used to have problems with Greeceball.Also you changed your name recently.
 Yeni Zelandatopu - Fought against each other in the Gallipoli campaign during WWI. I now let her preform memorial services at Gallipoli.
Italyatopu,  İspanyatopu,  Portekiztopu and  Romanyatopu - Half-brothers. It's complicated.
Irak Kurdistanitopu- The only part of Kurdistan that I liked. No Terrorists and no problems.
Etiyopyatopu - My distance African friend. Really nice, although I do feel bad for him for suffering through poverty/starvation. Egypt should let Ethiopia use his rivers though         
 Turks ve Caicostopu  - My  s̶e̶c̶r̶e̶t̶ ̶s̶o̶n  friend in Carribean and  f̶a̶k̶e son of  this dude.Also you have an island named Grand Turk .
Mustafa Kemal Atatürk- You saved us and our brothers in a difficult time. Sleep in peace, Pasha.
​ Hollandatopu - Someone wantings clay in you
Taiwanball - OMG OMG BUDDIES!!!! BEST CHINA!!!! I KNOW I DON'T RECOGNISE YOU BUT I HOPE I CAN!!! YOU ARE REAL CHINA!!!! WE HAVE A COMMON ENEMY!!!! Go Tsai Ying Wen!
Arnavutluktopu -Turkey is one of Albania's largest investors and trading partners being a main donor contributing to much infrastructure investment and development that strongly supported Albanian membership in NATO, achieved in 2009.
Neutral/Karışık İlişkiler
İrantopu - He is my new Frenemy, because he hates Saudi Arabia. But I hate Saudi Arabia more. Both we support Qatar against evil Terrorist Saudi Arabia. He also gibs me Oil and sometimes Ikco Samand. Btw PLS DON'T SUPPORT ARMENIA TO KILL AZERBAIJAN, BECAUSE AZERBAIJAN IS MUSLIM LIKE YUO.
Romanyatopu -  We can into friends (and Kanal D ) since we both hate Russia and stuff. Also gibs me Dacia Cars. But PLEASE STOP REMOVING KEBAB! AND I WILL NEVER FORGET FOR WHAT YOU DID TO MY BOYARS IN THE 15TH CENTURY! YOUR PRINCE NAMED VLAD THE IMPALER IMPALED MY BOYARS!! YOU IMPALED MY SOLDIERS ALIVE!!!!
Lübnantopu - We both hate Zionists but he is an Armenian dog!!! I give yuo aid and pray for you. And also you said that we will remove Zionists just because he bombed your capital? NO HE DIDNT DO THAT! Make up your mind!

: Please understand this. Yuo seem to be Kosher 's enemy too. And we said it happend by him. He is an worst fool that gets us away from letting Palestineball be known more than Kosher. THE DAMN KOSHER DID THAT! Yuor mind should be knowning this. He is Jealous. He is commiting crimes and says that they didn't do. At least yuo can maybe reunite with me and my friends ( Palestineball ,  Iranball ,  Pakistanball and more). Even  your brother should know this that Israel is not Real. Also, thank yuo for reconizing  Palestineball and hating the others who don't know him.
: JUST LOOK AT NEWS! THE ZIONIST DIDNT BOMB YOUR CAPITAL! IT WAS YOUR BUILDING WHO MADE AN EXPLOSION NOT HIM! AND yes i hate the Kosher too but i understand for what your saying! I tell him to stop bullying his neighbours. If you dont agree then I WILL NOT HELPING YOU ANYMORE!
İzlandatop - Defeated me 2-1 in Euro 2016. But we both can into friends since you recognized Palestineball. Your places seems very cold so...
Enemies/Düşmanlar
Koronavirus - CURE THAT IMBECIALE! THAT JERK KILLS ME ALOTS OF PEOPLE! (well, actually not really...)
One China Policy - OH NONONONONONONOO!!!! TAIWAN IS REAL CHINA! THE PRC CHINA IS MAINTAINING THREAT PEACE LIKE HE INVADED UYGHURS!! GET THE FUK OUT OF UN NOW!!! 'WITH THIS THING HAPPENING, EAST TURKISTAN IS DYING .'
 Satans Country (Also known as 'The Main Terrorist Country' 'The PKK .v666')- What can i say at all? HE IS TRYING TO REPLACE HIS BROTHERS WITH HIM. I know yuo made Corona Virus and killed the good people and it's because yuo TRIED TO TEST IT ON A RUNNER RAT!​​​​​​ PLUS YUO IS OF FAKE CHINA!!!! WHY DID I EVEN TRUST YUO FIRST? YUO IS OF NOT REAL CHINA AT ALL, YUO ARE JUST AN OCCUPIER OF YUOR BROTHER AND MY BROTHER!!!!!! REMOVE UYGHUR KILLER!!!! GIB THE UYGURS JUSTICE AND INDEPENDENCE AND HANDOVER THE MAINLAND AREA TO THE ROC!!!! LEAVE THEM ALONE!!! BUT NOW IT'S TOO LATE!!! S#KTİR GİT!​​​​​!! But now i and  Putin founded the cure of YUOR WORLD DESTROYER!!! YUO ARE DEAD!!! DO YUO HEAR ME? YUO ARE DEAD!!!!!!!!!   AND YUO SOLD YUOR SOLD TO THE DEVIL! YUO CAN SELL YUOR SOUL TO THE DEVIL. BUT YUO A$$ BELONG'S TO UYGURS AND TAIWANESE AND THE ALL MIGHTY TURKEY!   Plus, no more 'Made in China'! There is 'Made in Turkey', 'Made in Hong Kong', 'Made in (the Republic of) China' and 'Made in East Turkistan' B####! But i'm not done yet!  C(e)hen(nem) Quanguo needs to be F#CKING REMOVED!!! THE HITLER'S COUSIN OR THE HITLERS BROTHER IT DOESN'T MATTER! (see #ChineseButcher) BECAUSE HE IS ABOUT TO BRING THE NAZI AGE BACK!!!!!!! HE IS OF WORSER THAN EVER!!!! HE IS THE WORLDWIDE TERRORIST REMOVING EVERYONE!!!! EVEN US!!! Anyways, you'll see it. Soon... 
 British Deep State - Get The F#ck Out of HERE​​​​​​! YUO NEARLY KILLED THE HUMANITY WITH LGBT SUPPORTING!!! REMOVE LGBT!!! REMOVE NAMBLA!!! REMOVE MURAT ÖVÜÇ!!! YUO IS OF MORE WORSER THAN ME!!! AND MOST OF ALL STOP  TOUCHING MY YOUNG GIRLS!!! ALLAH DID NOT MADE YUO LEGAL FOR MUSLIMS!!! YUO'RE DONE!!! YUO'RE FINISHED!!!!! MAINTAINING THREAT PEACE OF THE WORLD!!!!!!!!!!!!!!!!!!  m a y b e   i ' l l   f i x   t h i s   m y s e l f   
Ermenistan - I DONT EVEN KNOW HOW YUO ARE FIRST INTO RECOGNIZE ME IF YOU HATE ME (Who did it?). Both are bitter rivals because of the Armenian Genocide in 1915 THERE WAS NO GENOCIDE! Friends with Russiaball and a threat due to housing Russian military bases near border. Also, I did not doing genocide. SİKTİR GİT! HAVEN'T YOU HEARD?! BE KIND TO YUOR NEIGHBOUR! READ A DAMN BOOK OR SOMETHING!
(Güney) Kıbrıstopu - Turkeyball invaded and took almost half of its clay to TRNCball which only Turkeyball recognizes and now Turkeyball is hated by Cyprusball because of that. SİKTİR GİT! REMOVE 5-MINS-CRAFTS!  Or i will end yuo 
NAMbLA: Yuo can go down to the hell.
Mısırtopu - Sisi is not the president, Morsi is the legitimate president.
BAEtopu - We saw his bigger tower in the world. He once opposed communism but now supports the Assad regime and the Kurdistan Workers' Party (PKK). UAE traitors have become Jews' running dogs anound everybody's corner! And if yuo put the kebab removers flag on yuor tower, i'll wreck it absolutely 100% guaranteed!
NETFLIX: Have a mind yuo stupid fool. Yuor flims are not perfect for Islam. Remove Ninnoşlar!
- Kebab Remover Team - Those weak countries hate me but they are not of stronk(except china) so I don't care almost all about them. Though China will defeat me easily.But,anyways I will never surrender!
Myanmartopu - That bitch killing and killing more kebab. All kebabs must cooperate and remove yuo. DEFEND ARAKAN! SİKTİR GİT AMK!
Suudi-Arabistantopu - OH! HOW I HATE YUO! YUO ARE WAHHABI SHIT! I I SO FUCKING HATE YUO! I STILL REMEMBER WHEN IN WAHHABI WAR YUO ARE SAYIN I AM A MONSTER WHEN I COMPLETY DESTORYED YUOR EMIRATE THEN IN WWI WHEN YUO ARE HELPING  BRITISH TEA TO BACK STAB ME AND NOW YUO SAYING I AM TRAITOR PIECE OF SHIT!?! I NEVER GOING FRIEND WITH YOU ANYMORE! EVEN NEVER EVER! NOW I AM FRIENDS WITH IRAN AND QATAR SO WE WILL REMOVE YOU AT ALL!!! SİKTİR GİT SİKTİR GİT! ALSO WHAT THE FUCK DID YOU DO TO THAT JOURNALIST JAMAL KHASOUGI IN YOUR CONSULATE IN ISTANBUL!!!!!!!
Süriyetop - Turkey has a huge problem with the Syrian immigrants *cough* ISISball *cough* (nearly 3 million of them!) but he seems to let them in whatever the consequences may be. Turkeyball hopes that their democracy with 100% freedom may come rapidly as well as their refugees to get out.did try to anchluss there north recently but we got into ceasefire so yeaah things are complicated... BUT NOT ANYMORE!! At least yuo can into anti imperialist.
Kürdistantopu - Who? Oh, that separatist. STOP BOMBING OUR CITIES YOU DIRTY RATS! AND DON'T TRY TO STEAL MY LAND YOU COCKSUCKER AND FOLLOW MY LEAD AMK. SİKTİR GİT SİKTİR GİT SİKTİR GİT! But if yuo won't attack us, maybe we can be friends again.
Tunustopu - Oh look what we have here? Some kind of wannabe kebab remover who still hates me for occupying her for like 200 years ago. Maybe I should call you the third main kebab remover. Maybe France, Italy or Spain should have colonised you after all. Yuo stole my flag. I will invade you again you wannabe Pro-serbian fuck just wait.
 Danıld Tramp - WHAT?! NONONONONONONONONONONO!!! STOP INCREASING THE DAMNED WORTHFUL PAPER PIECES!!! NO!!! YUO CAN'T BE THE REAL PRESIDENT OF [1] ABD!! HOW YUO COULD BE A PRESIDENT EVEN YUO STUPID YELLOW-HEAD MONKEY?!! YUO ALSO LET THE COPS KILL GEORGE FLOYD? well. I WILL JOIN THE PROTEST AND YUO WILL ROT IN HELL SOON! #Blacklivesmatter #RemoveTrump
Murat Övüç: Yuo jackass paying +1.000.000₺ on being Transgender and becoming the popular person? It's a cheating! It's killing Humanity!
BASHAR AL ASSAD: Asshole
ISISball - YOU ARE RUINING MY COUNTRY YOU IDIOT, KILLING THOUSANDS OF POEPLE IN MY COUNTTTTRRRIIIIIEEEEEE!!!?? I HOPE YOUR SOLDIERS DIE IN THE EXACT MOMENT. I AM THE FIRST COUNTRY WITH MOST REFUGES JUST FOR YOUR SILLYS WARE! REMOVE!!! REMOVE!! SİKTİR GİT SİKTİR GİT SİKTİR GİT SİKTİR GİT SİKTİR GİT SİKTİR GİT SİKTİR GİT SİKTİR GİT SİKTİR GİT SİKTİR GİT SİKTİR GİT SİKTİR GİT WORST ENEMY FOREVER!!!
Nazi Almanyatopu  - I was into liked you until I learned how evil yuo were. (I hope I didn't export chromium to you.)
People who say Kebab means Islam - JUST...STOP OK? KEBAB MEANS TURKIC SİKTİR GİT!
 Ararat Cumhuriyetitopu  - STOP REBELLIONS OMG hahahah trash we defeated you at least you are not as bad as  your cousin .
Thanksgiving: PLEASE STOP! IM NOT A BIRD!.
Penguinz0: Hey yuo, let me tell yuo this perfectly clear. How the hell yuo use the 'Recep Erdogan' term as an small private organ? It doesn't matter if yuo hate Erdoğan but don't do something like that!
Every single person that does violence on woman, childeren and more: YUO LITTLE PIECE OF SHITS RUINED MY REPUTATION! I HOPE YOU ALL CAN BURN IN THE HELL! IF THESE CRIMES WONT BE STOPED, I WILL MAYBE, MAYBE, COLLAPSE ONE DAY. AND AS OF BONUS, YUO AIN'T TURKS ANYMORE, YUO'RE GREEKS, BRITS, ARMENIANS AND EVEN KURISH PKK MEMBERS! I DON'T CARE. R.I.P. Goodness in year 2020. If you wanna see the most of them, check this list below:

Cemil Metin Avcı: (see #PınarGültekin ) HOW THE HELL YUO DARE TO BURN PINAR GÜLTEKİN DOWN AND PUT HER IN A BARREL AND BURY IT? YUO ARE NOT ONLY THE BUTCHER! YUO ARE GONNA END THE HUMANITY! I HOPE YUO CAN GO DOWN TO HELL! WE WILL NEVER AND EVER FORGET ABOUT IT! I'M NOT FINISHED WITH HIM AND THE REST OF THEM BELLOW!!!!!
Musa(llat) Orhan: (see #MusaOrhanTutuklansin) ARE YUO KIDDING ME? YUO GOT FREE AFTER RAPING IN 20 DAYS AFTER THESE DAYS THE VICTIM SAYS SHE IS ALCOHOLIC? F#CK MY LIFE! AND MY RECENT HOURS AND DAYS AND THIS ONE TOO! HAVE I BEEN A FOOL EVER SINCE I'M THE FIRST COUNTRY TO CHOOSE TO WOMEN AND GIVING THEM THE DAMN REAL RIGHT TO BE DAMN REAL ELECTED????? I HOPE YUO CAN GO DOWN TO HELL LIKE WHAT THE HECK WILL CEMIL METIN AVCI WILL DO! EVEN THE REST! WOMENS AND GIRLS WILL GO UP TO HEAVEN! OF FREAKING COURSE WE WILL NEVER AND EVER AND EVER AND EVER AND EVER FORGET ABOUT IT! KADIR ŞEKER NEEDS TO BE FREE AND REMOVE YUO WHERE YOU'RE THE ARMENIAN VERSION OF JOKER AND HE IS SUPERHERO BATMAN!
Quotes
"Lan" - is a slang word that you can use after a sentence (remotely similar to rude forms of the word "you" in Japanese). to represent anger. It is used to call on people too.
"Amk" - is short version of Amına koyayım or Amına koduğum(un) which means "Fuck you"
"OÇ" - is short version of Orospu çocuğu which means "son of a bitch."
"Hassiktir!" - used in the places of "Oh fuck!"
"sg" - is short version of "Siktir git" which means "Fuck off!"
"Ne diyorsun" is a short version of u w0t m8 as a slang and it's actual meaning "What fo you mean?"
"Yarrak" and "Sik" means "dick"and "Fuck"
"Sana ne" is a version of "WHAT'S IT TO YA!?" He says it to Armenia quite a lot wonder why
"Ananı sikeyim" means "fuck your mom"
TBMM is Türkiye Büyük Millet Meclisi it means "Grand National Assembly of Turkey"
Turkish for non-Turkish countries: in Turkish, "Türk" means "Turkish" and "Turkic". In Turkish, there is not a word called "Turkic" so they say Turkish instead of Turkic.
Wut?
"Olm" is the short version of "Oğlum", which means "My son" or if talking to a friend, means "Fella"
How To Draw
Drawıng Turkeyball is easy:
Draw a circle.
Color it red.
Draw star and crescent.
Draw the eyes.
Done!
Gallery
Artworks
Comics

Related templates