This page requires sanitation.
This page needs more accurate, less vandalistic/biased information or better formatting, it would be much appreciated to help!
The contents of this page are subject to change.
Recent things have happened to Turkeyball, so it is subject to change. You can add the new information too! Alternatively, visit the talk page to add recent information that it should have.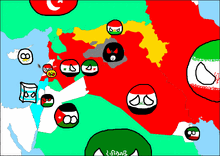 Turkeyball, officially the Republic of Turkeyball, is a kebab countryball located between Anatolia, Asia, East Thrace and Middle East, bordered by

Syriaball and

Iraqball to the South,
Greeceball to the West,

Bulgariaball to the Northwest, and

Iranball to the East. The country is divided into 81 kebabs provinces, along with his capital

Ankaraball, giving him a total area of 302,535 square miles, making him the 36th largest country in the world. With a population of about 80.81 million as of 2018, he's the world's 19th most populous country.
Being a Turkic country, as well as having strong ties with the western world, makes Turkey a member of the

Turkic Council and

NATO. However, even after his attempts, he has failed to become a member of the

EUball due to the many problems he's dealing with. Turkey is also a member of the G20 (or Group of Twenty), a group formed by the countryballs that have the 19 largest economies plus the

EUball.
Turkeyball is often referred as "aggressive, nationalist" because of his actions towards many countryballs. He tends to act very aggressive when it comes to things like the Armenian Genocide or Cyprus, tries to stop any sort of

Kurdish nationalism, and now he is beginning to make ties with countries that 

USAball and the EU hate the most, like

Iranball. Apart from his actions, Turkey still hopes that he can get away from the Middle East and become a peaceful country, however that is very unlikely.
He's a member of NATO for now, but if he continues being shady with his kebab ways, well...
His national day is October 29.
History
Main article: Ottoman Empireball 
The real name for Turkey is Anatolia. Turkeyball has had much history, mostly because of the

neanderthals who lived in the area. However, the neanderthals died out years after meeting the homo sapiens. The homo sapiens came from the Caucasus and migrated into Anatolia. They took over the area and for a while lived in a state of anarchy. The first civilisation in Anatolia was the Hittitesball. While the hittites were strong (they were daring enough to face egypt -which they won against-), their empire fell and out came some small Syro-Hittite stateballs. An example of one Syro-Hittite stateball was Tabalball. There were many Syro-Hittite stateballs but after the collapse of the hittites, the empires that took some lands were Phrygiaball,

Urartuball, and

Assyriaball.
Flag Color
Color Name
RGB
CMYK
HEX
Cadmium Red
227,10,23
C1-M92-Y99-K0
#E30A17
White
255,255,255
N/A
#FFFFFF
Relationships
Actual Friends/Gerçek arkadaşlar
Good Relations/İyi İlişkiler
Neutral/Karışık İlişkiler
Iranball -He is my new Frenemy, because he hates Saudi Arabia. But I hate Saudi Arabia more. Both we support Qatar against evil Terrorist Saudi Arabia. He also gibs me Oil. Btw PLS DON'T SUPPORT ARMENIA TO KILL AZERBAIJAN, BECAUSE AZERBAIJAN IS SHIA MUSLIM LIKE YUO.
Romaniaball -  We can into friends since we both hate Russia and stuff but PLEASE STOP REMOVING KEBAB! AND I WILL NEVER FORGET FOR WHAT YOU DID TO MY BOYARS IN THE 15TH CENTURY! YOUR PRINCE NAMED VLAD THE IMPALER IMPALED MY BOYARS!! YOU IMPALED MY SOLDIERS ALIVE!!!!
Albaniaball -Fellow kebab. He used to be Christian but I made him Muslim. He used to be part of glorious Ottoman but gained independence. Good friend and also we like eat simit, he still hates me after what I did to Skanderbeg and won't shut up about it. And Recently Serbia is Now better than you. DEAL WITH IT AND STOP CALLING ME TRAITOR OR I WILL DECALRE WAR ON YOU AS WELL YOU VERY FUCKING SHQIP!!!! SİKTİR GİT YOU ARE MY REAL ARCHENEMY FOREVER!
Lebanonball -We both hate Zionists but he is an Armenian dog!!!
Enemies/Düşmanlar
Armeniaball - I DONT CARE HOW YUO ARE FIRST INTO RECOGNIZE ME. Both are bitter rivals because of the Armenian Genocide in 1915 THERE WAS NO GENOCIDE! Friends with Russiaball and a threat due to housing Russian military bases near border. Also, I did not doing genocide, it was Israel did genocide. They hid their backlash so you get fooled by the real perpetrator. SİKTİR GİT!
Cyprusball - Turkeyball invaded and took almost half of its clay to TRNCball which only Turkeyball recognizes and now Turkeyball is hated by Cyprusball because of that. SİKTİR GİT!
UAEball - SATICI, the same Islamic world, belongs to the Sunnis. since we support the common enemy of our Muslim Brotherhood and Wahhab, Zionist Kurd.
 Kebab Remover Team :Those weak countries hate me but they are not of stronk so I don't care about them.
Myanmarball - That bitch killing and killing more kebab. All kebabs must cooperate and remove you. DEFEND ARAKAN! SİKTİR GİT!
Netherlandsball - YUO LITTLE NAZI! HOW DARR YUO TREAT MY PRIME MINISTAR LIKE THAT!? Btw beat you 3-0 in football xaxaxaxa!
Saudi Arabiaball - OH! HOW I HATE YOU! YOU ARE WAHHABI SHIT! I I SO FUCKING HATE YOU! I STILL REMEMBER WHEN IN WAHHABI WAR YOU ARE SAYIN I AM A MONSTER WHEN I COMPLETY DESTORYED YOUR EMIRATE THEN IN WWI WHEN YOU ARE HELPING  BRITISH TEA TO BACK STAB ME AND NOW YOU SAYING I AM TRAITOR PIECE OF SHIT!?! I NEVER GOING FRIEND WITH YOU ANYMORE! EVEN NEVER EVER! NOW I AM FRIENDS WITH IRAN AND QATAR SO WE WILL REMOVE YOU AT ALL!!! SİKTİR GİT SİKTİR GİT SİKTİR GİT SİKTİR GİT SİKTİR GİT SİKTİR GİT SİKTİR GİT SİKTİR GİT SİKTİR GİT SİKTİR GİT SİKTİR GİT SİKTİR GİT SİKTİR GİT SİKTİR GİT SİKTİR GİT SİKTİR GİT SİKTİR GİT SİKTİR GİT SİKTİR GİT SİKTİR GİT SİKTİR GİT SİKTİR GİT SİKTİR GİT SİKTİR GİT SİKTİR GİT SİKTİR GİT SİKTİR GİT SİKTİR GİT SİKTİR GİİİİİİİİİİİİİİİİİİİİİİT!!!!!!!
Syriaball - Turkey has a huge problem with the Syrian immigrants *cough* ISISball *cough* (nearly 3 million of them!) but he seems to let them in whatever the consequences may be. Turkeyball hopes that their democracy with 100% freedom may come rapidly as well as their refugees to get out. plox send more refugees so I can into EU
​ Kurdistanball - Who? Oh, that separatist (Turkey has had enough of Kurdistan and will seize any opportunity to crack the skull of the separatist). STOP BOMBING OUR CITIES YOU DIRTY RATS! AND DON'T TRY TO STEAL MY LAND YOU COCKSUCKER AND FOLLOW MY LEAD AMK. SİKTİR GİT SİKTİR GİT SİKTİR GİT
Tunisiaball - Oh look what we have here? Some kind of wannabe kebab remover who still hates me for occupying him for like 200 years ago. Maybe I should call you the third main kebab remover. Maybe France, Italy or Spain should have colonised you after all. You stole my flag. I will invade you again you wannabe Pro-serbian fuck just wait.
Serbia in memes - He talks more about me than I talk about myself. Fancies himself the main kebab remover and Turkeyball's main enemy. In reality I couldn't care less about him. He's still mad that I conquered and dominated him for centuries. The accordion, anything about Ottomanball and their trademark words from their respective languages' slang are the main weapons of their arguments in the comics. He is so "powerful" his only weapon is words, what a joke.
ISISball -- YOU ARE RUINING MY COUNTRY YOU IDIOT, KILLING THOUSANDS OF POEPLE IN MY COUNTTTTRRRIIIIIEEEEEE!!!?? I HOPE YOUR SOLDIERS DIE IN THE EXACT MOMENT. I AM THE FIRST COUNTRY WITH MOST REFUGES JUST FOR YOUR SILLYS WARE! REMOVE!!! REMOVE!! SİKTİR GİT SİKTİR GİT SİKTİR GİT SİKTİR GİT SİKTİR GİT SİKTİR GİT SİKTİR GİT SİKTİR GİT SİKTİR GİT SİKTİR GİT SİKTİR GİT SİKTİR GİT WORST ENEMY FOREVER!!!
Nazi Germanyball  - I was into liked you until I learned how evil yuo were. (I hope I didn't export chromium to you.)
East Turkestan Islamic Movementball -FAKE TURKESTAN! YUO JUST A BUCNH OF ISIS-SAUDI WAHHABI PUPPET OF EAST ASIA YOU FUCKING PYSCOSHITTTY ARAB TERRORIST! SİKTİR GİT SİKTİR GİT SİKTİR GİT!
Tramp -WHAT?! NONONONONONONONONONONO!!! STOP INCREASING THE DAMNED WORTHFUL PAPER PIECES!!! NO!!! YUO CAN'T BE THE REAL PRESIDENT OF ABD!! HOW YUO COULD BE A PRESIDENT EVEN YUO STUPID YELLOW-HEAD MONKEY?!!
Icelandball - Oh yeah! I will beat your dumb ass in the next match in this Euro League.
Quotes
"Lan" - is a slang word that you can use after a sentence (remotely similar to rude forms of the word "you" in Japanese). to represent anger. It is used to call on people too.
"Amk" - is short version of Amına koyayım or Amına koduğum(un) which means "Fuck you"
"OÇ" - is short version of Orospu çocuğu which means "son of a bitch."
"Hassiktir!" - used in the places of "Oh fuck!"
"sg" - is short version of "Siktir git" which means "Fuck off!"
"Ne diyorsun" is a short version of u w0t m8 as a slang and it's actual meaning "What fo you mean?"
"Yarrak" and "Sik" means "dick"and "Fuck"
"Sana ne" is a version of "WHAT'S IT TO YA!?" He says it to Armenia quite a lot wonder why
"Ananı sikeyim" means "fuck your mom"
TBMM is Türkiye Büyük Millet Meclisi it means "Grand National Assembly of Turkey"
Turkish for non-Turkish countries: in Turkish, "Türk" means "Turkish" and "Turkic". In Turkish, there is not a word called "Turkic" so they say Turkish instead of Turkic.
Wut?
"Olm" is the short version of "Oğlum", which means "My son" or if talking to a friend, means "Fella"
How To Draw
Drawıng Turkeyball is easy:
Draw a circle.
Color it red.
Draw star and crescent.
Draw the eyes.
Done!
Gallery
Links

Related templates

 Kebab Defender Republic of Turkey 
Geographical regions


☪

Aegeanball • Black Seaball • Central Anatoliaball • Eastern Anatoliaball • Marmaraball ( Istanbulball) • Mediterraneanball • Southeastern Anatoliaball • Northern Cyprusball
Region Capitals
Ankaraball (Capital) • Antalyaball • Artvinball • Boluball • Erzurumball • Gaziantepball • Istanbulball • İzmirball • Trabzonball
Former entities
Migrants from the South (Prehistorical Anatolia) • Troyball • Hattiansball • Akkadianball • Luviaball • Assyriaball • Achaeansball • Kizzuwatnaball • Hittitesball • Arzawaball • Mitanniball • Hayasa-Azziball • Lyciaball • Assuwaball • Diauehiball • Neo-Hittitesball • Phrygiaball • Cariaball • Tuwanuwaball • Ioniaball • Urartuball • Lydiaball • Achaemenidball • Macedonball • Cappadociaball • Antigonidsball • Seleucidball • Kingdom of Pontusball • Bithyniaball • Kingdom of Pergamonball • Galatiaball • Armenian Empireball • SPQRball • Kingdom of Commageneball • Sassanianball • Byzantineball • Rashidunball • Seljukball • Danishmendsball • Sultanate of Rumball • County of Edessaball • Artuqidsball • Empire of Trebizondball • Empire of Nicaeaball • Ilkhanateball • Ottoman Empireball • Government of the Grand National Assemblyball
Ne mutlu kebabım diyene!