The contents of this page are subject to change.
Recent things have happened to Turkeyball, so it is subject to change. You can add the new information too! Alternatively, visit the talk page to add recent information that it should have.
This page requires sanitation.
This page needs more accurate, less vandalistic/biased information or better formatting, it would be much appreciated to help!
October 29, 1923 - Present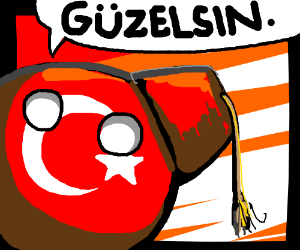 General information
Government


Federal Erdoğanist one-party dictatorship

Unitary presidential constitutional republic under a hybrid regime (2018-present)

Fascist military dictatorship under a totalitarian regime (1960-1961/1980-1983)

Unitary parliamentary constitutional republic (1946-1960/1961-1980/1983-2018)

Unitary parlimentary constitutional republic under a semi authoritarian regime (1923-1946)
Personality
Aggressive (sometimes),
Kebab,
Creationist,
Nationalist,
Pork Remover,
Proud,
Anti-Social,
Victimized,
Hospitable,
Kind ,
Smart and Revolutionary (in Ataturk's rule)
Misunderstood
Mature
Is of importants
Can into space?
Evet (Yes)
Kebab kebab, Atatürk Atatürk, Kebabı Savun Kebabı Savun Gobble Gobble
Food
Kebab, Lokum (Turkish delight), Mantı, Lahmacun, Baklava, Yogurt, Turkish coffee, Tavuk göğsü (Chicken breast pudding), ICE CREAM, turkey
Status
Ceasefire in northern Syriaball taking place soon.
And having protests of about saving humanity.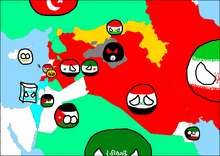 "
Sometimes my nation is angry, sometimes my nation is super friendly. I do not know what the government wants anymore..
"
 

— a confused Turk about the state of his country's politics

Turkeyball, officially the Republic of Kebab Turkey, is a countryball located in Anatolia. It is Eurasian as it straddles the line between Europe and Asia. The countryball is divided into 81 kebabs provinceballs, along with his capital

Ankaraball, giving him a total area of 302,535 square miles, making him the 36th largest countryball in the world. With a population of about 83 million as of 2019, he's the world's 18th most populous countryball.
Being a Turkic countryball, as well as having strong ties with the western world, makes Turkeyball a member of the

Turkic Councilball and

NATOball. As for EU, his accession talks to the

EUball are constantly delayed due to the many problems he's dealing with. Turkeyball is also a member of the G20: twenty biggest economies in the world.
Turkeyball is often referred to as "aggressive, nationalist" because of his actions towards many countryballs in the last two decades. Turkeyball is trying to find out where it stands in the world, it does not understand its identity. But it is learning!
He became a member of

NATOball on 18th of February in 1952 and possesses the second largest army in the alliance after USAball.
His national day is October 29.
History
Anatolia
Anatolia is the inner region of Turkeyball. The lands Turkeyball is in have a long history. The oldest known 'temple', Göbekli Tepe, in the world lies in Turkeyball along with many other ancient sites designated by UNESCO. Among the first cities built in the world's history, some of them were located in Turkeyball too such as Çatalhöyük. The country holds many known ancient pieces of humanity's history to the fascination of many archeologists and historians. The first civilizations rose in Africa, Middle East and Anatolia a very long time ago, more than ten thousand years ago at the very least. They had a whole different world of their own, trading with each other and their societies functioning. Other human species such as Neandthalers were in contact with Homo Sapiens there too and they naturally bred together, making us what we are now. It is also where the farming was invented first, bringing on Agricultural Revolution to Europe. These ancient people went on to travel across the Europe and teach the neandthaler and neolithic barbarians there how to work stone and how to farm. They also built impressive structures of which little survived today such as Stonehenge in England and several of its versions in France and Spain.
The civilizations rose and fell across the long thousands of years, most of it lost to us, and they took over the area and for a while lived in a state of anarchy. Then they thrived and collapsed again. And so on until where our 'recorded history' begins.
𐱅𐰼𐰇𐰰 Asia 𐱅𐰼𐰇𐰰
The people in Turkey descend from many places and are truly diverse, yet most of them do not even realize this. Anatolia was settled by many warring, trading and neutral states. The tribes in Mongolian lands clashed with each other and Chinese. One of these tribes fled from the rising Mongolian Empire across the Asia into the Arabian peninsula where they come in contact with the locals there who enlightened them and taught them much. They worked as mercenaries for them too. Before they converted to islam, their deities were of sky, moon, earth and lands. Even animals such as wolves.
Then the tribe split up in many tribes along the way and one of these tribes went on to create an empire.
Seljuk Empire
In 1037

Seljuk Empireball was created. They first started conquering counties in

Turkmenistanball and

Persia. Then they came in Anatolia by smashing

Byzantine Empireball in Byzantine-Seljuk Wars.

Christians saw that

Islam is being better and better everyday so they started

many Crusades and some of them became a sucessful and others became unsucessful. They wanted to have Holy Land which is in

Seljuk Empireball's hands. Sadly

Seljuk Empire was removed by

Mongol Empireball who found the tribes! It has been a very long time since they last saw them in Asia!
Seljuk Empireball became weaker and weaker, corrupt from within, and besieged from west by Byzantine and the European christian nations, south by Arabian and Egyptian nations and east by Mongols.
It nearly collapsed until one of the tribes, Kayi, rose and conquered the others and subverting the Seljuk Empire from within.
Mighty Ottoman Empire ☪
In 1299,

Osman I after the death of his father, Ertuğrul, made

Ottoman Empireball. They invaded Bursa,İznik and İznit in 1326, 1331 and 1337. They also started to invade some

Turkic Beyliks and became stronger and stronger. They fought off and conquered Seljuk Empire too. In 1345 Keresi Beylik joined

Ottoman Empire which made

Ottoman Army really big.

Empire started to looking at Balkans with the change of the Sultan. They firstly go to Balkans by invading Edirne. They also crashed

Byzantine Empireball which wanted to stop

Ottoman Forces. They also defeated

Serbians and

Hungarians which wanted to invade Edirne. They also invaded

Greece and

Bulgaria. They also had Akşehir, Yalvaç, Beyşehir, Şeydişehir, Karaağaç, Eğirdir and İsparta.

Serbian Empireball tried to stop

Ottoman Empire but

Ottomans won the war but the Sultan was killed after the war. The next Sultan tried to take all of the Beyliks and make the empire much better and it worked as he soldified his rule. He did take alot of

Turkic Beyliks.

Timurid Empireball invaded

Ankaraball and captured the Sultan. Then Ottoman Civil War (1509-13) happened. Sultan's 4 kids, İsa, Mehmed, Süleyman and Musa fought each other. And the winner was Mehmed. Mehmed retook

Ankaraball, but lost the other lands when

Timurid Empireball attacked. They defeated

Wallachiaball and

Kingdom of Hungaryball (1000-1526).
The new Sultan, Mehmed II came and crashed

Constantinopleball with walking ships! . Mehmed also expanded the territories in Balkans. He also invade more

Turkic Beyliks and attacked Aq Qoyunluball and
Creteball. He also attacked

Crimean Khanateball. After that they attacked Herzegovina and Kilia. After that they had a war with

Mamlukball in the first war nothing actually changed but in the second war

Ottomans defeated

Mamluks. They also defeated

Veniceball in 1499. They also also defeated

Safavid Dynastyball. After Yavuz Sultan Selim's death, Suleiman I ascended the throne. Ottoman Empireball thrived and prospered in his reign, the science, art, medicine and more made great advances. Suleiman I invaded

Belgradeball and

Rhodesball. After that he started a grand invasion of

Kingdom of Hungaryball (1000-1526) and defeated the Hungarians. In 1529 he tried to invade

Viennaball but it is failed. The good thing is Suleiman invaded the

Algeriaball. He also invaded

Baghdadball and Tabrizball. He tried to invade
Maltaball but he failed. Suleiman is known as The Magnificent due to the laws he made and it changed his Empire in many good ways, giving everyone more rights and justice, but sadly he died in 1566. But he expanded the Empire a lot, its economy and architecture were amazing and advanced. The new Sultan is cared about Seas. He attacked

Veniceball to get Cyprusball. He also invaded Aceh and made

Aceh Sultanateball.

Ottomans had a war with

Tsardom of Russiaball and they failed. They also wanted to have

Viennaball so they attacked to them but failed again. The things are not looking really good for the

Ottomans as the long decline of Ottoman Empireball begins due to many mistakes its current and future Sultans make, dooming the Empire. Suleiman I and everyone else before him cry in their graves as they watch their descendants ruin and twist the ideal vision of Ottoman Empireball.
After two centuries of decline, the Ottoman Empireball was outdated in many ways and regressed in other areas like the laws for everyone in the Empire! Everyone but the muslims, especially Turkish muslims, started becoming oppressed.The Sultans became dumber and made bigger mistakes. The economy is getting worse and worse by the wars with

Safavid Dynastyball and

Habsburgball. Their regions continue breaking away with the support of Great Powers. With the Karlowitz Treaty,

Ottoman Empire gave

Polish-Lithuanian Commonwealthball,
Sovereign Military Order of Maltaball,

Holy Roman Empireball and other countries alot of land. They had alot of Balkan rebellions and wars with

Russian Empireball, it was too late for

Ottoman Empireball to fix the mistakes it made in the past. European powers are thriving in the New World and Industrial Revolution. And with the World War I, the shadow of Ottoman Empireball ended.

UKball and his allies wanted to make

Turkeyball really small and split their spoils among themselves. But Mustafa Kemal Atatürk doesn't want this to happen, then the Greeks invaded with their untouched army.
So starts the Turkish War of Independence.
☪ Turkish War of Independence ☪
Main article: Turkish War of Independence
After the World War I

Ottoman Empireball surrendered but

Mustafa Kemal Atatürk didn't want that. So he went to Samsun and started Turkish War of Independence with the remnants of Ottoman army. Then he went to Havza, Erzurum and Sivas to rally and fight foreign occupiers and prevent their colonization.
The Greeks aimed to carve out a big land for themselves in the western coast of Turkeyball and made a big push towards Ankara while commiting many war crimes. They were only miles away from the new capital, Ankara. But then the resistance movement counterattacked and pushed them back very fast all way to the water. The Greeks scorched earth everything in their retreat.
Mustafa Kemal declared they will go to Constantinople to drive its occupiers out too after defeating the Armenian and French troops. But the Allied Powers offered a new, very favorable treaty: Treaty of Lausanne. Because they were too tired for another war as the resistance movement had retaken the lands in the north of Syria and the west of Caucasus region too. At the time the Allied Powers offered the treaty, the resistance movement had managed to take back the said lands in what was known as Misak-ı Millî.
Turkeyball went from very small to what it is now. Turkeyball is the only country to have successfuly stopped the colonization and drive off the colonizing invaders as far as known.
First Years of the Government
After the Turkish War of Independence, Mustafa Kemal gave the women a right to vote and many other rights then he created the Turkish language. He was a dictator, but it was necessary to teach the illiterate, brainwashed peasant Turks and forcibly modernized Turkey through the heavy labor. He reinvented the Turkish society completely and democratized the country after he retired.
Sadly, he died on the 10th of November in 1938 at 09:05 and everyone became sad. Grateful for what he did, they called him Atatürk, meaning the Father of Turks.
Then the Second World War came and Turkeyball remained neutral, because most of its male population died in First World War just like France's. Everyone tried to get Turkeyball to join their side and gave it many tempting offers. But Turkeyball did not intervene until the last year of war, it declared for Allied Powers then.
It joined NATO a few years after the end of war. There were many coups, because the Turkish army saw the government becoming too islamist and prevented them from coming to power fully.
For the first time in history, in order to make progress in the accession talks to EUball, they allowed muslims into the high levels of government. It was all very good, PKK stopped fighting, there was peace, everyone had equality and the economy was growing bigger!
It turned out to be a mistake when Erdoğan became extreme and replaced everyone with the loyal, even if inept, AKP followers, ruining Turkeyball's systems, education and economy all while polarizing its people and blaming all bad things on the others while taking credit for all good things. More than 95 percent of Turkey's medias are owned by the state in the name of Berat Albayrak's family, they do everything they can to shower the opposition in negative light and give them little attention. If so, just only negative attention!
Berat is married to the daughter of Erdoğan and was the minister of Energy and Natural Resources, his policies are responsible for the heavy debts of energy companies and the energy sector has largely contributed to the currency and debt crisis of Turkey in 2016. Afterwards, he was made the minister of Finance and Treasury in 2018, and for the next two years, his policies had worsened the economy of Turkey before resigning at the end of 2020. He vanished from the public. He and his brother, Serhat, have been involved in many shady deals including hiding the money offshore and avoiding taxes. They have, with the support of Erdoğan, pushed for the foreign investments in Turkeyball including the vital infrastructure and companies concerning Turkey's security, possibly compromising Turkey. These investments allow the other countries and wealthy people to wield some power over Turkey. Some have accused the AKP of selling Turkey a bit by bit to investors for desperate money to pay off the debts and finance their own projects. All of which has been ignored by the medias, the family of Albaryak continues to be defended to this day by Erdoğan, AKP and MHP parties while hiding him from the public.
All the children of Erdoğan are 'businessmen', but they are corrupt, bribing and stealing money a lot, there is not much known about them, but the little that is known is that they are involved in the 'business' of Erdoğan. They own many 'personal' palaces. They favor nepotism heavily and give the pro-AKP companies heavy support through contracts, making them richer and bigger, giving themselves more influence.
The cities under CHP, the oppositon party, such as Istanbul, Izmir and Ankara are cut off from the help of government and banks, they are forced to look for financial help abroad. The government also does not give them permission to buy things like busses and build projects. From the reports revealed by the CHP after they assumed the power in these cities, the previous AKP administrations were incredibly incompetent on purpose and threw money at the pro-AKP companies and pushed themselves into deep debts all while neglecting the maintaince of infrastructure. But the medias did not give the reports any attention, instead blaming them for the mistakes of the previous AKP-administrations such as an overflow of trash on the streets.
As of now, critizing Erdoğan heavily might be seen as an insult or terrorist collaboration and therefore punishable by law as evident by tens of thousands of arrests made in the last few years based on these exact charges, even though the evidence is invalid in the court.
2016 Coup
In this coup, less than three percent of Turkish army was involved: around nine thousand soldiers. Yet 1/3 of military's top leadership is arrested, an astonishing number for so few soldiers. In all previous coups in the history of Turkey, the military was brought in fully. Yet in this coup, it was less than three percent. Many suspect it to be a staged coup. The military leaders are meant to be competent and know a lot about strategies and tacticians. Despite that, they are apparently dumb enough to use only three percent of the military in a country of eighty million people. The main targets were Istanbul and Ankara where they went on the streets to show off to the public. Reportedly, two jet fighters of coup were trailing the airplane of Erdoğan, but did not do anything beside asking it to land. Suspicious.
Prior to this coup, Erdoğan's support and popularity were dropping heavily. After the coup, he had at least three times more power and much more popularity and public support.
Eight thousand soldiers were involved in the coup, but the arrests made afterwards numbered in hundreds of thousands with from normal to important functions such as judge, lawyer, police, teachers and doctors.
Most of them, if not all, have one thing in common: they critize AKP's policies. Very, very few AKP supporters are among those arrested. Between 16th and 18th of July, tens of thousands of arrests were made at an impossible speed. This suggests that the government may have had the lists ready.
Mehmet Dişli is the brother of a former vice president of AKP party, Şaban Dişli, who is the confidant of Erdoğan. Mehmet was seen giving orders to his fellow coup plotters.
It is unknown whether the coup was truly staged or a dumb mistake on which Erdoğan capitalized heavily to expand his powers.

Flag Color
Color Name
RGB
CMYK
HEX
Cadmium Red
227,10,23
C1-M92-Y99-K0
#E30A17
White
255,255,255
N/A
#FFFFFF
Relationships
Friends/Arkadaşlar
Azerbaycantopu - Best friends and brothers. We call each other "kardeşim" (qardaşım in Azerbaijani) which means "my brother". Also I am not going to use that weird e because its yours to keep :) . CONGRATULATIONS ON REGAINING KARABAKH!! MY BROTHER YOU HAVE IMPRESSED ALL THE TURKISH PEOPLE. YOU PLAYED CEDDIN DEDDEN?!
Kanadatopu - Best Western friend since 1944. Multilateral cooperation has grown through links in NATO, the United Nations and its agencies, the OSCE, the OECD, and the Council of Europe. Through these shared ties, Canada and I are working together toward a common goal of promoting peace and stability throughout Europe, the Middle East and Central Asia. He has 63,955 Canadians of Turkish ancestry. I am proud of him. Also gibs me Massey Ferguson tractors.He isn't a Kebab remover like other Developed nations.
KKTCtopu - The only Cyprus and glorious son! I'm his mentor and proud father. (Also true Kebab) The gyro Cyprus sucks. WE CAN INTO 'REMOVING MUSTAFA AKINCI AND 5-MIN CRAFTS!'
Somali Korsantopu - A really cool and epic pirate in which my father once colonized. He is cool and I do feel bad for him for not having a government. I was the first country to start opening an airport in Istanbulball to his capital Mogadishuball during his civil war to give supplies. His women are among the most beautiful in Africa, and in the world. They win every competition in beauty and they deserved it, Hamilia Aden, very pretty.(Teach me your ways so I can win in Europe and Asia)  I give him aid during the 2011 drought and he gives me immigrants and many Somali women are married to Turkish men. His economy is a great one to invest and I hope the country gets well one day. Unlike most countries we had very good historic relations and was always a good ally of me. I hope my other Horn African friend Habisha Etiyopyatopu gets along with him. But question why you joined THIS USELESS SHIT We also have Common enemy. Yuo are my faovrite african country. Love Somalia from Turkey!
Kazakistantuğlası, Kırgızistantopu, Türkmenistantopu, Özbekistantopu: We are from the same family so they are kebab too. BUT TURKMEN NAME STEELAR!!!
Karaçay-Çerkestopu, Çuvaşistantopu, Başkortostantopu, Tataristantopu, Altaytopu, Hakasyatopu, Tuvatopu, Sahatopu: Our Turkic cousins in Russiaball. They are the only part of Russia we like. Don't get assimilated, keep your language and culture.
Kırımtopu - My Tatar Sister, but why support Russiaball? Oh, I know you hate Ukrayna, but you must go back Russiaball is evil and authoritarian and hate Turkic people. I won't recognize your annexation.
Gagauztopu - Our Turkic Sister from Moldovaball. Look how cute she is.
Güney Azerbaycantopu - My Turkic brother in Iranball . Don't worry, soon you will be free from the evil Islamic regime.
Doğu Türkistantopu - My Turkic cousin in Chinaball, I am sorry for what is happening in East Turkestan, I wish I could help you. WE WILL FREE YOU!!
Pakistantopu - Does not recognise Armenia as a country, unlike me. Also helped me in my worst times. And the Scary Teacher 3D is made in Lahore. What an amazing game people plays on Phones and Tablets! 
  Japonyatopu - He is a good friend because of since the Ertuğrul incident, he was cared my martyrs. I like your Animes and Electronics! But you stole my kebab but nevermind anyways. He also denies war crimes like me, I love it hohoho. ​​​​​
Güney Koretopu - Helped them during the Korean War during UN peace mission. You are free.
Moğolistantopu - Is of non-kebab Buddhist relative Yuo dirty religion idiot Buddhism is corrupted, Islam is best hohoho. well, at least we lived together for a long time, in good old days.
Kalmukyatopu, Buryattopu - Our Mongolic relatives from Russiaball
İç Moğolistantopu - Our Mongolic relatives from Chinaball
Finlandiyatopu - My Scandinavian distant relative, very alcoholic. pl0x teach me how to quality education. Thus a resident in my clay turned his song Ievan Polkka into a meme.
Estonyatopu - I don't even know who you are. Another distant relative who is Baltic, doesn't knows about me much.
Macaristantopu - My closer relative, both we claim to be the true successors of Atilla Hun, both we have problems with that Vlad. Also sorry for Ottoman rule in yuor clay. But you are now a kebab defender!
Komitopu, Udmurtyatopu, Mari Eltopu, Mordovyatopu - Our Uralic relatives from Russiaball
Baba Osman Gazi - I miss you... Don't worry, you'll come back real soon...
Cezayirtopu - We have good relations, we are supporting the same side in Libyan Civil War, hope we can enjoy more
Bosna-Hersektopu - Best friend. I turned him kebab long ago. They had (and having) some similar problems and both had serious mining accidents in the same year. This makes both countryballs sympathise each other and thus, forming a friendship.
Brezilyatopu - Wow, this guy is very good at soccer and... me too! I had several immigrants who went to this land of the HUE! and I want to get in the BRICSbrick, but he recognizes the fake genocide, which I never did, fucking hell!
İsrailküpu - I've decided to recognize this guy and have relations with him. We like each other aside from Politics. He also friends with my brother.  Although he hates Iran. I dont care much, Also don't Hurt Palestineball, okay? But, please stop bullying with your neighbours you are the cause of terrorism. I saved his people during Spanish Inquisition and Holocaust. I trust you more than Arabs. You're still good anyways...
Katartopu - He is my arabic friend, because he hates Saudi Arabia. But I help him and give Weapons against evil Saudi Arabiaball. And Thank you for let my soldiers into your clay. But could you stop building canal to my beloved Istanbul and practice secularism?
Libyatopu - Supporting UN recognized GNA government. Libya is yours not of that fake Vodka puppet.
Rohingyaball - Support you in Myanmar.
Ukraynatopu - We are doing military cooperation, Kırım belongs to you. I support your NATO membership.
Gürcistantopu - Georgians and Lazes live in north-east of Turkey, but we're still in normal circumstances. Please tell Armenia to shut up. I support your NATO membership.
Kosovatopu - Helped them during Kosovo War. Would help them again if same happened.
Polonyatopu - Respectable friend, because he defeated me in 17th century at Viyana, and from that moment Poland is respectable friend. After the partitions of Poland I still draw maps with his old territories, so Poland very likes me for this reason. Also, have a great 100th Independence Day! (Sorry for mocking you in some kugeln.io match .)But why are you kebab remover.
Kuzey Makedonyatopu -We both used to have problems with Greeceball. Also you changed your name recently.
 Yeni Zelandatopu - Fought against each other in the Gallipoli campaign during WWI. I now let her preform memorial services at Gallipoli.
Italyatopu,  San Marinotopu, Vatikantopu, Andorratopu, İspanyatopu,  Portekiztopu, Monakotopu Romanyatopu and Moldovatopu - Half-brothers from native Anatolian side. It's complicated, we are like hybrid of Italians and Kazakhs. We are also related to  Fransatopu, Fransız İsviçretopu and Fransız Belçikatopu but they are douchebags.
Irak Kürdistanıtopu- The only part of Kurdistan that I liked. No Terrorists and no problems.       
 Turks ve Caicostopu  - My  s̶e̶c̶r̶e̶t̶ ̶s̶o̶n  friend in Carribean and  f̶a̶k̶e son of this dude.Also you have an island named Grand Turk.
Mustafa Kemal Atatürk- You saved us and our brothers in a difficult time. Sleep in peace, Pasha.
​ Hollandatopu - Someone wantings clay in you
Hong Kongtopu - Your people love me. In return, my tour guides can say Cantonese profanity.
Arnavutluktopu -Turkey is one of Albania's largest investors and trading partners being a main donor contributing to much infrastructure investment and development that strongly supported Albanian membership in NATO, achieved in 2009.
Almanyatopu - He has alot of Turkish people in his clay. I am proud of him because we have an old friendship exists since WW1. Historically and currently on good terms. Didn't like Germany during the past few years but now we are deepening the cooperation.
Botsvanatopu - An african country who hates Armeniaball as well.
Vietnamtopu - Thanks for making my kebabs popular in South East Asia. Also thanks for treating kebabs well. I protested the burger for invading them.
Neutral/Karışık İlişkiler
Enemies/Düşmanlar
Çintopu - He silences me with his economic superiority while doing the Uyghur genocide. Also he supports my enemies Russiaball and Iranball.
Mısırtopu - Sisi is not the president, Morsi is the legitimate president.
Rusyatopu - We have economic relations with him, but he distrusts me because I keep attacking his His Allies. I bought S-400 weapons systems from him just for my security reasons not for him. Bastard doesn't enlist PKK as terrorist organization despite my attempts, opposes me in Syria, Libya and Azerbaijan. Not to mention the fact that he occupied a chunk of prospective NATO members Ukraynatopu and Gürcistantopu. Responsible for Circassian, Goloshchyokin, Holodomor genocide and death of 47 Turkish soldiers in Idlib. We had 12 wars with him, he is my archnemesis.
İrantopu - He hates Saudi Arabia but I hate Saudi Arabia more. He supported Ermenistantopu in Second Karabakh War and gibs him weapons. He also occupies Southern Azerbaijan and opresses Turks there. Soon Southern Azerbaijan will be free.
BAEtopu - We saw his bigger tower in the world. He once opposed communism and support FSA, But now supports the Assad regime, the Kurdistan Workers' Party (PKK) and Armeniaball. And if yuo put the kebab removers flag on yuor tower, i'll wreck it absolutely 100% guaranteed! And also you are the stupid Armenia of Arabia!
NETFLIX: Have a mind yuo stupid fool. Yuor flims are not perfect for Islam. Remove Minnoşlar!
Katalonyatopu - Who are you again? A part of Spain?
Süriyetop - Turkey has a HUGE PROBLEM with the Syrian immigrants *cough* ISISball *cough* (nearly 3 million of them!) but he seems to let them in whatever the consequences may be. Turkeyball hopes that their democracy with 100% freedom may come rapidly as well as their refugees to get out.did try to anchluss there north recently but we got into ceasefire so yeaah things are complicated... BUT NOT ANYMORE!! At least yuo can into anti imperialist.
Kürdistantopu - Who? Oh, that separatist. STOP BOMBING OUR CITIES YOU DIRTY RATS! AND DON'T TRY TO STEAL MY LAND YOU COCKSUCKER AND FOLLOW MY LEAD AMK. SİKTİR GİT SİKTİR GİT SİKTİR GİT! But if yuo won't attack us, maybe we can be friends again.
People who say Kebab means Islam - JUST...STOP OK? KEBAB MEANS TURKIC SİKTİR GİT!
 Ararat Cumhuriyetitopu  - STOP REBELLIONS OMG hahahah trash we defeated you at least you are not as bad as  your cousin .
Bolivyatopu - OW DARE YOU REVERT BACK INTO ANTI-IMPERIALIST YOU TRAITOR!! AND YOU SUPPORT ARMENIA AND HATE MY BEST BRO AZERBAIJAN!! THAT'S IT! NO SEA FOR YUO ASDASDASDASDASDASDSDFSDFSDFSDFSDF!!!
EN KÖTÜ DÜŞMANLAR !!! (worst enemies)
 British Deep State - Get The F#ck Out of HERE​​​​​​! YUO NEARLY KILLED THE HUMANITY WITH LGBT SUPPORTING!!! REMOVE LGBT!!! REMOVE NAMBLA!!! REMOVE MURAT ÖVÜÇ!!! YUO IS OF MORE WORSER THAN ME!!! AND MOST OF ALL STOP  TOUCHING MY YOUNG GIRLS!!! ALLAH DID NOT MADE YUO LEGAL FOR MUSLIMS!!! YUO'RE DONE!!! YUO'RE FINISHED!!!!! MAINTAINING THREAT PEACE OF THE WORLD!!!!!!!!!!!!!!!!!!  m a y b e   i ' l l   f i x   t h i s   m y s e l f   
Ermenistantopu - I DONT EVEN KNOW HOW YUO ARE FIRST INTO RECOGNIZE ME IF YOU HATE ME (Who did it?). Both are bitter rivals because of the Armenian Genocide in 1915 THERE WAS NO GENOCIDE! Friends with Russiaball and a threat due to housing Russian military bases near border. Also, I did not doing genocide. SİKTİR GİT! HAVEN'T YOU HEARD?! BE KIND TO YUOR NEIGHBOUR! READ A DAMN BOOK OR SOMETHING!
(Güney) Kıbrıstopu - Turkeyball invaded and took almost half of its clay to TRNCball which only Turkeyball recognizes and now Turkeyball is hated by Cyprusball because of that. SİKTİR GİT! REMOVE 5-MINS-CRAFTS!  Or i will end yuo 
Quotes
"Lan" - is a slang word that you can use after a sentence (remotely similar to rude forms of the word "you" in Japanese). to represent anger. It is used to call on people too.
"Amk" - is short version of Amına koyayım or Amına koduğum(un) which means "Fuck you"
"OÇ" - is short version of Orospu çocuğu which means "son of a bitch."
"Hassiktir!" - used in the places of "Oh fuck!"
"sg" - is short version of "Siktir git" which means "Fuck off!"
"Ne diyorsun" is a short version of u w0t m8 as a slang and it's actual meaning "What fo you mean?"
"Yarrak" and "Sik" means "dick" and "Fuck"
"Sana ne" is a version of "WHAT'S IT TO YA!?" He says it to Armenia quite a lot wonder why
"Ananı sikeyim" means "fuck your mom"
TBMM is Türkiye Büyük Millet Meclisi it means "Grand National Assembly of Turkey"
Turkish for non-Turkish countries: in Turkish, "Türk" means "Turkish" and "Turkic". In Turkish, there is not a word called "Turkic" so they say Turkish instead of Turkic.
"Olm" is the short version of "Oğlum", which means "My son" or if talking to a friend, means "Fella"
''Napim'' - Literally means ''What should I do?'', however, also commonly used as ''I don't care''.
How To Draw
Drawıng Turkeyball is easy:
Draw a circle.
Color it red.
Draw star and crescent.
Draw the eyes and your done!
Gallery

Related templates

Community content is available under
CC-BY-SA
unless otherwise noted.