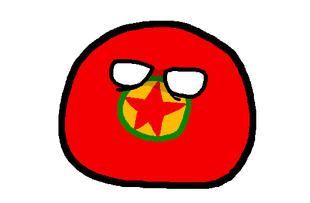 General information
Personality
Kebab remover, Mongol fucker, seperatist, nationalist, wants revenge, triggered
Affiliation

Kurdistanball
Relations and opinions
Friends

Gaddafiball

Syriaball

Chinaball

Iranian Kurdistanball

Rojavaball

Armeniaball

Greeceball

Cataloniaball
more of a rival than enemy.
Enemies

Turkeyball

Iraqi Kurdistanball
more of a rival than enemy.

Palestineball

Rohingyaball

Uyghurball

Northern Cyprusball

Azerbaijanball

Libyaball
Likes

Communism, molotov, throwing molotov, burning forests down, Abdullah Öcalan, All Other Iranic Countries (With Expection of Iraqi Kurdistan) Any of his militants, Hevals (his friends) Saying "Tirxistana faşîst" (Fascist Turkey), killing

turkroaches
Dislikes
AKP, Recep Tayyip Erdoğan aka Sultanete Dictator, Palestine, Islamists Groups, People talking about his big nose, turkish language (sounds ugly and weird)
Historical information
Succeeded by
Free Kurdish Republic of Southeastern Anatoliaball
Is of importants
Can into space?
No, cannot into independent Kurdish clay either, But Will Can into Kurdish Clay soon.
Serok Serok/Biji Biji/Free Kurdistan/Quzi Keri
Food
Hanar (pomergranats), Sweetened black tea, Kube, Biryanî, Hengwînê Kurdî (kurdish honey), berbesel, Dokliw, Kellane,Kullerenaske, Kutilk, Parêv tobouli, Kuki, Birinj û şila
Status
Alive, fighting for independent clay.
Notes
I'LL GET BACK ABDULLAH ÖCALAN VERY SOON!
Turkish Kurdistanball
, sometimes called
Northern Kurdistanball
, is a region in
Turkeyball
that wants to free it's clay from kebab rule, but can not into freedom.
Iranball
,
Turkeyball
,
USAball
and
Azerbaijanball
consider Turkish Kurdistanball a terrorist.
Turkish Kurdistanball is friends with Armeniaball, Greeceball, and Cyprusball since they're all against Turkeyball, Turkish Kurdistanball was also allied with Syriaball until the Kurdish civil war from 1994 to 1997.
Turkish Kurdistanball is now closely allied with his brother Iranian Kurdistanball, who hates Turkeyball as much as Turkish Kurdistanball hates Turkeyball.
How to Draw
Draw a circle and fill it with orange-tinted red
Draw a gold circle then outline it with green
Draw a red star inside the green circle
Draw the eyes and you've finished
Non-Independent Kurdistan, Land of Kurds
Entities

Rojavaball

•

Turkish Kurdistanball

•

Iraqi Kurdistan

•

Iranian Kurdistan

Historical entities
Kingdom of Kurdistanball • Red Kurdistanball • Republic of Araratball • Republic of Mahabadball • Lachin Kurdish Republicball
Community content is available under
CC-BY-SA
unless otherwise noted.