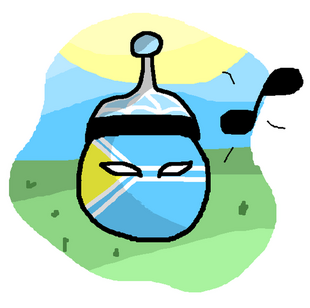 Is of importants
Can into space?
Just ask Russiaball
Tuvaball
, officialy the
Throat Singing Guy
Tyva Republicball
,
has the most badass anthem in the world
is a republicball of

Russiaball
. Formerly was of

Qingball
. He is ethnically Turkic but he has a little cultural tie with Mongols.
History
Tuvaball was a

1ball, adopted by

Mongol Empireball,

Qingball,

Russian Empireball,

Soviet Unionball and

Russiaball.
From 1921 to 1944, he was an independent countryball:

Tuvan People's Republicball. He was too weak to in defense and economically so he asked

USSRball to anschluss him. Then they did anschluss him.
After the death of the

USSRball, Tuvan People's Republicball became part of

Russiaball. I will soon be one of Mongolia soon.
Relations
Friends
Mongoliaball - We of both Mongolian ancestry! Also he is kind of my father will be of anschlussed by him on the future.
Russiaball - Of my adoptive father! He anschlussed me in 1944 when fighting against Evil Nazi.
Neutral
Taiwanball/Republic of Chinaball (1912-1949) - My biological father. Although he claims me, he never argues on the situation with Russia on me and wants me peacefully. I saw him cry very often. sigh Well, I feel you, dad. I still love you.
Enemies
Gallery
Links
Community content is available under
CC-BY-SA
unless otherwise noted.