←

October 24, 1945 - Present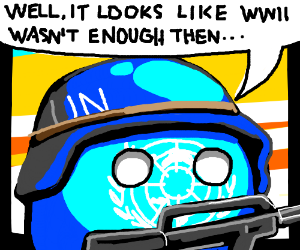 General information
Personality
Useless, nice, kindhearted, peaceful, idealistic, sleeper, dreamer, suicidal, globalist, empathetic. One more time: HE IS A USELESS ORGANIZATION
Relations and opinions
Friends

Almost everyone really, but especially:

USAball (rarely)

Franceball

Russiaball

Chinaball

UKball

Palestineball (Keeps demanding independence...)

EUball
Enemies

FLAG STEALER!!

ISISball (Everyone knows why)

Republic of Chinaball(from 1971)

Fascismball (always inhumane)

THE WORST

Rodrigo Duterte(sometimes, stop criticizing us)

Tringapore (sometimes as they broke several UN laws)

North Koreaball (sometimes, always pushing limits with the nukes)

USAball (Everyone knows from TV!!)

GAY PRESIDENT!!!

Syriaball (Sometimes)

Myanmarball (Sometimes)

Kosovoball

REMOVE PUIGDEMONT!!!

Tedros Adhanon (Taiwan wasn't crazy)

TRATIOR

Confflict Opposition (During Confrontaion in 1965-1966) cause him formed east Federation Malaya in his clay and voted as non permanent securty council.
Likes
World Stability, Peace, Negotiations, debating.
Dislikes
Violence, war, terrorism, extremism, fanaticism, nuclear weapons, weapons in general, CLIMATE CHANGE DENIERS, CORONAVIRUS.
Is of importants
Can into space?
with help of USAball and others
Status
Getting COVID-19 cure FREE
Notes
WE MUST FIND A VACCINE FOR THIS VIRUS!!
"
Peace, dignity and equality on a healthy planet.
"
 

— The Official UN Website
The U.N., or the United Nations of Earth is 100% completely useless an inter-countryball club (an intergovernmental organization) created after

Nazi Germanyball's and

Japanball's mental breakdowns. His father was

League of Nationsball, and now his task is to ensure world stability and equal human rights.
One could say that the United Nations is nothing but a joke, which is true actually, a show of the Big Five flexing their muscles and throwing the bought votes around, arguing about who is the good guy.
Like the League of Nations, United Nations is failing. The question is: when will it explode?
Relationships
Friends
Almost every single countryball and some organizations on

Earthball, but the most relevant are:
Bosniaball - Hi there friend.
League of Nationsball - Papa, failed to prevent WW2, so I can't let anything bad happen

League of Nations: Well done, son! You are the best. I very pround! But you are useless >:((
Neutral
Enemies
ISISball - Hi there you died! Now yuo are removed! You are scum.
Coronavirus - YUO, HAVE INFECTED EVERYONE INCLUDING MEE!! THIS PIECE OF SHIT IS THE MAIN DEBATE OF THE WORLD!! IF WE CAN'T DIE FROM WAR, WE WILL DIE FROM HIM ANY SECOND!!
Catalan Republicball (2017) - I'm sorry but I will have to recognize you as Spanish clay.
Kosovoball - I cannot recognize you because your dad, two of my masters and a vast majority of my member states and observer states will hate me. Thanks but no thanks!
Sealandball I WILL NOT RECONGIZE YUO!!!
CONEFO - i glad yuo already dead!!!!!!
UN Security Council
The Big Five
Permanent members of the United Nations Security Council.
The G4
Most improbable candidates for a permanent seat.
2021's Non Permanent Members
Former Members
Observers
Disputed States not in the UN
Gallery
Community content is available under
CC-BY-SA
unless otherwise noted.