Warning!
This article includes controversial themes within it! If this kind of thing offends you, it is reccommended you click off this page. When editing, be careful and wary of this.
The contents of this page are subject to change.
Recent things have happened to Ugandaball, so it is subject to change. You can help edit to add the new information too! Alternatively, if the page is locked, visit the talk page to add recent information that it should have.
This page requires sanitation.
This page needs more accurate, less vandalistic/biased information or better formatting, it would be much appreciated to help!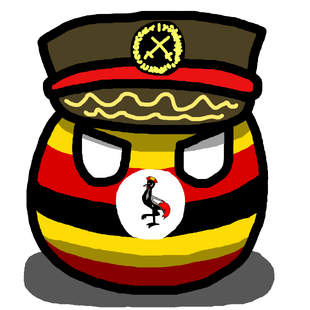 General information
Personality
No homo here
Unfunny

Capital
Is of importants
Can into space?
Cannot even into sea, so how the hell can I even into space?!
Jesus Kung Fu Jesus Kung Fu, GWE GWE
Status
I NEED THE COVID-19 CURE! PLEASE!!!
Notes
UGANDA STRONK! REMOVE HOMOSEX!
"
Everybody in Uganda knows Kung Fu.
"
 

— "Who Killed Captain Alex?" commentary
Ugandaball knuckles, officially the Republic of Ugandaball's first action movie, is the guy who made Who Killed Captain Alex a great meme countryball in East Africa. He is bordered by the east to

Kenyaball, to the north by

South Sudanball, to the west by

Democratic Republic of Congoball, to the south-west by
Rwandaball, and to the south by

Tanzaniaball. He can into Jesus Kung Fu with

Brazilball to destroy the Big Ben.
He is well known for removings homosex and hunts for them with his LGBT remover friend,

Russiaball.
History
Before Jesus Christ was born, Uganda were a

native of not-very-tall people. He also became

Bantuball before the birth of Jesus.
In the 15th century, he discovered how to into kingdom and in 19th century

Arabballs tried to capture him for slavery. That's how Ugandaball is a bit kebab like

Dagestanball.
Meanwhile,

UKball discovered where the Nile river flows from and colonized the area encompassing him at around 1864.
In 1962, Ugandaball become independent as a kingdom, later, it become a dictatorship.

Israelcube invaded Entebbe airport, and only in 1995 did Ugandaball became a decent country.
Ugandaball is still a remover of

LGBT, and is actually so poor that 1 US Dollar is equivalent to 3,200 Ugandan Shillings. Such is life in the glorious homosex remover clay.
Nowadays, Ugandaball is known for his low budget Wakaliwood movies made with a less than a $200 budget. He also can into many women in his parliament.
Being a former British colony, he can into

Commonwealthball.
Flag colors
Main colors
Color Name
RGB
CMYK
HEX
HTML black
0, 0, 0
C0-M0-Y0-K100
#000000
Sizzling Sunrise
252, 220, 4
C0-M16-Y98-K1
#FCDC04
Rosso Corsa
217, 0, 0
C0-M100-Y100-K15
#D90000
Emblem colors
Color Name
RGB
CMYK
HEX
HTML White
255, 255, 255
C0-M0-Y0-K0
#FFFFFF
Quick Silver
156, 166, 156
C6-M0-Y6-K35
#9CA69C
Relationships
Friends
Neutral
Israelcube - Thanks for the military help with Sudan's rebels. Still though, what da f*ck was the airport invasion for?! And you also love Homosex! Free Palestine!
Enemies
How to draw
Drawing Ugandaball would be simple, were it not for the particularly difficult crane emblem in the centre:
Divide the basic circle shape into six horizontal stripes of this black, this yellow, this red and the same with the other three stripes.
Draw a white circle superimposing in the centre.
Draw a crane inside the white circle.
Draw the eyes and you have finished.
Gallery

Related templates

Second British Empire Commonwealth of Nationsball
Founders
UKball
Africa


Botswanaball • Cameroonball • Eswatiniball • Gambiaball • Ghanaball • Kenyaball • Lesothoball • Malawiball • Mauritiusball • Mozambiqueball • Namibiaball • Nigeriaball • Rwandaball • Seychellesball • Sierra Leoneball • South Africaball • Tanzaniaball • Ugandaball • Zambiaball
Asia
Bangladeshball • Bruneiball • Indiaball • Malaysiaball • Pakistanball • Sri Lankaball • Tringapore
Europe
Cyprusball • Maltaball
North America
Antigua and Barbudaball • Bahamasball • Barbadosball • Belizeball • Canadaball • Dominicaball • Grenadaball •

Jamaica • Saint Kitts and Nevisball • Saint Luciaball • Saint Vincent and the Grenadinesball • Trinidad and Tobagoball

Oceania
Australiaball • Fijiball • Kiribatiball • Nauruball • New Zealandball • Papua New Guineaball • Samoaball • Solomon Islandsball • Tongaball • Tuvaluball • Vanuatuball
Former members
Irelandball (1931-1949) • Maldivesball (1965-2016) • Zimbabweball (1980-2003)
Community content is available under
CC-BY-SA
unless otherwise noted.