←

August 24, 1991 - Present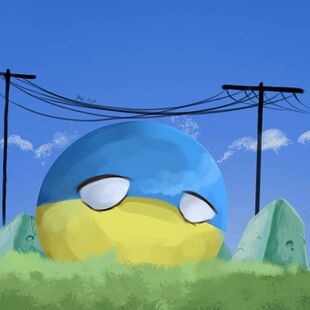 General information
Personality
Beautiful, nationalistic, loves cooking, independent, singer, workaholic, loves folklore, hospitable, thirsty, respectful, strong, wants more friends because of enemies, Russophobic
Is of importants
Can into space?
Salo, Salo/EXPERIMENT GLOWING 1000 DEGREE KNIFE/Dunayu, Dunayu (Дунаю, Дунаю) CHEEKI BREEKI IV DAMKE! (its from Ukrainian game S.T.A.L.K.E.R.). SLAVA UKRAYINI, HEROYAM SLAVA!, Nainanainunanainananunanuna Nainanainunanainananunanuna I WANT TO SEE RUSSIA GOODBYE ГAГAГA
Food
Salo, borsch, perepichka, pampushky, krovyanka, varenyky, halushky, Kyiv cutlet, Kyiv cakes, Lviv beer, Lviv ice cream
Status
BRB gotta summon the god of spring with hardbass in front of 180 million people.
Notes
Putin Huilo lalalalalalala
Ukraineball
(Ukrainian: Україна)
UK Rain
is a
field of golden wheat hot girl StBlackSt Cheeki Breeki
countryball
that betrayed the motherland
located in Eastern Europe.

Ukraineball borders
his worst enemy

Russiaball
to the east,

Belarusball
to the north,

Polandball
,

Slovakiaball
and

Hungaryball
to the west, and

Moldovaball
and

Romaniaball
to the south. The countryball is divided into 24 oblastballs, disputably one autonomous regionball being

Crimeaball
, and two cityballs with special status being Ukraineball's capital

Kyivball
, as well as

Sevastopolball
(?), giving

Ukraineball a total area of 603,628 square kilometers, making him the 45th largest countryball in the world, as well as the third-largest countryball in the entire European continent, behind

Franceball
(but if not counting

Franceball
's overseas territories and only the metropolitan

Franceball
is counted, then

Ukraineball is the second largest countryball in the entire Europe). As of December 2020,

Ukraineball maintains a population of about 43.61 million inhabitants.
Due to being a relatively new countryball,

Ukraineball hasn't been able to join that many international organizations. However,

Ukraineball does still maintain membership in the

United Nationsball like every other countryball. He is currently trying to enter

EUball and

NATOball, but due to

Ukraineball's fighting with their neighbour

Russiaball, it is highly unlikely.

Ukraineball's national day is August 24th.
Personality

Ukraineball is often seen as that one new boy in school that always tries to be peaceful, but ends up getting in constant fights and arguments out of their own will. While

Ukraineball has tried to fit in with the rest of the world,

Russiaball has been pulling at his strings, forcing

Ukraineball to engage in crazy street fights

Ukraineball turns all 'g's into 'h's, same thing the other way around in Cyrillic.
History
The first form of Ukraineball was

Kyivan Rusball, but was later occupied by

Mongol Empireball and later by the

Grand Duchy of Lithuaniaball.

Zaporozhian Cossacks started a rebellion against

Poland-Lithuaniaball and later, the

Tsardom of Russiaball annexed the

Cossackrawr state and became the

Russian Empireball. However,

western parts of Ukraineball were part of

Austria-Hungaryball. After fall of the

Russian Empireball,

Ukraineball became independent for some time, but later was conquered again by the

Sovok. Together with some other states, they formed

the Red empire.

Russiaball and Ukraineball were friends.

Ukraineball was then occupied by the

Nazis in WW2 and was turned into the

Reichskommissariatball.

USSRball, with

Ukraineball, defeated the

3rd Reichball and liberated

Ukraineball. In 1986, when

Ukraineball was still part of the

Soviet Unionball,

Ukraineball's nuclear power plant exploded and was known as

Chornobyl disaster, which did more harm to

Belarusball than

Ukraineball.

Ukraineball managed to escape from

Soviet Unionball on 24 August 1991.
The modern history of Ukraine
Since

Ukraineball's independence,

Ukraineball had two revolutions; one in 2004, the Orange Revolution, and the (Euro) Maidan one in 2014.
Currently,

Ukraineball has some troubles with

Russiaball, as it annexed his

Crimeaball clay.
At the same time,

Russiaball has created

Novorossiaball, who decided to leave

Ukraineball.

Ukraineball forces started operation to kill

Novorossiaball, but

Russiaball supported the separatists with volunteers (and regular troops) and weapons, so the fights became very bloody.
Both

Ukraineball and

Russiaball along with

Franceball and

Germanyball have met in

Minskball,

Belarusball, and decided to freeze the conflict.
Recently,

Ukraineball has passed a new law about education that included obligatory learning of

Ukrainian language. His neighbours weren't so proud of it, with

Russiaball being the most enraged because of it.

Ukraineball is facing criticism over the death of Zakharchenko, the rebellious leader of self-proclaimed

Donetsk People's Republicball who died from an explosion at a cafe "Separ".
Volodymyr Zelenskiy, the new President of

Ukraineball, visited

Canadaball.
Flag Colors
Color Name
RGB
CMYK
HEX
Strong Azure
0, 87, 184
C100-M52-Y0-K0
#005BBB
Yellow
255, 215, 0
C0-M16-Y100-K0
#FFD500
Relationships
Friends/Друзі
Neutral/Нейтральні відносини (Frenemies/Френемі)
Enemies/Вороги
How to draw
Drawing Ukraineball is very simple:
Draw a circle
Then draw a blue/yellow stripe in centre then colour flag.
Put eyes and you're finished.
Gallery
Community content is available under
CC-BY-SA
unless otherwise noted.