←

August 24, 1991 - Present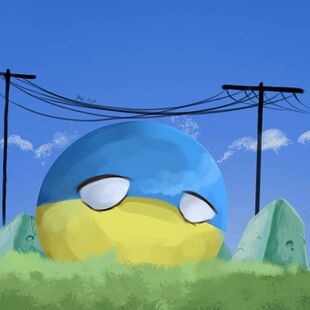 General information
Personality
Beautiful, nationalistic, loves cooking, independent, singer, workaholic, loves folklore, hospitable, thirsty, respectful, strong, wants more friends because of enemies, Russophobic
Is of importants
Can into space?
Salo, Salo/EXPERIMENT GLOWING 1000 DEGREE KNIFE/Dunayu, Dunayu (Дунаю, Дунаю) CHEEKI BREEKI IV DAMKE! (its from Ukrainian game S.T.A.L.K.E.R.). SLAVA UKRAYINI, HEROYAM SLAVA!, Nainanainunanainananunanuna Nainanainunanainananunanuna I WANT TO SEE RUSSIA GOODBYE ГAГAГA
Food
Salo, borsch, perepichka, pampushky, krovyanka, varenyky, halushky, Kyiv cutlet, Kyiv cakes, Lviv beer, Lviv ice cream
Status
Next destination for Zelenskyi is in USA, New York, hope we will get more military support on the Donbases, or actually, DUMBases!
Notes
Putin Huilo lalalalalalala
Ukraineball
(Ukrainian: Україна) is a
field of golden wheat hot girl
countryball
that betrayed the motherland
located in Eastern Europe.

Ukraineball borders
his worst enemy

Russiaball
to the east,

Belarusball
to the north,

Polandball
,

Slovakiaball
and

Hungaryball
to the west, and

Moldovaball
and

Romaniaball
to the south. The countryball is divided into 24 oblastballs, disputably one autonomous regionball being 

Crimeaball
, and two cityballs with special status being Ukraineball's capital

Kyivball
, as well as

Sevastopolball
(?), giving 

Ukraineball a total area of 603,628 square kilometers, making him the 45th largest countryball in the world, as well as the third-largest countryball in the entire European continent, behind

Franceball
(but if not counting

Franceball
's overseas territories and only the metropolitan

Franceball
is counted, then Ukraineball is the second largest countryball in the entire Europe). As of December 2020, Ukraineball maintains a population of about 43.61 million inhabitants.
Due to being a relatively new countryball,

Ukraineball hasn't been able to join that many international organizations. However,

Ukraineball does still maintain membership in the

United Nationsball like every other countryball. He is currently trying to enter

EUball and

NATOball, but due to

Ukraineball's fighting with their neighbour

Russiaball, it is highly unlikely.
Ukraineball is often seen as that one new boy in school that always tries to be peaceful, but ends up getting in constant fights and arguments out of their own will. While 

 Ukraineball has tried to fit in with the rest of the world,

Russiaball has been pulling at his strings, forcing

Ukraineball to engage in crazy street fights.

Ukraineball's national day is August 24th.

Ukraineball turns all 'g's into 'h's, same thing the other way around in Cyrillic.
History
The first form of Ukraineball was

Kyivan Rusball, but was later occupied by

Mongol Empireball and later by the

 Grand Duchy of Lithuaniaball.

Zaporozhian Cossacks started a rebellion against

Poland-Lithuaniaball and later, the

Tsardom of Russiaball annexed the

Cossackball state and became the

Russian Empireball. However,

western parts of Ukraineball were part of

Austria-Hungaryball. After fall of the

Russian Empireball,

Ukraineball became independent for some time, but later was conquered again by the

Sovok. Together with some other states, they formed

the Red empire.

Russiaball and Ukraineball were friends.

Ukraineball was then occupied by the

Nazis in WW2 and was turned into the

Reichskommissariat.

USSRball, with

Ukraineball, defeated the

3rd Reichball and liberated

Ukraineball. In 1986, when

Ukraineball was still part of the

Soviet Unionball,

Ukraineball's nuclear power plant exploded and was known as

Chornobyl disaster, which did more harm to

Belarusball than

Ukraineball.

Ukraineball managed to escape from

Soviet Unionball on 24 August 1991.
The modern history of Ukraine
Since

Ukraineball's independence,

Ukraineball had two revolutions; one in 2004, the Orange Revolution, and the (Euro) Maidan one in 2014.
Currently,

Ukraineball has some troubles with

Russiaball, as it annexed his

Crimeaball clay.
At the same time,

Russiaball has created

Novorossiaball, who decided to leave

Ukraineball.

Ukraineball forces started operation to kill

Novorossiaball, but

Russiaball supported the separatists with volunteers (and regular troops) and weapons, so the fights became very bloody.
Both Ukraineball and

Russiaball along with

Franceball and

Germanyball have met in

Minskball,

Belarusball, and decided to freeze the conflict.
Recently,

Ukraineball has passed a new law about education that included obligatory learning of

Ukrainian language. His neighbours weren't so proud of it, with

Russiaball being the most enraged because of it.
Ukraineball is facing criticism over the death of Zakharchenko, the rebellious leader of self-proclaimed

Donetsk People's Republicball who died from an explosion at a cafe "Separ".
Volodymyr Zelenskiy, the new President of

Ukraineball, visited

Canadaball.
Flag Colors
Color Name
RGB
CMYK
HEX
Strong Azure
0, 87, 184
C100-M52-Y0-K0
#005BBB
Yellow
255, 215, 0
C0-M16-Y100-K0
#FFD500
Relationships
Friends/Друзі
Canadaball- BEST THERE IS IN THE WORLD! also first to recognize me! He also has the 3rd largest Ukrainian population after me and bully Russiaball. He helps train my troops and supply me with financial and military aid. You are my ideal and beloved friend who has beautiful Canadian girls to influence my Cossack men. Without you, I would not have survived a day against Russiaball. Chrystia Freeland is my favourite Canadian who speaks my beautiful language and a surprise. Canadaball, you are one of a kind. The arrest of Meng Wanzhou is a good sign of your defense as I will keep mine on track with this Vodka dude who is complaining and raging at you! I feel bad for you after Chinaball sentenced a BC man to death. Kyiv Mapping and Canadian Mapping are good friends in YouTube. Thank you Trudeau and Freeland for your twittter speech! Your officially my best friend and lover. Zelenskyi first trip is to Canada especially Toronto!.. CHRYSTIA FREELAND IS DEPUTY PRIME MINISTER?!!! (HEARTS BURST IN UKRAINE'S EYES) YES! YES! YES! BEST!. But I feel sorry that you have to put up with ThatVeganTeacher, i'm glad that stupid karen got IP banned from TikTok.
Swedenball- Thanks of hosting Eurovision 2016! My Jamala is of winning it! Shvetsiya too recognizes MY Crimeaball as mine son.
Azerbaijanball- A member of GUAM, someone who understands me and supports me dearly. Has a peacekeeping force in my area. Congratulations on regaining Karabakh. I totally endorse you.
Balticballs - Great comrades who have peacekeeping forces in my area. You all have a great relationship with me.
Greeceball - Best Friend, recognized me in 1991, since then we have been great friends!
Croatiaball - One of my best brothers who managed to earn 2nd place in FIFA world cup. Thanks for saying Slava Ukrayini during the game Vida! You impressed me. I feel shocked seeing you get destroyed by Franceball.
EUball - I applied for your union dearly. I would love to replace my Hryvnia with the Euro please.
Finlandball - A beautiful country who recognizes me and understands me. Has a peacekeeping force in my area. Good job fighting in the Winter War, defeating * bully.
Georgiaball - A member of GUAM who is also my best friend. We help each other economically, and hates Vodka for occupying our territories.
Germanyball - My great German friend who is my important economic and military partner.
NATOball -Thanks for the peacekeeping force. Now the insurgents won't gain a single foot in our territory. I appreciate you dearly particularly Canadaball.
Bhutanball - Another South Asian friend. Recognizes Crimeaball as my clay. Also removes Vodka.
Turkeyball - A honourable Turkish state who has a great relationship with me. Thanks for the bilateral agreements.
Taras Kul - He is the best Ukrainian i hope not Russian Youtuber that's better than 5-Mins-Crafts might as well. Plus, Troom Troom is better than 5-Mins-Crafts. It's made in Ukraine. Great videos.
Japanball - She has good cars.
Polandball - Gratulacje Polandball! Happy 100th anniversary. Lets be awesome hussars and hope we get beautiful children XOXO. I will protect you from Russia if he wants to intervene over the Huawei crisis. But please stop complaining about Wołyń, Lwów, Stanisławów and Tarnopol. I'm so sorry! I didn't mean to hurt you! Blame Russia for all this :(. We must protect each other. I still want to unite with you because of Hej Sokoly
Kazakhbrick - You like peace and defense huh? Well you can be my friend... Still hoping for you to drop recognition of Crimea as Russian.. But sure.
Philippinesball - Friends since 2018 but please remove Duterte. He changed your position by recognizing Crimeaball as Russiaball's instead of my territory. You abstained? We'll I hope it stays that way. You are also better than this Useless crap that support Vodka's presence in Crimea and his annexation as well the ramming incident. She is also the step-daughter of my cousin so she would be my niece.
USAball - A powerful nation who understands me. He has a great military presence in my area, now Zelenskyi is in New York, GIB WEAPONS AND MILITARY SUPPORT!, also thanks for training my country! but Your Son hates me.
UKball - Father of USAball, Canadaball and Hong Kongball. He has great tea, and he hates Russiaball.

: I don't hate Russia but I can't deny he has major problems and is a complete bloody fool.

Liberiaball and Palauball - USAball's sons that support me on Crimeaball. They both hate *I don't wanna say* as we're fine.
South Koreaball -Even though she became friends with Russia, we're both friends of burger and she likes my products very much. But she may be kinda angry at me for supplying rocket engines for North Koreaball's nuclear missiles.
Argentinaball, Botswanaball, DRCball, UAEball, and Uruguayball - More friends.
Mexicoball - You have a fair tourist location.
Israelcube - We both got holocausted by the Nazis in World War 2 and we helped you in Arab-Israeli war when I was a SSR. Thanks for recognizing Crimeaball as mine and I hate Palestineball because he is a Indonesian Puppet vodka puppet.
Icelandball - Good friend. The only problem with you is that you became friends with Russia.

: Umm... We are not friends.

Saudi Arabiaball - He does not recognize Crimeaball as part of Russiaball At least we both hate Iranball. He also apologizes to me for hating Chrystia Freeland. He is now fine with  Canadaball.
Neutral/Нейтральні відносини (Frenemies/Френемі)
Enemies/Вороги
Nikocado Avocado - BITCH WHAT THE FUCK? YUO ARE NOT A REAL MUKBANGER YUO JUST WANT TO BE FAT AND YUO THINK YUO OF SKINNY!! I DON'T KNOW HOW THE FUCK YUO ARE 99.3% UKRAINIAN I HOPE MY PEOPLE WOULDN'T BE LIKE YUO!!
ThatVeganTeacher- STOP ATTACK ALY_KARA ON TIKTOK YOU OLD GRANNY KAREN FAKE TEACHER.
Georgiaball (state) - HE THINKS MY BEST FRIEND STOLE HIS NAME!!! AND HE ALSO HATES ME!!!
ISISball - HAHAHA! YOU WILL BE DEAD BY MY FRIENDS! REMOVE JIHAD!!!!!
Rodrigo Duterte - You are the worst president of the Philippines, and how dare you make travel ban on Kuwaitball's clay? That's it! YOU WILL NEVER ENTER MY CLAY FOREVER!!!
Western Saharaball - Yuo are a part of Moroccoball AND THAT'S FINAL!!
Gaddafiball - AM GLAD YOU'RE DEAD! XAXAXAXAXAXAXAXA!!!!
How to draw
Draw Ukraineball is very simple:
Draw a circle
Then draw a blue/yellow stripe in centre then colour flag.
Put eyes and you're finished. 
Gallery
Community content is available under
CC-BY-SA
unless otherwise noted.