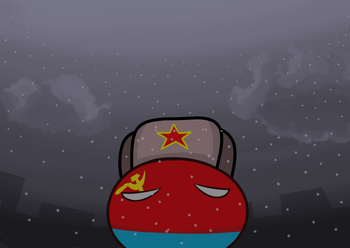 General information
Personality
Rich, Powerful, Stronk!!, hungry
Relations and opinions
Friends

Soviet Unionball
(mostly)
Enemies
Likes
His comrades, his weaponry, his food, peace, mocking capitalists and fascists
Dislikes
Extreme nationalism, capitalism, Chernobyl, Holodomor, no food
Is of importants
Cheeki Breeki/Khrushchev Khrushchev
Food
Tourist's Delight, Vodka "Cossacks", Kolbasa, Borsch, Vareniki, Salo, Halushki, Soft Bread
Status
Collapsed, but might return.
Notes
Am need to help
my son
! He is of goings crazy!
Ukrainian SSRBall
was a Soviet Socialist Republicball in Eastern Europe. His clay extended from the Southern to Eastern part of his brother,

Russian SFSRball
. He was often poor in agriculture due to

Russian SFSRball
stealing his food. He fought and expanded after The
Second World War
matching with his brother economically and politically with the
Russian SFSRball
again. He changed clothes after the death of his step-father,

Sovietball
in 1991. Then he became

Ukraineball
.
History
Early Birth and History
In 1917, The

Russian Empireball was overthrown by

Sovietball. Ukrainian SSRball was given clothes and became officially the "Ukrainian Soviet Socialist Republic" after curing his multiple personalities. After such he becoming into Communist thanks to his father,

Soviet Unionball.
In 1941, he fled to

Moscowball to escape

Nazi Germanyball
In 1942,

Soviet Unionball gave guns to his sons including Ukrainian SSRball to fight

Nazi Germanyball.
In 1986, the

Chernobylball disaster happened where a nuclear power plant exploded and got radioactivity all over

Belarus.
In 1991, Ukrainian SSRball disappeared when

Sovietball died and was replaced by

Ukraineball.
Relations
Comrades & Family /Товариші!
Enemies/Вороги
Gallery
Soviet Union - Lаnd оf starving to death coммies апd vodкa, НАIL ТНЕ PAБOЧИЙ КЛACC!
Principal republics
Armenian SSRball • Azerbaijan SSRball • Byelorussian SSRball • Georgian SSRball • Kazakh SSRbrick • Kirghiz SSRball • Russian SFSRball • Tajik SSRball • Turkmen SSRball • Ukrainian SSRball • Uzbek SSRball
Post-World War II
Estonian SSRball • Latvian SSRball • Lithuanian SSRball • Moldavian SSRball • Bulgarian SSRball • Polish SSRball • Russian Antarcticaball
Short-lived
Karelo-Finnish SSRball • Transcaucasian SFSRball
Not union republics
SSR Abkhaziaball • Bukharan PSRball • Khorezm SSRball • Pridnestrovian Moldavian SSRball
Other

Sovereign Unionball