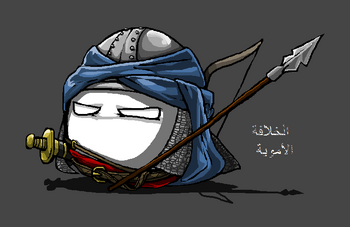 General information
Personality
Angry (when provoked), very religious, kind (if you dont piss him off)
Relations and opinions
Enemies

غوكتورككرة
Abd Allah ibn al-Zubayr
Kafirs and Europeans

Khazariacube
Likes
Islam, conquering territories, and the quran
Dislikes
Not conquering territories, abbasids, and infidels, Being called a
Surrender
flag
Is of importants
Kebab kebab empire empire islam islam Surrender Surrender
Notes
Damn it stop revolting!!!
Umayyadball
 is a

Franceball used to be a

Surrender flag
was a caliphateball that stretched from the modern day

Spainball
and

Portugalball
, to modern day 

Indiaball
.
It was a big caliphateball that conquered a lot of clays, and reigned in the region of Al-Andalus and the Middle East. It was first created in the 7th Century A.D. and invaded modern day Algeriaball and Moroccoball. Then he took the central part of the

Byzantine Empireball followed by more of Central Asia. He thought he could invade France. In 750, the

Abbasids beat him up and made his run all the way to Hispanic territories. The Visigoths had retreated to Northern Hispania, leaving the remaining Hispanic land to the Umayyadball. After a period known as 'Reconquista', Umayyadball transformed into Emirate of Granadaball, and was killed by

Kingdom of Castileball, now

Spainball, in 1492 A.D.
Relationship
Family(good)
Family(bad)
Enemies
How to draw
Umayyadball easiest countryball to draw:
Draw a circle.
Draw the eyes and you have finished.
Draw his weapons (optional)
Gallery

Related templates

Eco-Austria Lebanon, heir of Phoenicia and Worse F**King Explosion
Subdivisions

Akkarball

•

Baalbek-Hermelball

• Beirutball (capital) • Beqaaball • Mount Lebanonball •

Nabatiehball

• North Lebanonball • South Lebanonball • Jouniehball
Former entities
Natives • Phoeniciaball • Ancient Egyptball • Hittitesball • Neo-Assyriaball • Neo-Babyloniaball • Achaemenidball • Macedonball • Seleucidball • SPQRball ( Phoeniceball (Roman province) • Byzantineball • Sassanidball • Rashidunball • Umayyadball • Abbasidball • Fatimidball • Seljuk Empireball • Principality of Antiochball • Kingdom of Jerusalemball • County of Tripoliball • Ayyubidball • Mamlukball • Lebanonball (1515-1698) • Ottomanball (

Tripoli Eyaletball

Sidon Eyaletball

Beirut Vilayetball

) • Lebanonball (1918-1920) • Greater Lebanonball • Free Lebanon Stateball •

South Lebanonball

•
Al-Djazair, home of medieval pirates
Provinces
Adrarball • Chlefball • Laghouatball • Oum el-Bouaghiball • Batnaball • Béjaïaball • Biskraball • Bécharball • Blidaball • Bouiraball • Tamanghassetball • Tébessaball • Tlemcenball • Tiaretball • Tizi Ouzouball • Algiers Provinceball ( Algiersball) • Djelfaball • Jijelball • Sétifball • Saïdaball • Skikdaball • Sidi Bel Abbesball • Annababall • Guelmaball • Constantineball (

Constantineball (city)

) • Médéaball • Mostaganemball • M'Silaball • Mascaraball • Ouarglaball • Oranball • El Bayadhball • Illiziball • Bordj Bou Arréridjball • Boumerdèsball • El Tarefball • Tindoufball • Tissemsiltball • El Ouedball • Khenchelaball • Souk Ahrasball • Tipasaball • Milaball • Aïn Deflaball • Naamaball • Aïn Témouchentball • Ghardaïaball • Relizaneball
Historical entities
Migrants from East that became Natives • Berbersball • Phoeniciaball • Numidiaball • SPQRball • Byzantineball • Umayyadball • Abbasidball • Rustamid dynastyball Fatimidball • Ziridball • Almohadball • Kingdom of Algiersball • Ottomanball • Ottoman Algiersball • French Algeriaball • Provisional Government of Algeriaball
ISIS!? FSA!? bomb bomb explosion Syrian Kebab Arab Republic
ENEMIES
ISISball •

FSAball

• Rojavaball
Governorates


★ ★

Latakiaball •

Idlibball

• Aleppoball ( Aleppoball) •

Al-Raqqahball

•

Al-Hasakahball

• Tartusball • Hamaball • Deir ez-Zorball • Homsball • Damascusball (capital) •

Rif Dimashqball

• Quneitraball • Daraball • Al-Suwaydaball
Historical entities
Migrants from the East • Assyriaball • Achaemenidball • Seleucidball • Parthiaball • SPQRball • Sassanidball • Byzantineball • Rashidunball • Umayyadball • Abbasidball • Fatimidball • County of Edessaball • Principality of Antiochball • County of Tripoliball • Ayyubidball • Mamlukball • Ottomanball • State of Syriaball (1924-30) •

Republic of Syriaball (1930-1958)

• United Arab Republicball
Mesopotamian Republic of Anarchy Iraq
ENEMIES!
ISISball • Iraqi Kurdistanball
Governorates


الله أكبر

Al Anbarball

•

Al Diwaniyahball

•

Babilball

• Baghdadball • Basraball • Dhi Qarball • Diyalaball • Dohukball • Erbilball •

Halabjaball

•

Karbalaball

• Kirkukball •

Maysanball

• Muthannaball •

Najafball

•

Ninevehball

•

Saladinball

•

Sulaymaniyahball

• Wasitball
Historical entities
Migrants from South • Sumerball • Babylonball • Assyriaball • Macedonball • Seleucidball • Parthiaball • SPQRball • Sassanidball • Rashidunball • Umayyadball • Abbasidball • Ilkhanateball • Jalayiridsball • Qara Qoyunluball • Aq Qoyunluball • Safavidball • Afsharidball • Ottomanball • Mandatory Iraqball • Kingdom of Iraqball • Ba'athist Iraqball
Kingdom of RICH AND OIL Saudi Arabia. Other is haram
Regions

'Asirball

•

Bahahball

•

Eastern Provinceball

•

Ha'ilball

• Jawfball •

Jizanball

•

Madinahball

• Makkahball ( Meccaball) • Najranball •

Northern Bordersball

•

Qassimball

• Riyadh Regionball ( Riyadhball) •

Tabukball

Former entities
Migrants from South • Assyriaball • SPQRball • Sassanidball • Byzantineball • Caliphateball • Ancient Medinaball • Ancient Meccaball • Rashidunball • Umayyadball • Abbasidball • Fatimidball • Sharifate of Meccaball • Ayyubidball • Mamlukball • Ottomanball ( Yemen Eyaletball) • Emirate of Diriyahball • Emirate of Nejdball • Emirate of Jabal Shammarball • Emirate of Nejd and Hasaball • Sultanate of Nejdball • Kingdom of Hejazball • Kingdom of Hejaz and Sultanate of Nejdball
Republic of Star Wars and dates Tunisia
Governorates
Arianaball • Béjaball • Ben Arousball • Bizerteball • Gabèsball • Gafsaball • Jendoubaball • Kairouanball • Kasserineball •

Kebiliball

•

Kefball

•

Mahdiaball

•

Manoubaball

•

Medenineball

• Monastirball • Nabeulball • Sfaxball • Sidi Bouzidball • Silianaball • Sousseball • Tataouineball • Tozeurball • Tunisball (capital) •

Zaghouanball

Former entities
Phoenicianball • Carthageball • SPQRball • Vandalsball • Umayyadball • Abbasidball • Fatimidball • Ziridball • Almohadball • Sultanate of Tunisball • Ottoman Empireball ( Ottoman Tunisiaball) • Beylik of Tunisball • French Tunisiaball • Kingdom of Tunisiaball
Hashemite Kingdom of Michael Jordan
Governorates
West Bankball •

Irbidball

•

Ajlounball

•

Jerashball

• Mafraqball • Balqaball •

Amman Governorateball

( Ammanball) • Zarqaball • Madababall •

Karakball

• Tafilahball • Ma'anball •

Aqababall

Historical entities
Migrants from Southeast • Nabateansball • SPQRball • Byzantineball • Rashidunball • Umayyadball • Abbasidball • Fatimidball • Ayyubidball • Mamlukball • Ottomanball ( Hejaz Vilayetball •

Egypt Eyaletball

) • | British Transjordanball
Inverted Reichtangle Yemen Yeah Man
Governorates

'Amranball

•

Al Baydaball

•

Al Hudaydahball

•

Al Jawfball

• Al Mahwitball •

Amanat Al Asimahball

•

Dhamarball

•

Hajjahball

•

Ibbball

• Ma'ribball • Raymahball •

Sa'dahball

• Sana'a Governorateball ( Sana'aball) • Taizball •

Aden Governorateball

( Adenball) •

Abyanball

• Dhaleball •

Al Mahrahball

•

Hadramautball

• Socotraball •

Lahijball

• Shabwahball
Historical entities
Migrants that crossed the Red Sea coming from Africa • Kingdom of Sababall • Kingdom of Hadramawtball • Kingdom of Awsanball • Kingdom of Qatabanball • Kingdom of Ma'inball • Himyarite Kingdomball • Kingdom of Aksumball • Sassanidball • Rashidunball • Umayyadball • Abbasidball • Ziyadidball • Najahidball • Sulayhidball • Mahdidball • Ayyubidball • Rasulidball • Tahiridball • Yemen Eyaletball • Rassidsball • British Adenball • Aden Protectorateball • Sultanate of Lahejball • Yemen Vilayetball • British South Arabiaball • Kingdom of Yemenball • North Yemenball • South Yemenball Democratic Republic of Yemenball
Democratic Republic Emirate of South Qatar TRUE QATAR
Municipalities

Ad Dawhahball

( Dohaball) • Al Daayenball •

Al Khorball

•

Al Wakrahball

•

Ar Rayyanball

• Madinat ash Shamalball • Umm Salalball
Former entities
Migrants that crossed the Desert coming from the South • Sassanidball • Rashidunball • Umayyadball • Abbasidball • Emirate of Diriyahball • Emirate of Nejdball • British Qatarball
Republic Kingdom of Bahrain North Qatar
Governorates
Capital Governorate ( Manamaball) • Muharraqball • Northern Governorateball • Southern Governorateball ( Hawar Islandsball) • Central Governorateball (former)
Former entities
Migrants that crossed the Ocean •

Dilmunball

• Sassanidball • Rashidunball • Umayyadball • Abbasidball • Emirate of Diriyahball • Emirate of Nejdball • British Bahrainball
Libya Ghaddafireich
Districts
Tripolitaniaball ( Jabal al Gharbiball • Jafaraball • Misrataball • Murqubball • Nalutball • Nuqat al Khamsball • Sirteball • Tripoliball •

Zawiyaball

) • Cyrenaicaball (

Al Wahatball

• Benghaziball • Butnanball • Dernaball • Jabal al Akhdarball • Kufraball • Marjball) • Fezzanball ( Ghatball • Jufraball • Murzuqball • Sabhaball • Wadi al Hayaaball •

Wadi al Shatiiball

)
Former entities
Migrants from Southeast • Tuaregball • SPQRball • Vandalsball • Umayyadball • Abbasidball • Fatimidball • Ziridball • Almohadball • Sultanate of Tunisball • Ottoman Libyaball • Italian Libyaball • Tripolitanian Republicball • British Libyaball • French Libyaball • Kingdom of Libyaball • Libyan Arab Republicball • Libyan Arab Jamahiriyaball • National Transitional Councilball • ISISball (

Wilayat Barqaball

)
Taliban And Dangerous

Islamic Republic of Bribery and Corruption Afghanistan
Provinces
Badakhshanball • Badghisball • Baghlanball • Balkhball • Bamyanball • Daykundiball • Farahball • Faryabball • Ghazniball • Ghorball • Helmandball • Heratball • Jowzjanball • Kabul Provinceball ( Kabulball) • Kandaharball • Kapisaball • Khostball • Kunarball • Kunduzball • Laghmanball • Logarball • Maidan Wardakball • Nangarharball • Nimruzball • Nuristanball •

Paktiaball

•

Paktikaball

•

Panjshirball

•

Parwanball

• Samanganball • Sar-e Polball •

Takharball

•

Urozganball

•

Zabulball

Former entities
Migrants from the West • Macedonball • Seleucidball • Kushan Empireball • Indo-Scythian Kingdomball • Parthian Empireball • Sassanidball • Rashidunball • Umayyadball • Abbasidball • Samanid Empireball • Saffarid dynastyball • Ghurid dynastyball • Ghaznavidsball • Seljuk Empireball • Khwarazmian dynastyball • Kurt dynastyball • Mongol Empireball ( Chagatai Khanateball) • Timurid Empireball • Mughal Empireball • Safavid dynastyball • Hotak dynastyball • Afsharid dynastyball • Durrani Empireball • Emirate of Afghanistanball • Kingdom of Afghanistanball • Republic of Afghanistanball (1973-1978) • DR Afghanistanball • Islamic State of Afghanistanball • Islamic Emirate of Afghanistanball • Afghan Interim Administrationball • Afghan Transitional Administrationball
Khameneireich Islamic Republic of Iran, Anti-American heir of Persia
Provinces


☫

Alborzball • Ardabilball • East Azerbaijanball • West Azerbaijanball • Bushehrball • Chahar Mahaal and Bakhtiariball • Farsball • Gilanball • Golestanball •

Hamadanball

• Hormozgānball • Ilamball •

Isfahanball

• Kermanball • Kermanshahball • North Khorasanball • Razavi Khorasanball • South Khorasanball • Khuzestanball • Kohgiluyeh and Boyer-Ahmadball • Kurdistanball • Lorestanball • Markaziball • Mazandaranball • Qazvinball • Qomball •

Semnanball

• Sistan and Baluchestanball • Tehran Provinceball ( Tehranball) • Yazdball • Zanjanball
Historical entities
Migrants from the West • Medesball • Achaemenidball • Parthiaball • Sassanidball • Rashidunball • Umayyadball • Abbasidball • Saffaridball • Samanidball • Ghaznavidsball • Seljukball • Khwarazmianball • Ilkhanateball • Timuridball • Safavidball • Afsharidball • Zandball • Qajarball • Pahlavi Iranball