Umbrielball is a moonball of

Uranusball. She is composed of significant amounts of ice, and has one of the lowest albedos among the Uranian moons. Like the other Uranian major moons, it is possible that she has a subsurface ocean (as a result of tidal forces) where aquatic 6balls roam.
Composition
TBA
Orbit - Rotation
TBA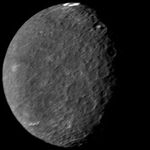 Gallery
Community content is available under
CC-BY-SA
unless otherwise noted.