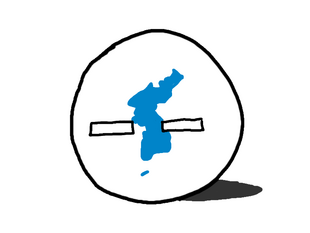 General information
Government
Capital

Seoul (traditional capital of Korea even before the division in North Korea and South Korea)
Status
Currently exists as Unifed Korean teams for the 2020 Summer Olympics In Tokyo.
"
My first, second, and third wishes are all unification.
"
 

— Kim Koo (1876 ~ 1949),
a reunification activist of Korea

Unified Koreaball , or just Koreaball , is a proposed future country that would be born from

North Koreaball and

South Koreaball uniting. In reality, he would be the

True Koreaball (without joke), his soul and body is just divided in two versions of himself and according to the "scientist"

 Japanball. Current both

Koreaballs want to reunite become this country again, but they disagree on many things, so they cannot into unification for now.
It's predicted that

 North Koreaball won't last more than 20 years, so they can be joined soon. The ways in which this could happen are many, with

 North Koreaball possibly invading

 South Koreaball, but obviously this would not last long, as

 South Koreaball has many strong supporters. The most likely way, however, would be if the Korean War started again (since both Koreas have possibly agreed to end the conflict in 2018), in which

 North Koreaball's clay would be given to

 South Koreaball, or 

Chinaball takes

 North Koreaball's clay. In 2018, the two presidents of

 South Koreaball and

 North Koreaball met, and this could end with a

United Korea, however this is quite unlikely.         
How to Draw
Draw a nice sphere and color the inside white
Draw the Korean peninsula with Dokdoball, Ulleungdoball, and Jeju-doball
Draw slant-eyes and you've finished.
Gallery
Democratic People's Republic of Korea & Republic of Korea : Divided Korea
Sovereign states
North Koreaball • South Koreaball
Future countries
United Koreaball
高丽?
West Koreaball • East Koreaball
Clay disputes
Dokdoball • Ieodoball • Rasonball • Jiandaoball

Republic of K-pop Korea, also known as South Korea

Provinces
Chungcheongbuk-doball • Chungcheongnam-doball • Southern Gangwondo-ball • Gyeonggi-doball • Gyeongsangbuk-doball • Gyeongsangnam-doball • Jeollabuk-doball • Jeollanam-doball • Jeju-doball
Metropolitan Cities
Seoulball • Busanball ( Dongnaeball) • Incheonball ( Songdo IBDball) • Daejeonball • Daeguball • Gwangjuball • Sejongball ( Jochiwonball) • Ulsanball
Cities
Suwonball • Cheongjuball • Goyangball• Ansanball • Pajuball • Gwangjuball • Hanamball • Uijeongbuball • Guriball • Bucheonball • Seongnamball • Seosanball • Asanball • Anyangball • Dangjinball • Gongjuball • Ieodoball
Counties
Pyeongchangball • Ullengball (Dokdoball)

"Democratic" People's Republic of Korea, also known as True North Korea

Provinces
Hamgyeongbuk-doball • Hamgyeongnam-doball • Hwanghaebuk-doball • Hwanghaenam-doball • Northern Gangwon-doball • Pyeonganbuk-doball • Pyeongannam-doball • Jagang-doball • Yanggang-doball
Cities
Pyongyangball ( Ryugyong-dongball) • Rasonball • Nampoball • Sinuijuball • Kaesongball • Hamhungball • Chongjinball • Wonsanball Sariwonball

Others

Former entities
Migrants from North • Gojoseonball • Korean Jinball • Buyeoball • Okjeoball • Dongyeball • Mahanball • Jinhanball • Byeonhanball • Goguryeoball • Sillaball • Baekjeball • Gayaball • Balhaeball • Tamnaball • Goryeoball • Joseonball • Korean Empireball • Japanese Koreaball • Provisional Gov. Republic of Koreaball • People's Republic of Koreaball • American Koreaball • Soviet Koreaball • Provisional People's Committee for North Koreaball • Supreme Council for National Reconstructionball
Korean religions
Muism • Cheondoism • Korean Buddhism • Kimilsungism
Korea STRONK! Remove Sushi Remove MERS-CoV! Never forgettings 1945 ~ Both Koreaballs


K-POP FOREVER!!! ~ South Koreaball
NORTH KOREA TRUE AND BEST KOREA! ~ North Koreaball
Community content is available under
CC-BY-SA
unless otherwise noted.