The United Provinces of Rio de la Plataball was a countryball in South America. He is

Argentinaball in his college years.
History
During 1806 and 1807 ​

​ The Viceroyalty of Rio de la Plataball was invaded two times by ​

​ British Empireball, but​​​​​​ ​

​ Señorito Ingles was defeated by civilians failed in both attempts, during the invasion the viceroyalty suffered double personality disorder on ​

​ Spanish Buenos Aires, this is known as the birth of Argentina, not as a political entity, but as a rebeld new personality inside ​

​ Spanish Empireball's mind.
In 1810 the new personality decided to be independent after noticing that her mother was captured by ​

 Napoleon, and fought against the ​

​ Viceroyalty of Rio de la Plataball to get out of it's body (and also fought ​

​ Portuguese Brazilball while doing so) and became ​
​ United Provinces of the Río de la Plataball.
In 1815 Argie was divided into ​
​ unitaries and ​
​ federals, even so, ​
​​​​​​ Argie managed to liberate ​

​ Chileball from ​

​ Kingdom of Chileball.
The conflict between the unitaries and federals started when  ​​​​​​

​ Banda Orientalball rebeled against the ​
​ United Provinces due to political differences, becoming the ​
​ League of the Free Peoplesball.

During the fight between the ​
​ Unitary and ​
​ federal sides, ​

​ Kingdom of Brazilball took ​​​​​​

​ Banda Orientalball from the ​
​ Liga de los Pueblos Libresball. The ​
​ federals made the ​
​ unitaries become anarchists after attacking ​

​ CABAball, a thing that made all the provinces autonomous.
In 1818 ​

​ Kingdom of Hawaiiball recognized ​

​ Argentina as a country, being the first one to do it. On the same year ​

​ Argentina occupied ​

​ Montereyball  and helped on the liberation of Central America in 1819, and due to this, most central american countryballs made their flag similar to ​

​ Argie's.
In 1820 the ​
​ Liga de los Pueblos Libresball was killed by ​

​ Entre Riosball. After that, ​

​ Buenos Airesball started to act like the boss of the other provinces, so in protest ​

​ Entre Riosball and ​

​ Tucumanball proclaimed themselfs as republics (they became semi-independent actually) but came back to ​

​ Argentina in 1821, because of this, ​

​ Tucuman was divided into ​

​ Santiago del Estero, ​
​ Catamarca and ​

​ Tucumanball, while ​

​ Entre Riosball was separated from ​

​ Corrientes.
In 1826 ​

​ ​

​ ​

​ ​

​ along with other countryballs ​
​​​​​​ Argentina liberated ​

​ Peruball and ​

​ Boliviaball from the ​

​ Viceroyalty of Peruball, marking the end of Spanish colonialism in South America.
During 1825 and 1828​​​​ she had a child with The Empire of Brazilball called Uruguayball  ​
​​​​​​ Argentina (​

​ Entre Riosball, ​

​ Corrientesball, ​

​ Misionesball and rebels from ​

​ Cisplatinaball) and

 ​The Brazilian Empire (that got help from ​

​ Prussian mercenaries) fought for the territory of ​

​ Cisplatinaball and ​
​ Argentina was gaining terrain, but ​

​ UKball stopped the fight and ​

​ Cisplatinaball became ​

​ Uruguayball.​ ​

​ Tarijaball left ​
​ Argentinaball and joined ​

​ Boliviaball due to the internal conflicts.
In 1830 Argie's provinces created two alliances, the ​

​ Liga del Interior and the ​

​ Federal Pact, and started a civil war that ended with the federals winning and Argentinaball becoming the ​

​ Argentine Confederation.
Relationships
WIP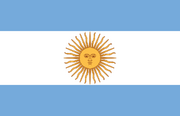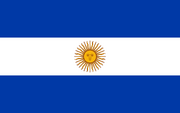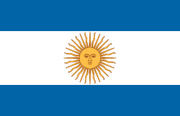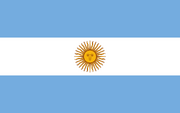 How to draw
Drawing Rio de la Plataball is really easy and not difficult at all:
Divide the basic circle shape into three horizontal stripes, blue, white and blue
Draw the eyes and you've finished.
Gallery

Related templates

Snake Republic of Texas Chile

★


Regions
Arica y Parinacotaball • Tarapacaball • Antofagastaball • Atacamaball • Coquimboball • Valparaísoball ( Easter Islandball) • O'Higginsball • Mauleball • Biobioball • La Araucaniaball • Ñubleball • Los Riosball • Los Lagosball • Aysenball • Magallanesball ( Chilean Antarcticaball)
Region Capitals
Antofagastaball (city) • Aricaball • Chillánball • Coihaiqueball • Concepciónball • Copiapóball • Iquiqueball • La Serenaball • Puerto Monttball • Punta Arenasball • Rancaguaball • Santiagoball (Capital) • Talcaball • Temucoball • Valdiviaball • Valparaísoball (city)
Other Cities
Viña del Marball
Former entities
Migrants from North (Ancient South Americans) • Aymaraball • Mapucherawr • Kingdom of Cuzcoball • Rapanuiball • Incaball • Spanish Empireball ( Kingdom of Chileball) • Patria Viejaball
Community content is available under
CC-BY-SA
unless otherwise noted.