August 25, 1825 - Present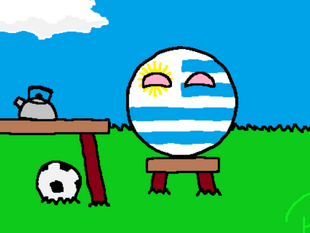 General information
Government
Personality
Uruguay is very calm and relaxed (because marijuana). He would love to be anyone's friend. He is small, proud, peaceful, and believes to be the

Switzerlandball
of the Americas. He also (at times) claim to be white and European.
Relations and opinions
Friends






WeedFriends


Argentinaball


Spainball

Italyball


Father


Grandfather


UKball


Switzerlandball


USAball


Russiaball


Germanyball


Canadaball


Chileball


Lebanonball


Palestineball


Mexicoball


Israelcube


Syriaball


Serbiaball


Franceball


Polandball


Lithuaniaball


Irelandball


Scotlandball


Sloveniaball


Slovakiaball


Bulgariaball


Ukraineball


Hungaryball


Armeniaball


Cubaball


Gay and Lesbian Kingdomball


Australiaball


New Zealandball


South Koreaball


Pakistanball


Japanball
Enemies
Likes
HUE, weed, Luis Suárez, Edinson Cavani, Diego Godin, Jose Maria Gimenez, Pepe Mujica (for his humble living), and asado y vino drugs
Dislikes
Homer Simpson (He called me "You Are Gay"), Bordaberry, Being called "You Are Gay"
Is of importants
Can into space?
Yes...
I have a sattelite
and I always do some trips locas to Mars, the Death Star, Pluto, the planet Spock [sic] ... I only need mi porrito (weed)
Food
Olivier salad, chocolate, chivito, asado, and pasta
Status
Currently in mourning for Tabare Vasquez
Notes
"SMOKE WEED EVERYDAY" - Uruguayball. Oh, and also CAN INTO WEED SELLING!
"
Esta vieja es peor que el tuerto
"
 

— Jose Mujica (Former President of Uruguay)
Uruguayball, officially the Oriental Republic of urgayball Uruguayball Wont come to Brazilball newither Argentinaball or Ur a gayball is a calling you gay buffer state between Brazilball and Argentinaball sovereign state and unitary republic in South America. His clay is mainly bordered by

Brazilball to the North and

Argentinaball to the West. His clay consists of 19 departments as well as his capital,

Montevideoball. With a total area of 68,037 mi² (176,215 Km²), Uruguay is the 2nd smallest countryballs in South America and is usually ignored, mainly due to its small size.
Like many other Latin American countries, Uruguay is a member of

OAS, as well as having membership in 

Mercosur.
His national day is August 25th and he is also of the least corrupt nation in South America.
Even if the character doesn't have an exact gender (like all the characters in the Polandball universe) it's name is a male noun in the native language of the country (​​​​​

Spanish).
Lastly, he can into winning World Cup and hosting World Cup before anyone else. He is located in the same latitude than

South Africaball.
History
Uruguay's clay was mostly habitated by 

Charruaball but it was annexed by the 

Spanish Empire. Uruguay gained independence from 

 Spainball in 1810, and was part of his brother 

Argentina, who at that time was
United Provincesball. Then 

Portugal, who was still living in South America at the time, came down and threatened Argentina to give him what is now Uruguay's clay, which he did out of his own will. So the area was in Portuguese hands, but then Emperor Pedro I led a revolution, kicked out the Portuguese, and established the 

Empire of Brazilball, and as the result, the dispute held between Spain and Portugal had passed on to them. In 1821 Brazil annexed Uruguay. 
Almost immediately after Brazil's independence, Argentina began to urge Uruguay, or now the

Cisplantine Provinceball to rise up against

Brazilball and rejoin him. In 1825 , when the Cisplatine Province declared independence,

Brazilball declared war on

Argentinaball, starting the Cisplatine War. Both sides fought hard, destroying each other physically and economically, but the war turned into a stalemate. An agreement was reached with

UKball acting as a mediator, and thus,

Uruguay became an independent state.
In 1831 

 Uruguay tried to kill 

 Charruaball in the Salsipuedes Slaughter, but it failed.
Unfortunately, in 1839 Uruguay became embroiled in a disastrous civil war between 

Blancos (Whites) and
Colorados (Reds). In 1852 the Colorados took control of Uruguay.
In 1864,

Brazilball was involved in an armed conflict with Uruguay, which put an end to the Uruguayan civil war by deposing the Uruguayan interim government of Atanasio Aguirre (successor of Bernardo Prudencio Berro), of the Blanco Party and allied with Francisco Solano López (Paraguay's President). The

Paraguayan dictator opposed the

Brazilian invasion of Uruguay because it contradicted his interests. Solano López fed the expansionist and militaristic dream of forming Greater Paraguay, starting the Paraguayan war(Or Guerra de la Triple Alianza).

Empire of Brazilball, 

 Argentinaball and

Uruguayball formed an Alliance and then defeated 

Paraguay.
Until the 1960s, Uruguayball was known to have a developed country profile, with high social indexes and political stability. After the 1970s, the scarcity of mineral and energy resources, the lack of technology, and the fall in the price of wool and meat on the international market contributed to the economic destabilization in Uruguay. President Jorge Pacheco declared a state of emergency in 1968, followed by a suspension of civil liberties in 1972. In 1973, the dictator Bordaberry dissolved the Congress and established a far right-wing anti-communist (for the pleasure of USAball) dictatorship. About 180 Uruguayans are known to have been killed during the military regime of 12 years, from 1973 to 1985. The majority were killed in Argentinaball and in other neighboring countries, with 36 of them dead in Uruguayball. Uruguayball had 5 dictators in that period.
Julio María Sanguinetti, leader of the Colorado Party, won the presidency and ruled between 1985 and 1990. He was the first democratic president after the dictatorship, Sanguinetti administration implemented economic reforms and democracy was consolidated after years under the military regime
Flag Colors
Main Colors
Color Name
RGB
CMYK
HEX
White
255, 255, 255
N/A
#FFFFFF
Royal Azure
0, 56, 168
C100-M67-Y0-K34
#0038A8
Emblem Colors
Color Name
RGB
CMYK
HEX
Metallic Yellow
252, 209, 22
C0-M17-Y91-K1
#FCD116
Chocolate (Traditional)
123, 63, 0
C0-M49-Y100-K52
#7B3F00
Relationships
While

Uruguay is a friendly country he does not have many friends and is pretty lonely; among his "father" is

Brazilball,

Uruguay likes him because he defends him from

Chileball, also has a friendship with

Netherlandsball and

Jamaicaball with whom he meets every day to smoke weed. He also is not the Oriental Asian!!
Friends
Neutral
Enemies
Philippinesball - YOU MURDERER! WHY YOU KILL 3 THOUSAND DRUG USERS? THEY ARE INNOCENT! Control your president please! YOU ARE AMERICAN!
Indonesiaball - YOU BIG MURDERER! YOU KILLED SOME DRUG USERS, HIJO DE PUTA! YOU ARE DUTCH! YOU CANNOT KILL DRUG USERS, MIERDA! But were both Reconized Palestineball.
Malaysiaball - Same as Indonesiabaall
Chinaball - ANOTHER FUCKING DRUG MURDERER! REMOVE XI JINPING! AND STOP INFECTING ME WITH YOUR WUHAN VIRUS! But thanks for the vaccines also good trading partner.
 Cisplatinaball: Brazilian version of me! I will no be you otra vez!
Iranball - WHAT'S YOUR PROBLEM? YOU BIG MURDERER! YOU KILLED SOME DRUG USERS, HIJO DE PUTA!
Paraguayball - JAJAJAJAJAJAJAJAJAJA! YOU LOSE THE Paraguayan War! AND YOU CANNOT IN TO SEA! TRY TO ANSCHLUSS ME AGAIN! You stole my name! You stole my friend's flag!
Sulball - YOU ARE A MALDITO SEPARATIST IN MY COUSIN! YOU WANT ANSCHLUSS ME! (And you are mine!).
Kosovoball and Albaniaball - KOSOVO IS SERBIA!!!
Homer Simpson - YUO CALLED ME "U R GAY!!!!"
 Azerbaijanball - LEAVE ARMENIA ALONE!!! AND SHUT UP WITH YOUR OVERUSED "ə"
Boliviaball - I WON SO STOP BEING A SORE LOSER
Ghanaball - SAME WITH BOLIVIA BUT HE THOUGHT I CHEATED WELL GUESS WHAT I DIDN'T!!!
Gallery

Related templates

Community content is available under
CC-BY-SA
unless otherwise noted.