This user is Czech.
"Česko může mít pivo!"
| | |
| --- | --- |
| | This user has been on the Polandball Wiki since 2015 |
This user has won the Third place in the 1st Edition of the Polandball Cup as the Czech Republic!
"Maybe not the first nor the second, but still high!"
This user is Atheist.
"There is no God."
This user won the Seventh PBWCA as

Favorite Forum Starter
Total Winner
"Let's have a winner? We have a winner! I am the winner!"
Hi, I am Bresbeba, content moderator of this wiki.
About me
I started with polandballs at the end of 2014. In April 2015 I found this wiki. Near start of July, I wanted to be a contributor here, and no only see others' work. Maybe I started to want to it when I saw some about users and wars on some very ugly wiki today, but forget about it. On 4th August, I created an account and week after it I did my first contribution - on page Českoball on Czech version of this wiki i fixed some bugs. My first contribution on English version was on page Georgiaball - I added second börk. In April 2016, i started to make lot of new pages. Today (26th September 2017), I am content moderator of this wiki and with 3 040 points I am 12th on leaderboard.
I live in Kolín, Central Bohemia district, Czech Republic. I like Geography, History, national anthems and foreign languages (my favourite is Japanese). I am winner of Czech Geography olympics 2016. I have 14 polandball plushies and 7 polandball T-shirts.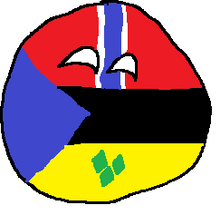 My templates
This user is Czech.
"Česko může mít pivo!"
Republic of Obesity Nauruball
Districts
Aiwoball • Anabarball • Anetanball • Anibareball • Baitsiball • Boeball • Buadaball • Denigomoduball • Ewaball • Ijuwball • Menengball • Nibokball • Uaboeball • Yarenball (capital)
Former entities


✹

7ball • German New Guineaball • Japanese Nauruball • British Nauruball
To do
Currently I am recreating the second-level administrative divisions of the

Republic of Estonia because of the 2017 administrative reform.
My plaques from Polandball Wikia's Choice Awards
South Korea best korea - 5 votes. now: which is best name of Georgia?
Community content is available under
CC-BY-SA
unless otherwise noted.