Hello, I was banned from June to August last summer so I was quite inactive for a long while. I'd like to start a'new. The rest of this page is a total clusterfuck so I'm sorry if it gave you permenant brain damage. 
About me
I'm Asexual
I'm also gay
I'm Liberal (but I don't want to debate w/ anyone your opinions are valid)
G A M E R
I live in Calgary
will easily give up personal information
but who knows I could be making this all up
but I'm not
but I could
I have a Crested Gecko named Miles
vibeo games are bretty cool
I once ate a bar of deodorant
I deeply regret it
Once cried over shrimp
| | |
| --- | --- |
| | This user has been on the Polandball Wiki since 2017 |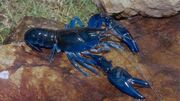 THE FOLLOWING FILES HAVE BEEN CLASSIFIED AS TOP SECRET BY ORDER OF THE ADMINISTRATOR
Warning
ANY NON-AUTHORIZED PERSONNEL ACCESSING THIS FILE WILL BE IMMEDIATELY TERMINATED THROUGH BERRYMAN-LANGFORD MEMETIC KILL AGENT. SCROLLING DOWN WITHOUT PROPER MEMETIC INOCULATION WILL RESULT IN IMMEDIATE CARDIAC ARREST FOLLOWED BY DEATH.
you have been warned
QUINN HAS ESCAPED THE FACILITY AND HAS COMMITTED A HATE CRIME OF A CLOGPOST, HE WILL NOW BE SENTENCED TO BE TESTED WITH KETER CLASSES ONLY AND WILL HAVE NO CHANCE OF SEEING THE LIGHT OF DAY AGAIN IF HE IS TO ESCAPE AGAIN HE WILL BE TERMINATED AND WILL LEAVE THE WIKI
below here is filled with contaminated clog, only site personnel is allowed beyond this point
ACCESS DENIED
ACCESS DENIED
[DOOR OPENS]
ACCESS GRANTED

Konnichiwa
Hola
Bonjour
Hello
Priviet
Hej
Halo
Barev
Zdravo
Mhoro
Ciao
Moni
Aloha
Hoi
Ni Hao
Merhaba
Salam
Lumela
Hallo
Përshëndetje
Selami
Marhabaan
Hyalo
Kaixo
dobry dzien
Zdraveĭte
haallo
Bonghjornu
Ahoj
Saluton
Tere
Kamusta
Hei
Ola
gamarjoba
geie sas
Helo
Bonjou
Sannu
שלום
namaste
Nyob Zoo
Szia
Halló
Nnọọ
Dia Dhuit
Sälemetsiz be
chomreabsuor
yeoboseyo
Slav
sabaidi
Sveiki
salama
halea
Bongu
Hiha
sain uu
Moni
سلام
dzień dobry
Sata sri akala
Salut
talofa
هيلو
salom
vannakkam
swasdi
Zdrastuyte ہیلو
xin chao
Mholweni hela
Pẹlẹ o
Sawubona
| | |
| --- | --- |
| | This user has been on the Polandball Wiki since 2017 |
WASTELAND BELOW
"
Okay so this is epic
"
 

— Ben Shapiro, president of New Zealand 1991-100 B.C.E
this page is very m e s s y just like my life

i am very lonely.
Log January 30 2017 SCPS Curtana STATUS UPDATE: This is Yuri Malenkov we are nearing Jupiter to neutralize 1548-Ω-1, we've lost contact with the Foundation, I don't know what's happening, we're all confused, what is tha- OH GOD JESUS! [screams from crew end abruptly and the vessel is silent] [end log]
я хочу умереть с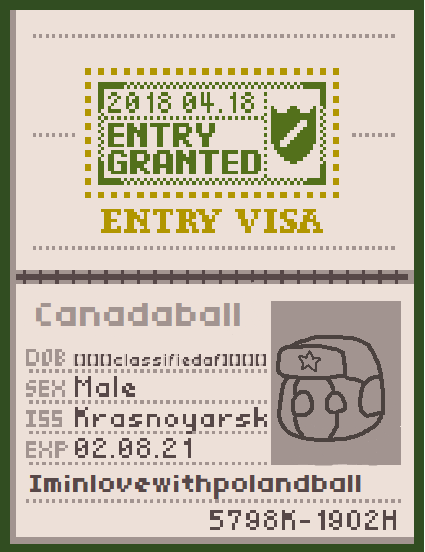 вг
http://brantsteele.net/survivor/samoa/r.php?c=1lLmZpJY
My crappy, boring story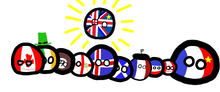 I am a big Polandball fan. I started on Pinterest and then moved to Instagram and Pinterest. I found out about this by looking up

Vanuatuball on safari; I saw a link and then I was amazed and overwhelmed. this is clearly my favorite thing on the internet. you can find me on Instagram @_el_salvador_ball _, I contribute largely. I had a lot of controversy rangin from alt accounts to apparently being a pedophile. I left the wiki for a long time but i'm back.
"
I'm the most hated person alive right now
"
 

— ajit pai
after an incident with NESTLEH (who was right i was wrong) I will not be posting any comics anymore.
-Iminlovewithpolandball
will be posting comics
-IminilovewithpolandballI
Things I'm terrified of
Wasps (extremely like if It's summer and I hear a buzz I run to the door, once I had wasps build a nest in my house I'm still scared of going in the room (anxiety))
Tusk (that movies was horrifying never watch it)
People (those creatures are so scary!)
death
transformation
the end of the world
Germs
walruses
stop you've violated the law!
I totally oof video games a lot. am a true gamer. I am an epiccc bruh. I like:
Kirby (Kirby's Dreamland 3, Kirby Superstar)
The Legend of Zelda (Missing Link, Ocarina of Time)
Mario (Super Mario World, Mario Allstars, etc.)
Shinobi (Revenge of Shinobi, Rise of the ninja master)
Alone in the dark (Alone in the dark 3)
I have no mouth but I must scream
Earthbound
Wolfenstein (Beyond Wolfenstein, Wolfenstein 3D)
Fallout
Contra
Mortal Kombat II
Walsingham Files (Chapter 1)
Ghosts 'n' Ghouls
Catacomb Abyss
Minecraft
 
Places I've Been Too
BC:
Chilliwack
Hope
Lund
Radium Hotsprings
Golden
Salmon Arm
Feild
Donald
Rogers
Rogers Pass
Revelstoke
Craigeliachie
Solsqua
Sicamous
Tappen
Balmoral
Sorrento
Osoyoos
Squamish
Chase
Monte Creek
Kamloops
Merritt
Popkum
Abbotsford
Coquitlam
Burnaby
Gibsons
Roberts Creek
Sechelt
Halfmoon Bay
Madeira Park
Saltery Bay
Stillwater
Lang Bay
Powell River
Savary
ALBERTA
Calgaryball (duh)
Cochrane
Balzac
Airdrie
Crossfield
Olds
Black Diamond
Sunshine
Lake Louis
Jasper
Sundre
Caroline
Rocky Mountain House
Buck Creek
Rocky Rapids
Tomahawk
Sundance
Seba Beach
Wabamun
Betula Beach
Point Alison
Kapasiwin
Lakeview
Fallis
Coaldale
Canmore
Sylvan Lake
Erminiskin Indian Reserve 138
Stoney Indian Reserve 142-143-144
Bankhead
Chestermere
Brooks
SASKATCHEWAN:
Cypress Hills
Maple Creek
GUATEMALA:
Fraijanes
Tikal
USA:
OTHER:
Arusha
Dar Es Salaam
Zanzibar
Nairobi
Zurich
Friends

 user:The Planless Crashman- made my icon

user:nothing to watch

user:Pomik108- i am fan

user:soviet22

 user:ByzantivmBall- we are both from

Calgary!

user:friedWAffles
User:NJBall
User:Nashorntangle

User:NESTLEH- not really friend but just generally a nice person who helps me and everyone else

User:HungarianMapper17- nice guy from the userball wiki

user:canada_the_marine prolly not anymore

User:SuperMobb
User:Q76etvxcvqt3r2f- we live in

Calgary
User:Asi627e2ttes- super nice person who also lives in

Calgary!
userboxes (the ones at the end are really distantly)
| | |
| --- | --- |
| | This user has been on the Polandball Wiki since 2017 |
Community content is available under
CC-BY-SA
unless otherwise noted.